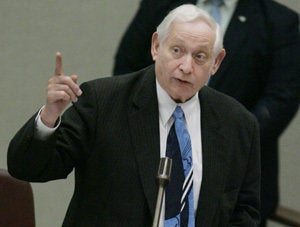 On Wednesday, Berny Stone, who represents the far North Side in the City Council, appeared before the Chicago Board of Elections to counter that claim, arguing that he did not intentionally divert campaign funds to a political action committee set to smear his opponent.
The Concerned Citizens of the 50th Ward PAC was formed with the stated purpose of "Citizen awarness [sic] of Candidates of 50th Ward." It listed no candidates that it was supporting or opposing.
But Abrar "Adam" Quader admitted in Wednesday's hearings that he redirected $13,000 in Stone campaign dollars to the PAC, which he then used to launch negative mailers, robocalls, and other campaign materials, WBEZ reports.
If true, this would be a clear violation of the state's new campaign finance law, which restricts candidates to only one PAC each.
Stone's opponent, Debra Silverstein, told the Chicago Tribune that Stone was using the Concerned Citizens PAC as a way to keep his name off the negative campaign material. And at least one advocate of campaign finance reform agreed:
David Morrison, deputy director for the Illinois Campaign for Political Reform, said that if Stone's committee and Concerned Citizens combined are not accepting more than $5,000 from any one individual, Stone's committee could have directly funded the attack campaign.

"But then he has to put his name on it," Morrison added. "It looks better if it comes from somebody else."

The PAC is also accused of initially hiding those donations from Stone under the names of other contributors, and of creating signs that have Rahm Emanuel's name above the name of the alderman. Emanuel has endorsed Silverstein in the race.
For his part, Stone admitted to signing the checks that were given to Concerned Citizens of the 50th Ward. But he claimed he had no idea what the money was for. "What I'm saying here is that I'm the aggrieved party," he said under oath, according to WBEZ. "Money was misdirected, my instructions were not followed."
Silverstein, wife of 50th Ward Democratic Committeeman and State Senator Ira Silverstein, ran close with Ald. Stone in the February 22 elections, winning 34 percent to his 38 percent. They will go head-to-head in the aldermanic runoff election on April 5.
Calling all HuffPost superfans!
Sign up for membership to become a founding member and help shape HuffPost's next chapter