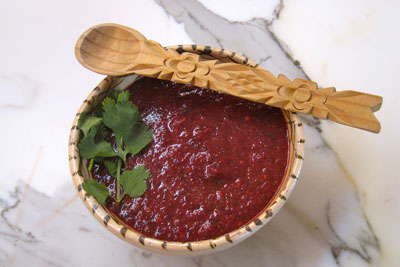 By Nancy Zaslavsky
I learned how to make radiant blackberry-citrus table salsa 20 years ago in the mountains of Michoacán, due west of Mexico City. The late José Cacho, a tireless advocate of the state and force behind the restoration of the pueblo of Tupátaro's important Templo de Santiago Apóstol (St. James the Apostle Church), was an avocado rancher and blackberry farmer.
Thanks to a coveted invitation, I first tasted the salsa with other guests in his colonial home on Morelia's historic walk street, Calzada Fray Antoniode San Miguel. The stone-paved, tree-shaded stretch runs between the Las Tarascas Fountain (three maidens holding a tray of fruit) and the deliriously embellished baroque Santuario de Guadalupe church dating from the early 1700s.
People could easily spot José out for a stroll along the walkway because he always wore the traditional huetameño, a local hat with a wide brim, ribbon tie and small tassel jauntily swaying in the back. The fountain, churches and José's salsa recipe continue to be Michoacán revelations.
Over the years I have taught the recipe again and again in myriad cooking classes. I fondly remember one class held in an imposing auditorium with steep stadium seating at the Culinary Institute of America in California's Napa Valley.
I walked on stage down at the very bottom, behind the longest La Cornue range I had ever seen -- in fact, the brand new, burgundy-colored Rolls Royce-of-the-kitchen was specifically fabricated for the imposing room's culinary arena. Rising vertically immediately in front of me was a sea of white chef-jacketed students, dead silent and perfectly still except for a few ruffling papers.
I must have been a sight. On each side of me stood a chef assistant, standing easily more than 6 feet tall in whites, sporting a toque elongating him to seven feet, versus my five feet four inches wearing a home cook's apron and anxious smile. Wanting to come through with flying colors, I made a few impressive Mexican dishes that day, but it was José's blackberry-citrus table salsa that had the crowd wildly applauding and then stampeding down all those steps for samples.
Here is the hedonist's salsa, simply a miracle in a bowl of luscious berries with a detonation from the region's fiery chile manzano (aka perón). Feel free to use frozen blackberries year round. If you can't find a fresh manzana use a red-ripe jalapeño (for color) a quarter of a spicy habañero or a green jalapeño or serrano when there's nothing else.
Whatever fresh chile you use, this bowl of happiness will be your new best friend with poultry, fish, meats, grilled vegetables, rice pilafs and anything that can use a dollop of unrestricted joy.
Blackberry-Citrus Table Salsa

Makes about 2 cups
A chile manzano, or perón (Capsicum pubescens), looks like a huge habañero, so to be sure you have the right chile cut it open. Manzano seeds are black.

1 cup coarsely chopped white onion
Half a yellow/orange chile manzano, minced with stem and black seeds removed. (You can substitute a quarter of a spicy habañero or 1 stemmed, minced, unseeded jalapeño or serrano chile.)
1 cup blackberries (fresh or thawed frozen)
Juice from 1 Mexican (aka Key) lime (if possible)
½ cup coarsely chopped cilantro
1 teaspoon organic agave syrup or sugar
¼ teaspoon sea or kosher salt
1. Put the onion and chile into a food processor and pulse 2 seconds. Dump in the blackberries and pulse 2 seconds more.
2. Pour in the orange and lime juices. Add the cilantro, sweetener and salt. Pulse 2 seconds, keeping a coarse, chunky texture.
3. Taste for salt and add more minced chile for a spicier salsa if desired and then pulse 1 second to stir everything together.
Photo: Blackberry-citrus table salsa in traditional Michoacán bowl and carved wooden spoon. Credit: Nancy Zaslavsky
Zester Daily contributor Nancy Zaslavsky is an author, cooking teacher and culinary tour leader specializing in the foods of Mexico.
More stories from Zester Daily: