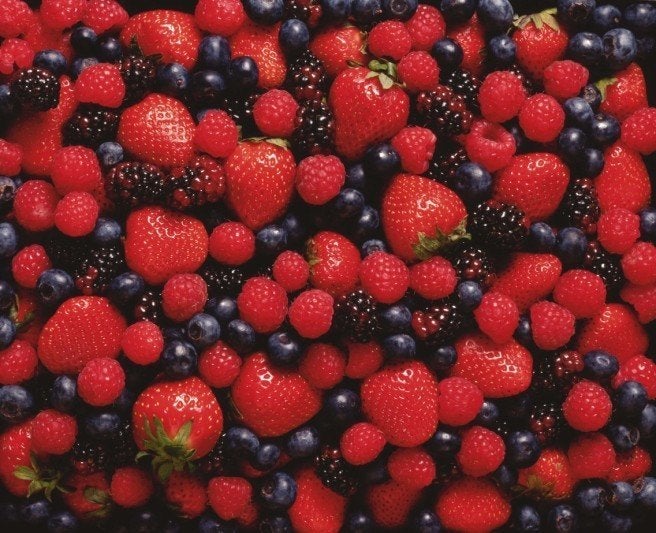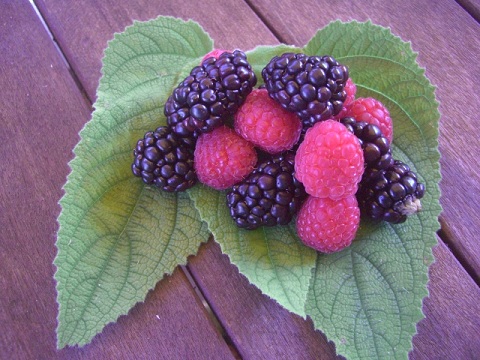 Many more years ago than I care to acknowledge, when I was a wee nipper in rolled-up pants and short-sleeve shirts, my brother Brian and I used to look forward every spring to visiting a local patch of woods up the street in suburban New York. Equipped with a basket or bowl of some sort, we would push our way through the underbrush to a menacing stand of prickly stalks displaying clusters of dark and delicious berries. Scratches were inevitable, but so were berry stains on our shirts and gladness in our tummies as we popped two berries in our mouths for every one that went into the container.
I can't tell you exactly what those berries were, and it is astonishing now to discover how many possible variations there were, and are, when it comes to bramble berries. There are raspberries and blackberries, of course, but also the children and grandchildren of crosses between raspberries and blackberries -- loganberries, youngberries, boysenberries, marionberries and my personal hard-to-find favorite, olallieberries. And oh, the many types of raspberries to be found: Killarney, Augusta, Newburgh, Cumberland and Bristol may all be geographical destinations, but they're also cultivars of raspberries, along with the more fanciful Autumn Bliss, Black Hawk and Cascade Delight, to name just a few.
But what all these succulent treats have in common is a serious helping of unique nutrients that offer protection against any number of incipient maladies. First and foremost is the antioxidant ellagic acid, which is largely exclusive to these berries; combined with several anthocyanins also present in generous amounts, it proves to be a formidable fighter against the formation of cancer cells, especially in the colon, by neutralizing free radicals. And these same components have been shown to have antimicrobial properties as well, helping to control yeast infections and irritable bowel syndrome.
And it doesn't stop there. A remarkably high fiber content due to the aggregate structure of the fruit, combined with a massive dose of Vitamin C and plenty of manganese and B-vitamins, contributes to placing these berries at the top of the fruit-heap for antioxidant strength. And remember that old adage, "The darker the berry, the sweeter the juice"? Well, it's "the healthier" the juice too -- those deep dark colors indicate the presence of a plethora of anthocyanins in every delectable mouthful.
And while we'll probably never use the rest of the plant ourselves, it's fascinating to learn that the Native American tribes in the Pacific Northwest used all parts of the blackberry plant: the powdered bark relieved toothache, the root alleviated dysentery and the leaves steeped in a tea provided gastric relief.
So get going now -- spring and early summer are prime-time for local berries. Get yourself to your favorite farmers market and give yourself and your family a sweet seasonal treat.
First and most important, I believe in trying to go organic. These beauties are fragile, and washing can be difficult, so it's especially important that they be free of pesticides. Berries should be dark-hued, firm and plump-looking. Keep an eye out for mold, and make sure no berries are crushed, especially if buying in a container -- crushed fruit will deteriorate rapidly; note if there's any juice-wetness along the sides or bottom, and avoid those. Use as quickly as possible -- they'll keep in the fridge for only a day or two (though they can be frozen without loss of nutrients).
A Digression: The Mighty and Mysterious Mulberry
When was the last time you sampled a mulberry? Right, probably never. Despite having been around for millennia, and despite being a staple in multiple cultures for a myriad of benefits, it is largely unknown here in the United States. But if you ever get a chance to indulge, by all means do -- they are sweet, subtle and altogether delicious.
I remember my first encounter with them, in New York's Central Park in the spring. I would walk up the street from my tiny apartment and wander into the park, where I would suddenly come upon a frenzy of birds, of all sizes and kinds, delightedly consuming hundreds of long dark narrow berries that littered the sidewalks under these tall graceful trees. They looked so tempting I wanted to shoo the birds away and scoop up a few, but I was unsure that they were fit for human consumption, so I refrained, and missed out on a rare treat. Years later, their splendor was revealed to me by a farmers market friend; now I pounce on them whenever they come my way.
Their dark color reveals that they have the same anthocyanins as the bramble berries, and therefore some of the same health benefits to be sure. Traditionally, all components of the tree are used in Chinese medicine: the berry itself to enrich the blood, the bark for bronchial relief, the twig for arthritis and immune functions, and the leaf for fever and headache. But the mulberry has another use, one which is wholly singular and vitally important to the worlds of art, interior design and fashion.
It is the leaf that brings us to this unique function of the mulberry, as the leaves are the sole food for silkworms. Chinese paintings on silk, an Armani silk gown on the red carpet, a polished-silk wall-covering in milady's boudoir -- all these owe their existence to the mulberry leaf.
Healthful, delicious fruit and gorgeous versatile fabric, not to mention multiple homeopathic remedies -- what more could you ask of a tree?
In any event, whatever berries may be found in your locale -- find 'em, buy 'em, and eat 'em! And they're not just for out-of-hand enjoyment; dazzle and delight your family and friends with these simple and gratifying dishes ...
Chicken Cutlets w/ Port & Olallieberry Sauce
This light and easy dish paired with brown rice and grilled asparagus makes a perfect summer dinner ...
4 6-ounce organic chicken breast cutlets, pounded thin
2 tablespoons organic canola oil
1/2 cup port wine
1/4 cup chicken broth
1 small basket of olallieberries (or substitute blackberries)
1/2 teaspoon minced fresh tarragon
1 tablespoon cold unsalted organic butter
In a large skillet over medium-high heat, heat oil. Sauté two chicken cutlets until just cooked through, about two minutes per side; remove to a sheet pan, cover and keep warm. Saute the other two cutlets the same way.
In a small saucepan, bring port, broth and berries to a boil; reduce heat and simmer until reduced by half. Remove from heat, swirl in butter and tarragon until butter is just melted and sauce is lightly thickened.
Divide chicken among four plates, spoon sauce w/ berries over each. Serve immediately.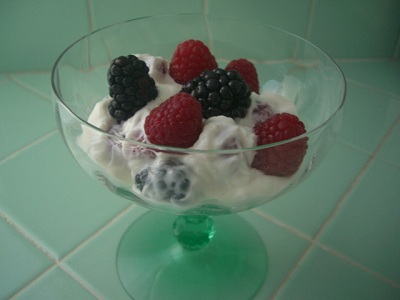 Local berries and honey from the farmers market make a refreshing dessert on those hot summer days...
1 quart of berries (mulberries, raspberries, olallieberries, blackberries)
2 cups plain greek-style yogurt
1 tablespoon local honey
1/4 teaspoon vanilla extract
1/4 cup crushed chocolate wafer cookies
In a medium bowl, stir together the yogurt, honey and vanilla. Fold in the berries. Divide among four chilled glass bowls, and sprinkle the tops with the crushed cookies. Refrigerate covered until ready to serve.
[A version of this post appears in my "Eat Smart" column in the August issue of Better Nutrition Magazine.]

Support HuffPost
A No-B.S. Guide To Life
Related
Popular in the Community