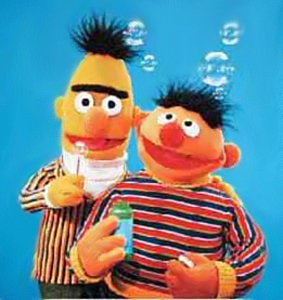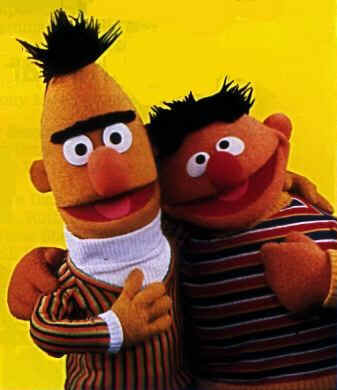 Bert and Ernie, legendary lovable Sesame Street icons, are in favor of same-sex marriage, sources close to them recently revealed. This hot button topic that has caused raging and flaming controversy all over the United States for years is still dominating headlines. On February 18, 2010, the Archdiocese of Washington announced that they are doing away with their foster care program, because they can't work with the change in the District of Columbia's laws that will allow same-sex marriages to be recognized legally. This is just the latest in a long line of decisions which affect millions of people's lives, legally, socially and morally.
Opponents of same-sex marriage argue it is evidence of the further decay of the moral fiber of America, and that a child cannot learn good role models from homosexuals, who are living lives of perversion in the eyes of God. Proponents of same-sex marriage say that getting married is a basic human right, and trot out scientific research which shows absolutely no correlation between success and happiness in adults who have been raised in same-sex, as opposed to "traditional" households.
Even though there has been an informal "don't ask-don't tell" policy on Sesame Street for years, Bert and Ernie have not come out publicly advocating for same-sex marriage because they are afraid of the public backlash. An anonymous source overheard Bert and Ernie lamenting to Cookie Monster, Count von Count and Snuffluffigus that they were afraid if people knew, they might be evicted from Sesame Street, shunned by their monster friends and blackballed by the Muppet's Union. Bert and Ernie are reported to have said, "It's ridiculous, why should people pay taxes and not have the same rights as everyone else? It's not about whether you're gay or hetero, or whatever the heck else is out there, it's about whether there's love in the house. And everyone knows there's always been a lot of love in the basement of 123 Sesame Street."
Bert and Ernie have long been rumored to be gay. Many have speculated that Ernie's international hit, "Rubber Ducky", was actually a coded love song to Bert. They have, and continue to be, closed mouth about their personal life. An anonymous source had this to say: "Well, Bert and Ernie were carrying on, like they do, and Ernie said, 'Look, what we do behind closed doors is our business.' And Bert said, 'Hey Ernie, is that a banana in your ear?' And Ernie said, 'What Bert?' And Bert said, 'I said Ernie, is that a banana in your ear?' And Ernie said, 'What's that Bert, I can't hear you, I've got a banana in my ear!' Everybody just fell out. No matter how many times they do it, it's always funny."
Kermit the Frog was the only confidant of Bert and Ernie who would comment about this supercharged situation. And that was only on the condition of being off the record. "Hey, it's not easy being green. And in this case, when I say green, of course I mean gay. Just to be clear, I'm not saying Bert and Ernie are gay. Not that there's anything wrong with it. If two people want to live in the same bedroom together, that's their business. Whatever gets you through the night, right? I mean come on, how many couples have been together for 40 years? I would take my hat off to them, except I am a frog, and I don't wear a hat."
Attempts to contact all Muppets, and their representative, proved fruitless.
"Gays and lesbians have the right to live as they choose. They just don't have the right to redefine marriage for all of us."
"A loving man and woman in a committed relationship can marry. Dogs, no matter what their relationship, are not allowed to marry. How should society treat gays and lesbians in committed relationships? As dogs or as humans?"
"Marriage between one man and one woman is critical to maintaining social stability. Society as a whole pays a high price when marriage is devalued. You see divorce; you see single-parenting; you see a rise in out-of-wedlock pregnancies," said Shari Rendall, director of legislation and policy for Concerned Women for America.
"An unjust law is (one that a) majority group compels a minority group to obey but does not make binding on itself ... "Lamentably, it is an historical fact that privileged groups seldom give up there privileges voluntarily," said Martin Luther King, Jr. in a letter from a Birmingham jail.

Popular in the Community