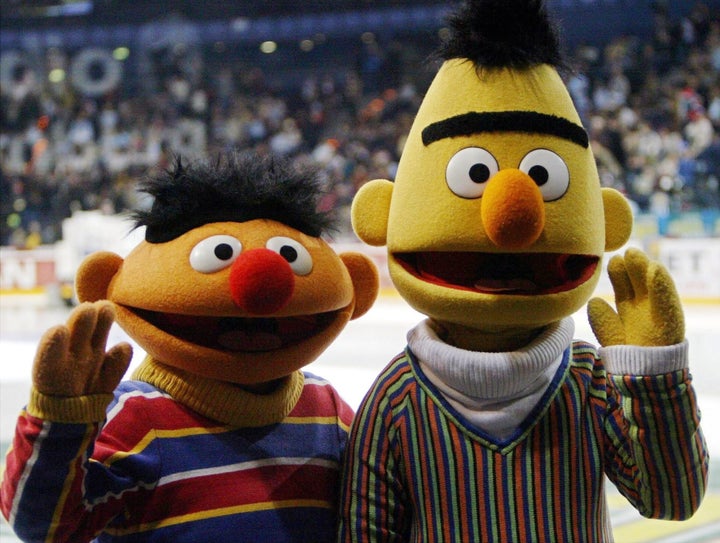 Earlier this week, a participant on change.org launched an online petition for Sesame Street to "let" Bert and Ernie get married. I'm a strong advocate of marriage equality and LGBT rights, but here's why I think this petition is ill-advised.
Sesame Street curriculum is built around insightful research into children's lives and learning. When Takalani Sesame in South Africa added an HIV+ character, it was because research indicated it was a pervasive issue in children's lives there. The need and opportunity existed to help children learn both facts about, and compassion for, people with an illness that was devastating families.
At the time, there was outcry in the US that such a character might be introduced on Sesame Street here. I was pre-interviewed and rejected for an appearance on The O'Reilly Factor, because I refused to say the program absolutely should do so; my view was that, if HIV became an issue salient to American toddlers, Sesame Workshop would find the right way to talk to children about it.
With the marriage petition, the impetus is coming from adults' perspective. There have long been "rumors" about Bert and Ernie, always from adults (honestly, when was the last time you heard a toddler ask why they live together?).
Sesame Workshop has always dealt with the problem with a single, sensible message: Bert and Ernie are Muppets. They do not have a sexual orientation.
So, while the petitioners ask that the producers "allow" them to marry, it's not as though Bert and Ernie have been pleading for permission over the years.
No other television program -- for adults or children -- has done what Sesame Street has, worldwide, to foster and celebrate diversity. Recently, I had cause to watch the first-ever episode: imagine the shock of turning on the TV for your child in 1969 (anticipating the usual Looney Tunes or Flintstones) and finding a multi-racial mix of humans and Muppets, living on a gritty city street and teaching your child about letters, numbers and getting along with each other. Since then, Sesame Street and its global adaptations have portrayed models for gender equality, Israeli-Palestinian cooperation, rights for those with disabilities, the above-mentioned empathy for those with HIV, and much more.
Rest assured, as marriage equality spreads, if Sesame Workshop finds that children have questions or need models for same-sex marriage, its researchers, writers and producers will collaborate to find the most age-appropriate means to introduce the concept, on the storyline.
Forcing long-running characters to take on this role, primarily because long ago adults put their own, cynical spin onto Bert and Ernie, is the wrong way to go about it.
Calling all HuffPost superfans!
Sign up for membership to become a founding member and help shape HuffPost's next chapter