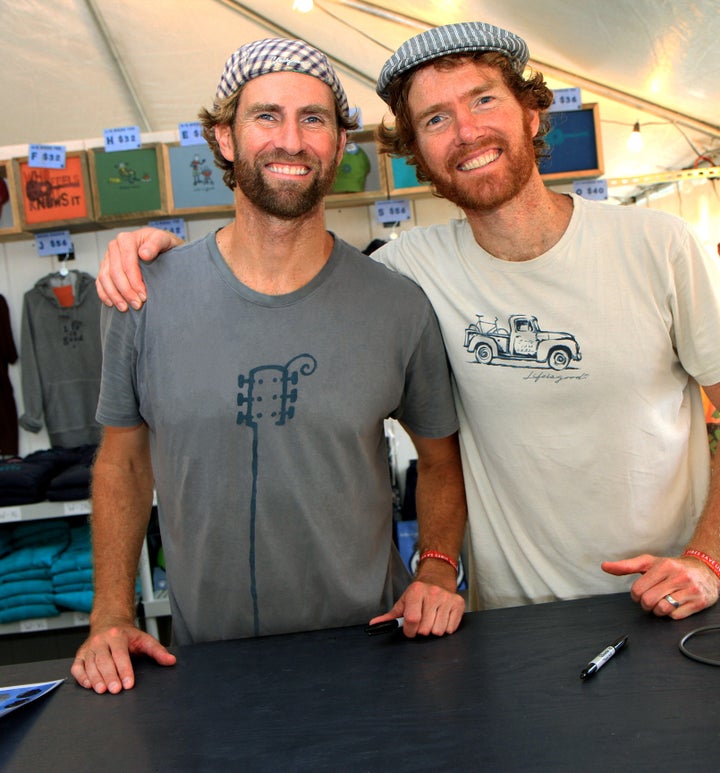 When brothers Bert and John Jacobs invested $200 to make T-shirts in the late '80s, they never would have guessed they were starting a $100 million business. John, finishing college, and Bert, delivering pizza and teaching skating, just figured selling T-shirts would be a good, cheap way to connect with people through their artwork. They started hawking their apparel on the streets of Boston and then moved up to selling door-to-door in college dorms, sleeping in the back of their van to save money. Just as they were debating whether they should get real jobs, a philosophical discussion on a road trip changed their lives. That discussion sparked the idea for The Life is good Company, which now sells a variety of apparel, pet products, a stationery line and footballs, frisbees and other recreational products in about 30 countries and 5,000 retailers in the United States, including 100 dedicated Life is good stores.
Like Jake, the character who adorns much of their apparel, the Jacobs brothers have found life really has been good, from living off peanut butter and jelly sandwiches in their early days to running a $100 million company and foundation today.
Why were you living out of a van when you first started selling T-shirts?
John: For a year, we sold T-shirts on the streets and had some luck selling in the dorms around Boston. So we decided to invest in an old used van and begin road trips up and down the East Coast. That lasted five years.
Bert: We'd generally plan the trips for a month to six weeks, traveling with only one design, then come back to Boston with the idea of creating something new and hit the road again.
John: We pulled the seats out of the back of the van and would sleep there on top of the T-shirts.
Your lifestyle also consisted of living on peanut butter and jelly sandwiches and not showering too often?
Bert: We had financial concerns, certainly. So we made a bit of a game out of keeping expenses very low. It almost became a competition between us about who could spend less for a day or week.
John: If we weren't sleeping in the van, we'd find a lounge or dorm to sleep in, but we certainly weren't going to pay for hotel. We had a journal with an "in" and "out" column, and there was very little in that "out" column other than gas and the occasional bite to eat.
Bert: We did drink beer if someone offered it to us.
Did students react well to you knocking on their dorm doors, or did they blow you off?
Bert: A lot of times they would assume we were students, then when they learned what we were doing, rather than being taken aback, they'd get a kick out of it. Unlike normal homes where people might be a little more guarded about door-to-door sales, college students welcomed it.
John: There's a bit of a romance to the open road and the adventure, especially at that age, so students were intrigued to hear stories from the road trips. During the hours when it didn't make sense to sell in the dorms, like the morning, we would just throw a frisbee in the middle of campus. We just felt so lucky to be traveling, meeting people and creating, even though we were wildly unsuccessful financially.
Were there ever days or incidents that made you think, "What are we doing?"
Bert: There were a lot of those. Back in Boston, we'd bump into people we knew, and they would politely ask, "What are you doing? You guys have a college education." And we were starting to heed that advice. We both had taken jobs as substitute teachers in an effort to supplement income, and we were talking about giving it up if something didn't happen in the next couple of months.
John: There was one time we were on separate road trips, and I remember getting kicked out of a dorm lounge at 3 a.m. It was around 0 degrees, I was trying to sleep in the van, and I got up to call Bert from a pay phone. I remember campus police circling the phone booth, and it was just a pathetic kind of evening where you question everything. But the more frequent thing was what Bert talked about -- running into friends who had legitimate jobs and wore suits. We were getting into our mid- and late-20s, and they seemed to have everything going for them.
Bert: Plus, trying to take girls on dates blows when you're 29 years old and sharing a van with your brother. Everybody else thinks it was a cool van, like a VW. It really wasn't. It was like a Plymouth Voyager -- a soccer mom van.
You just blew my image of the van. So what was the breakthrough moment that turned your venture into Life is good in 1994?
Bert: Sometimes we'd have four- or five-hour drive between colleges. On one trip, we got into a long discussion on how the media tends to focus on the negative things in the world -- sometimes the 6 p.m. news only seems to focus on what's wrong. We talked about it for days and eventually came to conclusion that the media tends to prey on people's fears simply because it sells. So we wondered if there was room to create some symbol of optimism, a hero whose power is the way he views the world. John took that conversation and drew Jake. He drew the beret on him to show open-mindedness, the smile because he always finds a reason to be happy, and the sunglasses because we wanted it to be cool to be optimistic. It was a very simple, childlike drawing. We had this tradition where every time we came back to Boston, we'd throw a keg party, put up new ideas on the walls and let people write comments. When Jake went up on the wall, everyone was talking about it. One person wrote "this guy's got life figured out." We've never identified who wrote that, but we condensed that into the three simple words: Life is good. We took the idea into the street two days later and sold 48 shirts in 45 minutes. That was the day that changed everything.
John: We found right from the first day that people see themselves in Jake. He represents somebody who's not waiting for one day to be happy. A lot of human beings tend to think "when I get that promotion, when I finish school or get that big house or that car or meet the perfect mate, I'm going to be happy." Jake, whether he's having a PB&J or hiking, truly appreciates what he has at that moment.
How did you turn that concept into a $100 million company?
Bert: We started selling T-shirts to retailers, and they helped us start evolving the character. The first retailer we sold to was a mom-and-pop store -- they asked if Jake likes to eat ice cream. And we said, "He will if you put in an order."
John: This guy had some magnetism. We were open. We never considered ourselves brilliant businessmen. But retailers kept calling and asking, "Does Jake fish? Does Jake ride a bike?" That led to an expansion of the product line.
Bert: We made a million business mistakes between that first day in the streets and where we are today, because we just didn't have the business acumen. For example, we had a brilliant idea of single-sourcing all production of T-shirts from Pakistan. We didn't do our homework and the organization didn't deliver. That almost put us out of business. We learned so many mechanical lessons along the way, but the brand concept was so strong, it carried us.
John: That brand shows us that, for most of us, happiness is a choice. Some people face difficult adversity, but Jake reminds us to take control of that choice and appreciate what we have instead of thinking of what we could have.
Are you thinking of your foundation? How did that start?
John: Since year one, we received letters and emails from people who have been through great adversity, saying "thanks for the hat -- that helped me through chemo," or "thanks for the shirt that embodied how my brother lived -- we all wore it to his memorial service." The more these incredibly moving letters came in, we realized the depth of this message, especially to people facing difficult times.
Then there was an 11-year-old girl named Lindsey who had terminal bone cancer. She was always wearing Life is good apparel when she was being interviewed by the media.
Bert: She had about a year to live, and they'd ask why she was wearing a shirt that says Life is good, and she said, "Before I was sick, I took my life for granted, but now that I might not live as long, I want to make sure I enjoy and appreciate it every day."
John: Lindsey represented a whole new level of inspiration for us. People wanted to rally around this name, Life is good. That led to our first festival in 2003, where we created this silly goal of breaking the world record of having the most lit jack-o-lanterns. We raised $52,000 with that first festival, $250,000 after a couple years and raised over $1 million last year. We've been working on more ways beyond the festival to help people fundraise, engage with our brand and help kids.
So much has changed for you since those days of living in the van, but it sounds like you're the same two guys. Has success changed you?
Bert: For some people, making a lot of money can be really challenging, because there's an appetite for a bunch of boats or houses. We always joke that after we got new mountain bikes, we didn't know what to do.
John: We were lucky to grow up in a house was chaotic and small, with six kids in all, but thanks to our parents, we got sense of what is really fulfilling -- as corny as it sounds, it's friends, family, laughter and love. Everything else is secondary. So getting to share this message with more people is the funnest thing in the world.
Bert: We've had offers to sell the business or go public, but part of us is driven to see how far we can take this. We've come a long way but at the same time we feel very much like we're just getting started.
Name: Bert and John Jacobs
Company: The Life is good Company
Ages: 47, 43
Location: Boston
Founded: 1994
Employees: Approximately 250
2012 Projected Revenue: $100 million
Website: www.lifeisgood.com/
Before You Go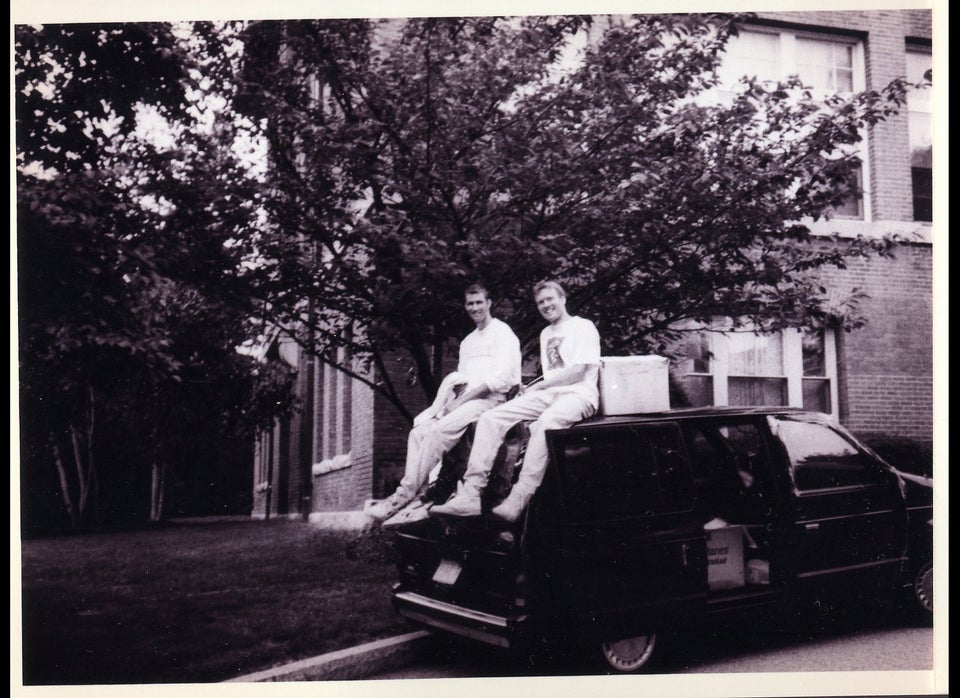 Gallery
Popular in the Community