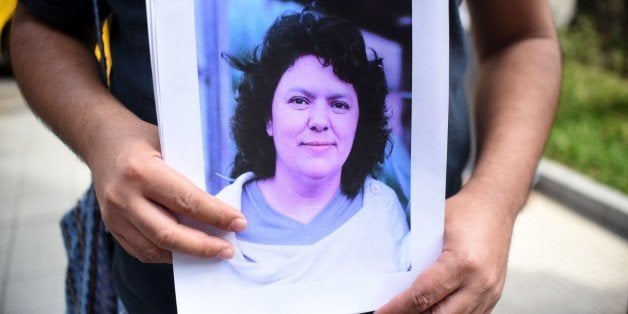 Hondurans across borders woke up to devastating news on Thursday morning of the murder of Berta Cáceres, leader of the Council of Indigenous Peoples of Honduras (COPINH) -- a staunch feminist organizer dedicated to the rights of Indigenous and Afrodescendant communities, women, children, and LGBTI community members. The news of her murder was also a blow to the Lenca and all Indigenous peoples in the country, an already embattled and impoverished Honduran community fighting to maintain the natural resources so important to their survival and so coveted by transnational corporate interests: their land and water.
I first met Berta Cáceres when I interviewed her in October 2009 about the coup d'état earlier that year. I was in Honduras with a group of scholars and activists, who were eager to know about Indigenous struggles. Berta was an inspiration. She was first and foremost an unapologetic Indigenous feminist who saw her struggle as an Indigenous woman as inseparable from that of land and water rights, and other environmental rights. She was committed to challenging antiquated beliefs about women and Indigenous people. Berta embodied a truly intersectional belief system that transcended notions of Indigenous womanhood often construed by academics as that of victim and oppressed. She was the face of contemporary Indigenous resistance descended from a long line of fighters.
Years later, I would meet Berta once again outside of Soto Cano Air Base protesting US Militarism as a part of the Resistance movement against the coup d'état. There, we were tear-gassed by police forces while exercising our constitutional right to protest, hers as a Honduran in the land of her original peoples, mine as a Honduras-US binational citizen. We walked many miles together, and then protesters took refuge in her organization, for food and drink, to replenish. Her status as a leader never separated her from the rest of us protesters and community members. Her reassuring leadership and political clarity shone, as she shared kind words, food and inspiration with almost everyone there.
Berta was an indomitable feminist.
Berta is best known for her battle against the mega hydroelectric project of Agua Zarca (DESA), which threatened to displace people from the land and monopolize river and water resources for the Western and Southern regions of the country. Illegitimate coup governments (in 2010 and 2013) granted concessions to transnational hydroelectric corporations, opening Honduras to transnational business.
But to most of us Hondurans, Berta Cáceres is known for standing up for justice and truth about the 2009 coup d'état in Honduras. From 2009-2011, President Obama and then Secretary of State Hillary Clinton denied that the coup was a coup. We, scholars in Honduras and the US, spent literally months and years making the case to prove the obvious to the Obama administration that what had transpired in Honduras was a coup d'état by any standards. It was not until the 2011 release of Wikileaks evidence that demonstrated the US role clearly. But by then, a new government led by Pepe Lobo was minted and approved.
For years, Hondurans were living in a virtual time bomb -- one that then Secretary Clinton and President Obama failed to acknowledge or do anything about. According to the Observatory of Violence at the UNAH, and CATTRACHAS, 2011 was the most violent year in Honduras. 2011 marked an acute increase in violence attributable to the coup d'état period, which opened the way for the unconstitutional government of Juan Orlando Hernandez, sanctioned by Clinton and US State Department. This government ushered in a period of chaos and instability for the Honduran people. In fact, by 2011 we also saw a clear spike in migration to the U.S., the presage to the refugee situation we are now seeing at our border.
Even in this hostile and dangerous context, Berta Cáceres and her people confronted a transnational corporation and won! In the years that followed the coup, Cáceres and the COPINH, protested and successfully shut down a damn project by DESA Corporation, a magnificent accomplishment in an era of Neoliberal governments that obey global capital. This was a show of unity and strength, only possible through the united voices of all Indigenous and Afrodescendant communities. Yet for their bravery, members of the COPINH were murdered, and threatened daily. Berta could not enjoy a stable life, had to go into hiding in her own country, and received unrelenting persecution and harassment daily.
Who killed Berta Cáceres you ask? It is hard not to point the investigative lens towards the collusion between Juan Orlando Hernández' violent government and DESA corporate security and paramilitary forces. Her murder can be seen as a result of the resurgence of 1980s-style Death Squads in a country were impunity reigns. The state has ushered in transnational corporations in the wake of the coup, prioritizing international business -- or pillage depending on how you see it -- over the safety and constitutional duty to its citizens and the rule of law.
But let's not ignore the culpability of Secretary Clinton who expeditiously moved to ignore the illegality of the coup, who demonstrated callousness and lack of feminist politics to her southern counterparts, who stood and watched while women and children faced increased violence as a result of the coup she denied; the same Clinton who said our government should deport the unaccompanied minors at the border who were fleeing violence she helped to cover up.
It seems Clinton's brand of feminism stops at the US border, as her actions neglected the lives of Indigenous women like Berta Cáceres. It is the same military police that the US Embassy promoted under Clinton's watch that harassed and limited Berta in her exercise of her constitutional right to organize and protest, and that ultimately has turned a blind eye to rampant violence against so many Human Rights defenders, activists, and community leaders. While claiming feminism and the rights of some women, Hillary Clinton, in her embrace of US imperialist policies, has caused the demise of so many more women in the world; this is not the work of a courageous feminist. Clinton's "hard choice" in Honduras was a calculated choice to look the other way to increase her political interests. History will remember her cowardice.
In contrast, Berta Cáceres will be remembered for her bravery. Berta Cáceres leaves us an undeniable legacy and mandate, one that asserts that the struggle for land, water, food and life continues in the bodies of all Indigenous people ignored by the state, robbed of their land and water. May we all honor her by demanding accountability for her death and seeking the justice she fought for so boldly for in her life. Berta Cáceres, Presente!
Popular in the Community