Despite threats on her life, award-winning Honduran activist Berta Cáceres defended indigenous and environmental rights with indomitable courage and grit.
"They follow me and threaten to kidnap and kill me," Cáceres said last year after accepting the prestigious Goldman Environmental Prize for her decade-long fight against a high-profile dam project. "They threaten my family. This is what we have to face."
On Thursday, Cáceres was slain in her home in La Esperanza, western Honduras. She was shot and killed by gunmen who entered the property around 1 a.m.
Reports differ as to how many gunmen were involved in the attack. Some said there were two killers while others pointed to almost a dozen. Karen Spring, a friend of Cáceres', told The Guardian that the 44-year-old activist was struck by at least four bullets.
Police commissioner Sergio Paz Bueso told local media that Cáceres may have been killed during an attempted robbery; her family has firmly dismissed the suggestion.
"I have no doubt that she has been killed because of her struggle and that soldiers and people from the dam are responsible, I am sure of that. I hold the government responsible," Cáceres' mother told radio show Globo at 6.
Under international law, indigenous groups must be consulted on projects that affect their lands, but the Lenca said they were not consulted about the dam, the newspaper reported.
Cáceres said last year that she and other activists had been deluged with threats of murder and rape as a result of their campaign against the dam's construction. Several of her supporters, including Tomás García, had been killed.
"The political, economic and social situation in Honduras is getting worse and there is an imposition of a project of domination, of violent oppression, of militarization, of violation of human rights, of transnationalization, of the turning over of the riches and sovereignty of the land to corporate capital, for it to privatize energy, the rivers, the land; for mining exploitation; for the creation of development zones," Cáceres, a co-founder of the National Council of Popular and Indigenous Organizations of Honduras (better known by its Spanish acronym Copinh), told The Guardian last April.
In the face of these daunting obstacles, however, Cáceres said she refused to be intimidated.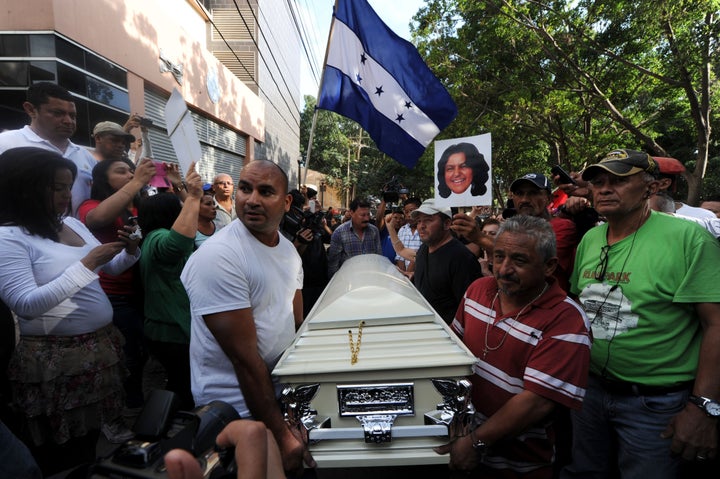 "The government's statements claiming that it is a robbery are concerning, and this crime must be investigated," said Sara Rafsky of Amnesty International, per Vice.com. "This is clearly a terrifying message to human rights defenders in Honduras, in Guatemala and environmental and indigenous activists across the region. It is now time for the government and authorities to commit to a counter message."
Activism in Honduras is a hazardous, and sometimes fatal, vocation. Since 2009, when democratically-elected President Manuel Zelay was ousted in a coup d'état, many journalists, judges, labor leaders, human rights defenders and environmental activists have been assassinated in targeted killings. Their murders often go unsolved, The Times reported.
"The shocking news of Berta's killing is a dramatic wake-up call for the Honduran state," Billy Kyte, a campaigner at Global Witness, told The Guardian. "Indigenous people are being killed in alarming numbers just for defending their rights. The Honduran state must act immediately to hold the killers to account and protect Berta's family and colleagues."