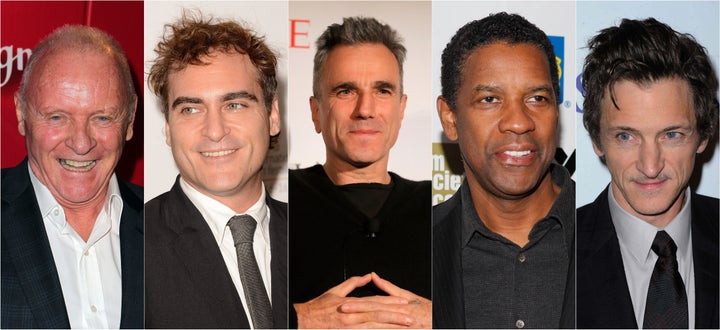 Welcome to For Your Consideration, HuffPost Entertainment's weekly breakdown of all things Oscar. Between now and Feb. 25, 2013, executive arts and entertainment editor Michael Hogan and entertainment editor Christopher Rosen will chat about awards season and which films will make the most noise at the 85th annual Academy Awards.
Rosen: Hey, Mike. As the tri-state area gets back to some level of normalcy following the devastation of Hurricane Sandy (click here to find out how to help with the recovery efforts), we're back for another installment of Gold Rush. Technical difficulties kept us from completing last week's chat, which was a knock-down, drag-out doozy: Jennifer Lawrence versus Jessica Chastain for Best Actress. Which ingenue has the inside track at Oscar gold? Well, perhaps neither. "Hitchcock" finally screened this week for critics and the consensus is that Helen Mirren is a guaranteed Best Actress nominee, meaning she could swoop in and win as Oscar voters split the difference on Chastain and Lawrence. (Lawrence, by the way, is incredibly great in "Silver Linings Playbook," but nothing about her performance feels like Best Actress material. That's too bad, but also a reality of the Oscar game; we're all still holding our breath to see how Chastain performs in "Zero Dark Thirty.")
While those murky waters will remain murky for another couple of months, one thing is crystal clear: Best Actress has nothing on Best Actor. Consider the lineup of male performers with a legitimate chance of being nominated: Daniel Day-Lewis, Joaquin Phoenix, Denzel Washington, John Hawkes, Anthony Hopkins, Hugh Jackman, Bradley Cooper, Ben Affleck and Jamie Foxx. Truthfully, I could make an argument for any of those guys -- especially Cooper, who is a revelation in "Silver Linings Playbook"; he gives a performance that will forever change how audiences view him as an actor.
Right now, Day-Lewis feels like the leader in the clubhouse, though I don't think anyone should discount Denzel. (What, you thought I was going to say Phoenix?) Not only is Washington getting some of the best reviews of his career for "Flight," but the film is an out-of-nowhere hit. "Flight" grossed $25 million this weekend, more than "Argo," the still-presumed Best Picture front-runner, did during its first frame. It's a stellar debut for an R-rated drama, and proves once again that Washington is one of our last real movie stars. The guy is money. Toss in a role that is drenched in booze (a sure-fire way to get an Oscar), and I can definitely see Washington putting some serious pressure on Day-Lewis.
Here's the interesting thing about the Best Actor race, assuming the top three players are Washington, Day-Lewis and Phoenix: None of those guys actually care about the Oscars or the campaigning that comes with winning one. (Or at least not outwardly so.) That means it's going to come down to which role grabs onto the voter at an emotional level: Day-Lewis, the master of craft and immersion, playing a president; Phoenix, all Method-y twitches, playing an what amounts to an alien; or Washington, sturdy and reliable, just playing a dude with a serious problem. Consider what happened in 1996, when Nicolas Cage won for "Leaving Las Vegas": He beat a former winner playing a president (Anthony Hopkins as Nixon in "Nixon") and a Method-y upstart giving the performance of his career (Sean Penn in "Dead Man Walking"). Not saying, just saying: We could have an upset in the making.
Hogan: Hey Chris, I'd say there are historical precedents for all three of our presumed frontrunners: Joaquin Phoenix as a Method-acting crazy person in "The Master" reminds me of Sean Penn in 2003's "Mystic River" (remember how voraciously he chewed the scenery in that one, drawing attention to himself even in scenes where he had no lines?); Daniel Day-Lewis as a noble if poignant historical figure in "Lincoln" calls to mind Ben Kingsley in 1982's "Gandhi" (though Kingsley's transformation was clearly more dramatic) and Philip Seymour Hoffman in 2005's "Capote" (though Capote is a more interestingly conflicted character than Honest Abe); and Denzel Washington as a decent man with a debilitating infirmity (alcoholism) in "Flight" could be compared to Al Pacino in 1992's "Scent of a Woman" (blindness), Jack Nicholson in 1997's "As Good As It Gets" (obsessive-compulsive disorder) and Jeff Bridges in 2009's "Crazy Heart" (alcoholism again).
If anything, Washington seems to have more history on his side. And, having last topped this category in 2001, for "Training Day," he's more "due" than Day-Lewis, who won for "There Will Be Blood" in 2007. (Washington and Day-Lewis each has one other Oscar to his name: Day-Lewis won Best Actor in 1989 for "My Left Foot," and Washington won Best Supporting Actor that same year, for "Glory.") Then again, Phoenix, who was nominated for Best Actor in 2005, for "Walk the Line," and for Best Supporting in 2000, for "Gladiator," has never won in either category, so he may have a slight advantage there.
All that said, my gut still tells me Daniel Day-Lewis is the man to beat. I might prefer to see Phoenix claim the statuette, but we've already discussed the fact that "The Master" has less momentum than a SeaOrg sub chaser on rationed gas. I'm not sure what, if anything, The Weinstein Company can do to fix that, though I can't imagine they will sit back and let this opportunity go to waste. If nothing else, I suspect we'll see a rash of stories about Spielberg taking liberties with the historical record, unless that tactic was exhausted with "Argo." As for Washington, I am awfully glad "Flight" is a hit, and I hope it means Hollywood will allocate more money to non-sequels for grown-ups (it doesn't), but I'm not sure his performance is spectacular enough to put him over the top in this ultra-competitive year. I'd give him the award over Jeff Bridges in "Crazy Heart," but then that was a "you're due" award that had as much to do with "The Big Lebowski" as it did with the film in question.
As for the rest of the field, I agree that Bradley Cooper is swell in "Silver Linings Playbook," but I think it's going to take more than one movie to erase Academy voters' collective nausea over "The Hangover Part II." Ben Affleck is going to get nominated for Best Director and Best Picture, but I suspect voters may slap him on the hand for casting himself as the star of his own movie. Hawkes went full vegetable in "The Sessions" so he's a lock for a nod. Everything I hear about "Hitchcock" makes me think Hopkins is a definite, too. No idea what "Les Miz" will bring, but Jackman seems like an obvious nominee, as well, as does past winner Jamie Foxx for "Django Unchained." What a year, eh?!
Rosen: What a year, indeed. At least for men. During the post-Sandy reintegration to normal frivolity last week, I was discussing the Best Supporting Actor category with esteemed Oscar watchers Joe Reid and Katey Rich. Joe had pushed John Goodman, for either "Flight" or "Argo," into the conversation, and I think that's legitimate. It feels like there's a wave of goodwill out there for Goodman, and he could get singled out for a quasi-lifetime achievement nomination in 2013. If that does happen, however, it means someone like Russell Crowe ("Les Miserables"), Leonardo DiCaprio ("Django Uncahined"), Matthew McConaughey ("Magic Mike") or even Philip Seymour Hoffman ("The Master") could get left out in the cold. (The locks of the Supporting Actor category are Alan Arkin, Tommy Lee Jones and Robert De Niro, respectively, for "Argo," "Lincoln" and "Silver Linings Playbook.") Again, much like Best Actor, the crazy part is that you could probably make the argument for any of those guys to actually win, and yet some might not even get nominated.
Compare that to Best Supporting Actress, a category that can barely fill out a complete lineup without some Oscar gymnastics. (Helen Hunt as Best Supporting Actress when she's the female lead in "The Sessions"? Sure!) There's a reason Anne Hathaway has been the Supporting Actress front-runner since we started doing this: There is no one else even being discussed. And why? This is the kind of debate that comes up during every Oscar season, but, once again: Why aren't the great female roles, especially in a year when there were so many great scripts written by women ("Celeste & Jesse Forever," "Ruby Sparks," "Bachelorette" and "Pitch Perfect" to name four), being given Oscar consideration? If only Lizzy Caplan (for "Bachelorette") or Annette Bening (for "Ruby Sparks") or Rebel Wilson (for "Pitch Perfect") were in the mix, Best Supporting Actress would have some life. Some actual Hathaway pushback, too. Real-talk: Any of those three actresses I just mentioned are worthy nominees. They would never win, of course, but stranger things have happened. Just ask Marisa Tomei.
Hogan: Or Mira Sorvino! (Side note: was there some stealth lobby of Italian-Americans tilting Best Supporting Actress races in the early-to-mid-90s? If so, that's a story I'd like to read.)
Well, one answer to your question about why we're not discussing a wider variety of Best Supporting Actress possibilities is that the Oscar conversation so far is mainly happening among a bunch of onlookers who don't actually get to vote. We're basing their predictions on the Academy's history of ignoring quirky, female-driven comedies, but wouldn't it be great if the membership itself surprised us this year? I know, I know, given a choice between seeing "Pitch Perfect" and "Best Exotic Marigold Hotel" or even "Hyde Park on Hudson," the average sexagenarian Oscar voter isn't going to pick the Rebel Wilson comedy. But an Oscar watcher can dream, can't he?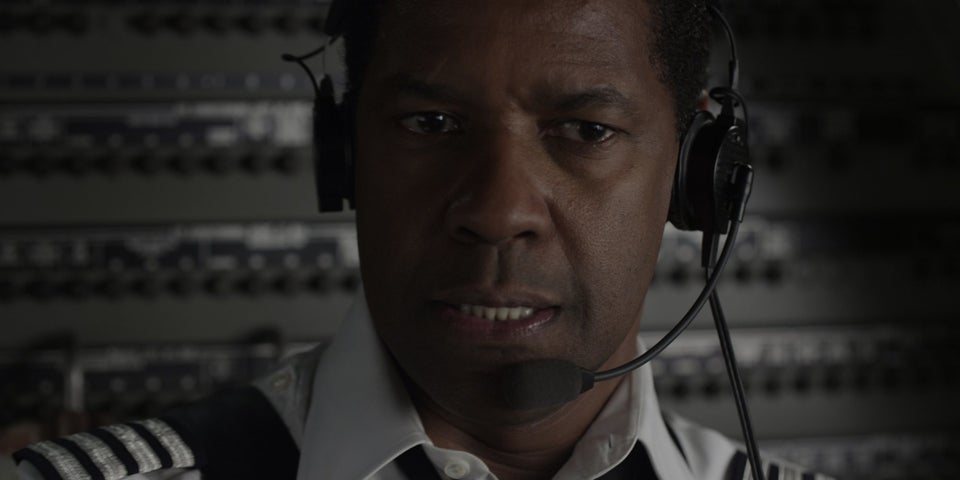 Photos From 'Flight'
Popular in the Community