 So much of food writing is restaurant recommendations. Telling people where to eat is as much the central task of food writers as telling people what team won the game is the central task of sports writers. (Both types have other important roles to play as well, of course -- profiles, industry news, trends -- but it's all essentially subsidiary.) As a result, there are more guides to restaurant quality than anyone knows what to do with. More rankings, it sometimes seems, than good restaurants to rank. Who thinks we need more?
Steve Plotnicki, for one. Or at least he thought so in 2008, when the former music industry executive started his "Opinionated About Dining" ranking of the best restaurants in the world. Plotnicki released his fifth edition of the list of the best restaurants in America in the middle of March. And it makes a good case for itself not only as useful, but, for a certain kind of enthusiastic diner, the best list of its kind around.
In a call with The Huffington Post, Plotnicki explained that he initially devised his list as an alternative to the Michelin Guide that he hoped would do a better job comparing top-tier restaurants in different parts of the world.
"Before I started this, there was a lack of head-to-head comparisons in restaurant guides," he said. "So if there were a restaurant in Cleveland that was really highly rated somewhere, it was hard to tell how it compared to a restaurant in New York."
Plotnicki agreed with Michelin that his list should based on the opinions of a moderately-sized pool of experienced diners. (As opposed to most newspapers and magazines, which publish the opinions of one very experienced diner, and organizations like Yelp and Zagat, which canvas thousands of not-so-experienced diners.)
But Plotnicki uses a pool that's very different from Michelin's anonymous, professional inspectors, who are assigned to rate the restaurants in one city or region every year. He polls people who are extremely enthusiastic diners and devote a significant portion of their time and money to traveling the world in search of the very best meals on the planet. (It's a hobby that requires a lot of money, but most of the people who participate most enthusiastically in the survey are attorneys, professors, doctors -- not billionaires.) Plotnicki met many of these gastronauts in the early nineties as the founder of a niche-y online forum -- Opinionated About -- dedicated to fine dining.
Plotnicki devised an algorithm that weights each diner's reviews of restaurants by that diner's level of experience. Essentially, the more "important restaurants" a diner visits, the more his or her review sways any given restaurants' ranking, for good or ill. Plotnicki's hunch is that eating at more top restaurants gives diners the perspective to judge new ones in a broad context. So although anyone can participate in his survey, the top 100 restaurants are largely decided by the 75-or-so diners who are the most devoted to the survey.
"These are people who eat between three and four dozen and 100 'important meals' a year," he said. "Who, if you were to name the top five or six restaurants in the U.S., France, Spain and Scandinavia, would have been to almost all of them, if not all of them."
Over the years, Plotnicki has consulted with several statisticians to refine his algorithm. One of them is none other than Nate Silver, the statistical wizard behind 538. He and Plotnicki dined together at top New York sushi restaurant Sushi Yasuda and discussed, as Plotnicki recalls, "how to reduce human experience to number." Silver -- a veteran diner himself -- came away impressed.
"If you're a foodie, I think you'll be better getting recommendations from other foodies," Silver told The Huffington Post. "It doesn't necessarily apply if you don't eat out much, or if expensive restaurants turn you off. But in my experience, the recommendations have been very good."
Silver pointed out that, because restaurant quality is always subjective (unlike the outcome of elections), it's impossible to say which restaurant ranking is the best one in any absolute sense. But you can evaluate different rankings for different purposes. Opinionated About Dining's list, he said, is most useful for people whose preferences match those of the people who do the ranking -- that is, highly motivated, experienced diners who can afford to spend hundreds of dollars and several hours on a revelatory dinner.
"It's a good approach for serious foodies looking for a serious meal," Silver said.
Indeed, the list ended up being uncompromisingly elitist. Almost all the top restaurants on the list focus on tasting menus. (By my count, only one of the top 10, McCrady's in Charleston, S.C., even offers an a la carte menu.) Most are located in a major urban area on the coast. Many are tough reservations. There are possibly too many sushi restaurants, which Plotnicki chalked up to the fact that most sushi restaurants spend a relatively high percentage of their revenue on ingredients rather than fancy service or decor.
In other words, it's not the guide to consult if you're looking for the best barbecue stand in Texas. (That's what Texas Monthly is for!) But it's safe to say that all the restaurants in the top 50 or 100 offer excellent, one-of-a-kind dining experiences, and that almost all the food you'll eat at any of them will be good. And the restaurants in the top 10 or so go beyond even that high threshold; they represent the vanguard of fine dining today, and are pushing the envelope for what restaurants can offer.
As Plotnicki said, by way of summary, "When you look at the top of the list, you get a very good idea of what direction cuisine is taking today."
Click through below to find out what they are: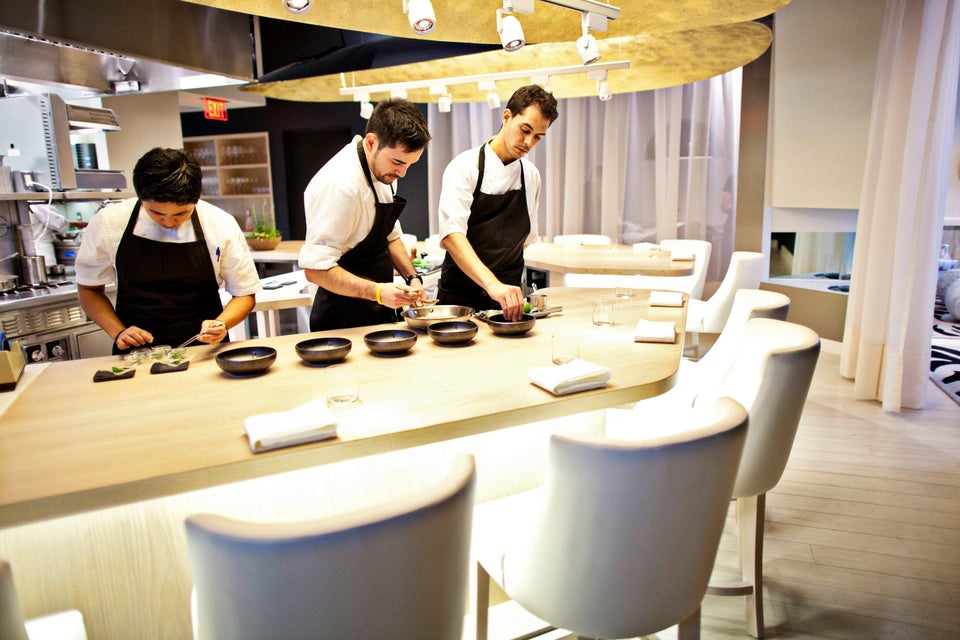 The 10 Best Restaurants In America, According To Opinionated About Dining
Support HuffPost
A No-B.S. Guide To Life
Related
Popular in the Community