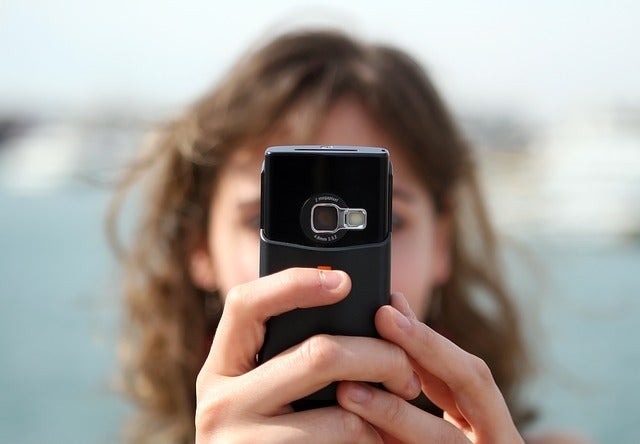 A couple weeks ago I mentioned that I was working on a new framework for you, which is a step-by-step guide for business owners on how the online business really works and what it takes to be fully booked. In a few weeks, I will introduce the full framework to you, but today, I wanted to talk about one of the most important steps to reach your goals: leveraging your social media platforms. A big part of it is sharing Facebook video posts. If you want to do this yourself rather than hiring a whole video-creation team, then read on!
Why videos? A recent Facebook report shows that video posts have the biggest reach and engagement compared to text posts and images. Another fact is that Google and Facebook are pushing videos to the top of their feed which means that if we want more exposure, we need to play by the new rules.
So how do you go about making a Facebook video to a little to no cost? To make a professional-looking video for Facebook, you'd have to take note of a few factors even before going to create, edit, and finalize your video.
1. What's the idea?
Your video has to present a certain idea. Before making it, make sure to go through what you want your video to say or represent.
2. What's the style?
Facebook videos are often quite different than videos on YouTube, for example. The two most popular styles of videos include the presentation style and the behind-the-scenes style of videos that show the process of creating a certain item or the production process of a product. Whichever style you choose, think of including as much on-screen information as possible in the smallest amount of words possible in the best visual way.
3. Shoot the video
You won't need a professional camera. Usually your smartphone should do, as long as you take note of lighting. I just got this cute little light from Amazon for about $10. Once you have everything gathered, you can proceed with the editing process. Here are a few online video editing tools that will help you create the best Facebook video possible.
Some free video editing tools:
Youtube Editor – For the purpose of cutting and combining a few videos together and putting music on top of them, YouTube editor is your best free choice.
It's good for adding final touches to your video.
Clipchamp – Clipchamp allows you to edit up to five videos per month for free. You can trim, convert and adjust your videos. It is a good tool to keep in mind in the process when needed. The app also has advanced plans that allow you to edit bigger files and more.
Stupeflix – Stupeflix is an amazing video solution for creating free videos online. The way it works is that it allows you to pick a style, upload your photos and videos, and choose a soundtrack.
While the styles are limited and there are no exact editing options, it is a great tool to create snappy, professional-looking Facebook videos. It also doesn't have a watermark during the video and allows you to create, download, and share an unlimited amount of videos. However, it does include a Stupeflix logo at the end of the video.
Adobe Spark – Similar to Stupeflix, with Adobe spark you pick a style, upload your photo(s) and even short videos and add text.
What's great about this option is that you can remove the company's trademark (for a limited time) at the end of the video.
Other paid options:
WeVideo – WeVideo is the most popular online video editing software tool for a reason. With it, you are able to create amazing videos, but you'd still have to pay to remove the WeVideo watermark from your video and as a whole, their 'free' membership is extremely limited.
Animoto – Animoto is an extremely intuitive and easy-to-use video editing software. With it, you'd be able to quickly make a professional-looking Facebook video by arranging your videos and photos and adding text and music where they're needed. The app also has a free trial, so you can check it out and see whether it works for you. The only downside is that during your free trial your videos will be watermarked.
Something to keep in mind (from a Locowise study):
The average length of a video published in the first quarter of 2017 was 3 minutes and 48 seconds, but the average time watched was only 10 seconds or only 4% of the full video length.
Only 7% of all video views were clicked to play sound. In other words, think about adding short titles to your videos especially in the first couple of seconds to captivate your audience.
Was this helpful for you? Please leave a comment and let me know if you are already sharing videos on your social media platforms and if so, which tools are your favorites.
Sarit Lotem is a web design and marketing expert, an Amazon bestselling author, and public speaker. Sarit is the owner and CEO of LotemDesign.com where she helps business owners and entrepreneurs who are looking to position themselves as the expert in their field to grow their business with systemized, powerful and beautiful website and online presence.
Ellevate Network is a global women's network: the essential resource for professional women who create, inspire and lead. Together, we #InvestInWomen.
Support HuffPost
The Stakes Have Never Been Higher
Related
Popular in the Community