For all the time that business travelers spend airborne — racking up those precious frequent flyer miles and telecommuting from 35,000 feet — the hours that they log earthbound, navigating their rollerboards through airports, can be just as substantial. And that experience can range from smooth and blissful to ... well, we've all been there.    
In partnership with United Polaris, we're unpacking the virtues, and the baggage, of U.S. airports to bring you our list of the best and worst for business travel. We graded them based on food options, convenience of navigation, passenger services and amenities available to travelers.
THE BEST
1. Dallas/Fort Worth International (DFW)
Power-walking through a terminal while lugging two bags may burn calories, it hardly qualifies as beneficial to one's well-being. To get in a bit of truly positive exercise before or after a flight, DFW has passengers covered; the airport is one of a small but growing number that boast their own yoga studio, where mats, exercise balls and stress bands are provided to guests. Yoga newbies need not fret, as earlier this year, the airport unveiled its own instructional video for its two studio spaces.
DFW also offers an in-terminal walking path (much less stressful than running to make a closing gate), massage services, and Wi-Fi and workstations for those who need to take care of some business.
2. Austin-Bergstrom International Airport (AUS)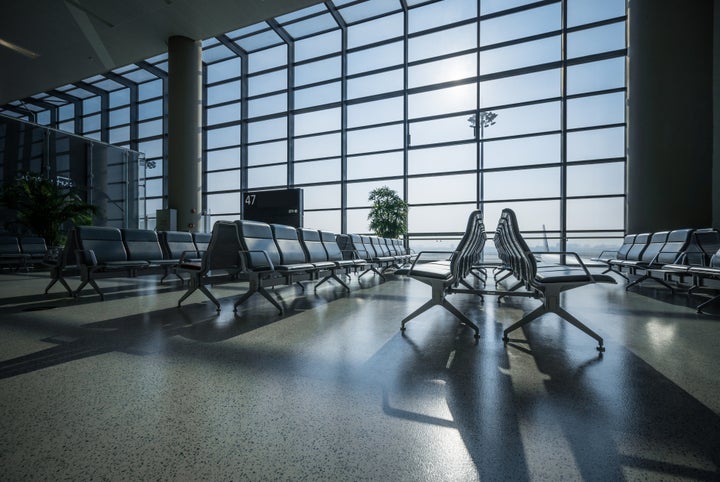 Airports often seem like stress factories, with security checkpoints being one of the most-cited sources of discomfort. There's nothing that adds insult to injury quite like waiting on multiple lines after getting off a long international flight.
AUS has innovated a much-appreciated way to streamline the process and save travelers time when they want it most: In 2015, airport officials unveiled "One-Stop," which allows arriving international passengers and their luggage to be cleared together, rather than in two separate screenings with two separate lines.
With the extra time you save, enjoy one (or more) of the 350 flavors on rotation at the AUS branch of Amy's Ice Creams.
3. San Francisco International (SFO)
To the delight of travelers flying in and out of San Francisco Bay Area, SFO focuses on comfort like few other airports. Like DFW, the airport boasts a yoga room, but sometimes wellness doesn't even involve exercise; after a long flight, there's nothing like a nice, relaxing shower, and SFO has passengers covered with shower rooms. There are even ironing facilities to help you feel truly fresh — or to press a suit at the last minute for that meeting suddenly and unexpectedly dropped on your calendar.
After lowering your stress levels, it'll be easier to get some work done. No need to leave the airport for that, as SFO has free Wi-Fi, workstations and rapid chargers.

THE WORST
1. LaGuardia Airport (LGA)
In 2015, Gov. Andrew Cuomo announced a plan to gut LGA — and the rehab can't come soon enough for the Queens, N.Y., airport, which is one of three major hubs serving the New York City metro area. Though some of LGA's current problems are widely felt (the buildings are dilapidated; pilots consider the runways too short; ground transport in and out can be slow), many are especially annoying to business travelers. Wait times are particularly long across a variety of categories — including check-in, security and baggage handling — and dining options are often limited past security.
Even Wi-Fi access, an absolute must for business passengers, is a problem, as many consider LGA's spotty and unreliable. So don't count on getting a lot of work done while waiting to board your plane.
2. John F. Kennedy International (JFK) 
Unfortunately for New York City business travelers, another one of the area's airports is pulling up the rear. JFK, like LGA, is in dire need of a renovation, but that's not one of its three biggest problems — those are location, location and location.
JFK is located so far out into Queens that it's practically on Long Island, making the trip to and from neighboring boroughs Manhattan or Brooklyn very difficult. Some estimates will tell you that reaching the center of the city from JFK (or vice versa) can take nearly two hours. That also doesn't count the time it takes to navigate the titanic airport's six terminals. Comparatively, getting to and from LGA seems downright convenient.
If that wasn't enough, insult, meet injury: JFK is routinely ranked among the worst airports for delays, with a DOT report estimating an average 29.8 minutes of pre-takeoff taxiing time over the last six summers. Better postpone that meeting.
3. Miami International Airport (MIA)
Few places are as confusing and intimidating as a brand-new airport, and business travelers are exposed to new airports pretty frequently. With that in mind, the longer you can avoid MIA, the better — the airport is infamous for its poor signage and awkward layout, making the mile-plus walks between terminals take even longer than they should.
Once you find where you're going, don't expect to have an easy time getting some work done in peace and comfort. Airport lounges and, in a huge annoyance, the Wi-Fi cost a fee, and there's a distinct lack of dining options during off-hours. The seating has also been described as terrible.
Finally, and inexplicably, travelers in and out of Miami have described MIA as being uncomfortably cold. In Miami. All they'd need to do to fix that is open a window.

United Polaris is United Airlines' all-new business class service, featuring a reimagined, built-from-scratch experience that prioritizes sleep and rest with the goal of making jet-lagged business travel a relic of the past.
REAL LIFE. REAL NEWS. REAL VOICES.
Help us tell more of the stories that matter from voices that too often remain unheard.