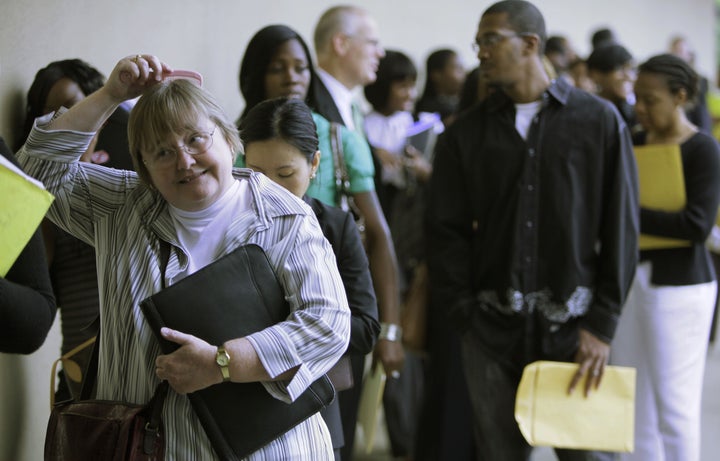 Though the Obama Administration has warned that unemployment will reach 10 percent this year, job markets across the country may not be uniformly bad. According to a new report by the search engine Indeed, the best city to find a job is Washington, D.C., where there are six job postings for every unemployed person. Before you get too excited, Washington, D.C. and Jacksonville, Florida are the only cities on the list in which job postings actually outnumber the unemployed.
The list ranks the 50 most populous U.S. cities by the ratio of job postings to unemployed citizens. Here's the rest of the top 10 - and each city's respective ratio:
1. Washington, DC (6:1)
2. Jacksonville, FL (3:1)
3. Baltimore, MD (1:1)
4. Salt Lake City, UT (1:2)
5. New York, NY (1:2)
6. San Jose, CA (1:2)
7. Hartford, CT (1:2)
8. Oklahoma City, OK (1:3)
9. Austin, TX (1:3)
10. Boston, MA (1:3)
As you might imagine, Detroit is the lowest ranked city, with 18 unemployed people per each job posting. Also near the bottom are Miami, Florida and the foreclosure-ravaged Riverside, California, which have job posting-to-unemployed ratios of 1:9 and 1:10 respectively. It's also more than a little worrisome that enormous cities like Chicago and Los Angeles rank near the bottom of the list.
Here's the rest of the bottom ten cities:
41. Buffalo, NY (1:6)
42. Orlando, FL (1:6)
43. Sacramento, CA (1:6)
44. Rochester, NY (1:6)
45. Chicago, IL (1:7)
46. Portland, OR (1:7)
47. Los Angeles, CA (1:8)
48. Riverside, CA (1:9)
49. Miami, FL (1:10)
50. Detroit, MI (1:18)
Read the entire rankings at Indeed.
Popular in the Community