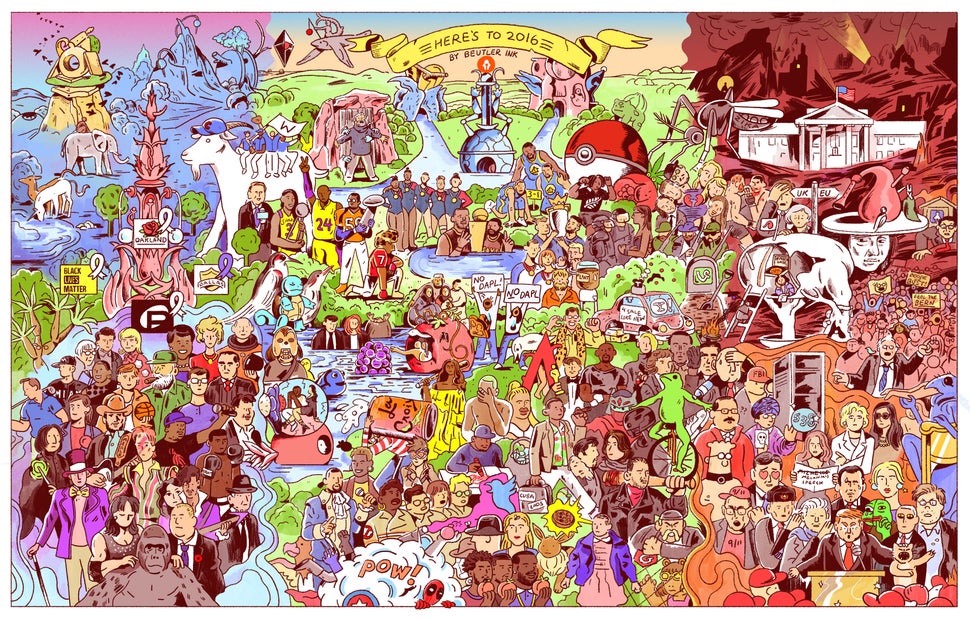 We said goodbye to David Bowie and Prince, and we said hello to President-elect Donald Trump; there was Zika and and Brexit; the Pulse nightclub shooting and the murders of Alton Sterling and Philando Castile, plus another shooting in Dallas. As Jia Tolentino wrote in The New Yorker, this was the worst year ever ... until next year.
The piece is loosely organized. Hunt told The Huffington Post that its "R.I.P." section is located in the far left panel, where Bosch's Garden of Eden rests. Here, you can see the faces of Bowie, Prince, Harambe, and even Fidel Castro. (Castor's "inclusion does not reflect an endorsement," Hunt added.)
The far right section is less heavenly ― in fact, it's hell. There, Beutler Ink situated all of politics (whether progressive or conservative), with Trump's campaign characters taking front and center. 
The middle of the illustration, like in Bosch's work, is dedicated to everything else ― broadly accepted as "Earthly Delights." Here you'll find some happier times: nods to "Ghostbusters," the Olympic gymnastics team, Lin-Manuel Miranda.
When asked to explain some of the less apparent aspects of the illustration, Hunt sent the following breakdown.
The bearded Hemingway-looking man is [SPOILER ALERT] poor Hodor from "Game of Thrones" trying desperately to "hold the door" and keep back the White Walkers. A few other ones that viewers might be unclear about: the bag of jewels between President Obama and Chance the Rapper represents Kim Kardashian's stolen jewelry; the figure above the bag is Kylie Jenner modeling her poorly reviewed lip kit cosmetics; the Pepe the Frog whispering to Donald Trump is split into two to represent the transformation of the original (lovable) Pepe meme and an Alt-Right icon.
As we wind down yet another 366 days, perhaps you can assuage your year-end anxieties by channeling the "Where's Waldo" fan inside you.
Go ahead. Find Hodor. (And also Waldo, because he's there, too.)
Calling all HuffPost superfans!
Sign up for membership to become a founding member and help shape HuffPost's next chapter
BEFORE YOU GO
PHOTO GALLERY
19 Nonfiction Books That Will Expand Your Mind