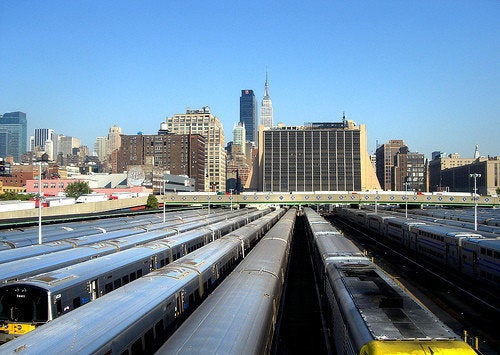 By Andrew Grossman
WSJ.COM: The J/Z line is the best New York's subway system has to offer, according to a new study by the rider advocates at the Straphangers Campaign. The Lower Manhattan-to-Queens route scored the highest on measures like trains are clean, crowded and arrive at regular intervals.
It's the first time the J/Z line took the top spot in the study, which the Straphangers started in 1997. The J/Z edged out the 7, a six-time winner that runs service between Midtown Manhattan and Flushing, Queens.
The J and Z are scheduled to arrive frequently -- every five minutes at rush hour -- and usually, they do, the Straphangers study found. Trains rarely break down on the line, they're clean and it's easy to hear the announcements.
The study didn't rate intangibles that New York City Transit doesn't measure, but Metropolis thinks the J/Z scores well on those too. There are pleasant East River views as its trains traverse the Williamsburg Bridge, followed by a scenic above-ground run in Brooklyn. Its penultimate stop, Sutphin Boulevard, has transfers that link riders to the rest of the world: the AirTrain to Kennedy Airport and the Long Island Rail Road.
The 2 train tied with the lowly C for last place in the study. It's the fifth time the C has ended up at the bottom of the subway pack since the survey started. The scheduled intervals between trains are the longest in the system. The aging cars on the C line break down the most frequently of any in the system, and announcements are hard to hear.
For all that trouble, however, C riders do have a slightly better-than-average chance of getting a seat during rush hour: 50%, according tot the study. (The system average is 46%.) And, as a sort of consolation prize, trains on the C line are the cleanest in the system, the Straphangers Campaign says.
The 2′s problems are different. The Bronx-to-Brooklyn line gets crowded, giving riders a less than one-in-three chance of snagging a seat during rush hour. It's scheduled to run frequently, but the study found that it only achieves its schedule 66% of the time. Trains on the 2 are also dirtier than average.
Read more at the Wall Street Journal
Calling all HuffPost superfans!
Sign up for membership to become a founding member and help shape HuffPost's next chapter