 Tom Ford Beauty Lip and Cheek Stain: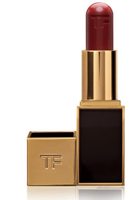 This is the first lip stain from Tom Ford, released as part of the fall 2012 collection. It comes in just one color: "Tainted Love," a rosy red. It's perfectly between sultry and subtle -- a vivid-enough red to get noticed, but too sheer to shout.
The stain comes packaged in a lipstick tube for easy application. The formula blends easily on cheeks for a natural glow. On lips it can be layered for buildable color, ranging from a barely-there rose to a just-bitten berry. It contains acai oil and cherry extract for natural softness and shine.
Éminence Bright Skin Moisturizer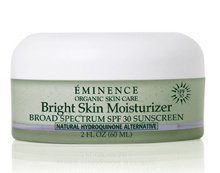 I've been using this cream to fade the freckles and dark spots I earned over the summer. It contains a special formulation of natural plant extracts that lighten and brighten the complexion. They don't work as quickly as Hydroquinone, the active ingredient in most fade creams, but they're much gentler on skin. Since Hydroquinone has always given me a rash, I was happy to take the slow road.
My only complaint is that it contains Octinoxate, a synthetic chemical sunscreen that can cause skin irritation for some people. If you're one of those unlucky folks, be warned. And if you know of a gentler skin brightener, please share it in the comments!
Dermelect "ME" Peptide-Infused Nail Color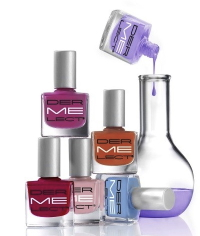 It may have been the power of suggestion, but this polish really does seem to fortify my nails. I haven't suffered any of the breakage or flaking that usually plagues my fragile nails while wearing it, which may or may not have been because of the magic ingredient: a strengthening protein peptide extracted from New Zealand sheep's wool.
But the best part of the "ME" polish is the formula, which is highly pigmented and applies smoothly. The color range is currently limited to nine creme shades, in a mix of brights and pastels. Though ideally they should be applied over a base coat, I tried them directly on my nails and didn't experience any staining.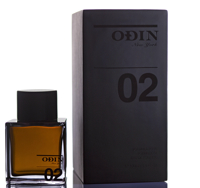 It's sold as a unisex fragrance but would best be described as, "men's cologne your girlfriend is most likely to steal." Unlike the heavy, tobacco-stained notes that compose up most men's fragrances, Owari is light and citrusy, with bright notes of bergamot and grapefruit leaves over a base of cedarwood and amber.
Owari is masculine enough for even my hulking, 6'4" boyfriend to wear, but I've co-opted is as my fragrance of choice for the colder months, when the many layers of winter clothing invite a little androgyny.
LUSH Emotional Brilliance
Finally, a line of color cosmetics from the environmentally responsible bath and body company LUSH. 13 lip colors, 11 liquid eyeliners and six cream eyeshadows, all handmade from ethically sourced, vegetarian materials like rose wax and jojoba oil. The packaging, too, is environmentally sound, consisting simply of small glass vials with plastic tops made of recycled LUSH product packaging. Everything can easily be washed and reused or recycled.
Each of the colors in the collection correspond to a different emotional or psychic state, making shopping for cosmetics something of a color therapy session. To get the full effect, try the Emotional Brilliance color wheel game. A little woo-woo to be sure, but plenty fun.

Related