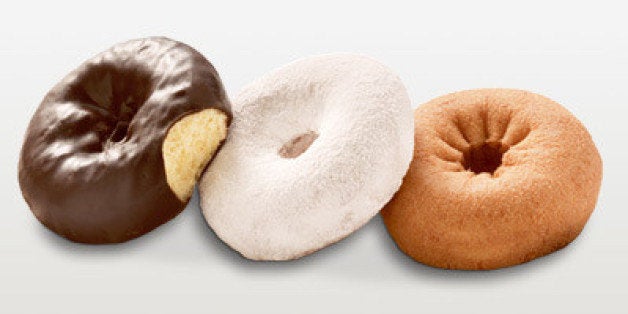 Can we all take a minute here to pay tribute to Entenmann's snacks? Boxes of Entenmann's have gotten us all through some tough times over the years. They've been there for us when we've been down, and they've comforted us even when we weren't sad at all. They're a loyal bunch, and we'd like to show our loyalty back.
We're not sure if we just ate so many of them growing up that we needed to take a break, or if we've just been overwhelmed with gourmet doughnuts (not our faults -- it's the cross we bear for living in New York City), but either way, there have not been enough Entenmann's snacks in our lives recently.
We miss the mini blueberry muffins and the powdered sugar-covered doughnuts, which are the only acceptable powdered sugar doughnuts in our book. Our mornings have been seriously deficient of Crumb Coffee Cake and we haven't been eating nearly enough Entenmann's chocolate chip cookies, which are in a league of their own.
As you can tell, we're big fans of Entenmann's goodies and we ain't afraid to show it. Maybe you love Entenmann's too -- but do you love them so much that you've blacked out from eating too many, like someone on HuffPost Taste may or may not have done once? Well, we hope, for your sake, you were gorging on the good stuff, and not the gross, waxy chocolate-covered doughnuts. Because if you're a real Entenmann's fan, you know what the good snacks are, and which ones are worth skipping. For those of you not as well versed in the ways of Entenmann's as we proudly are here at HuffPost Taste, here's our (totally subjective) rundown of the most iconic Entenmann's snacks, ranked from worst to best. And for the record, we're talking about the old favorites -- not the Madeleines and the Whoopie PIes, which apparently they also sell. What's your favorite classic Entenmann's snack?