This has not been the best week for Bjork.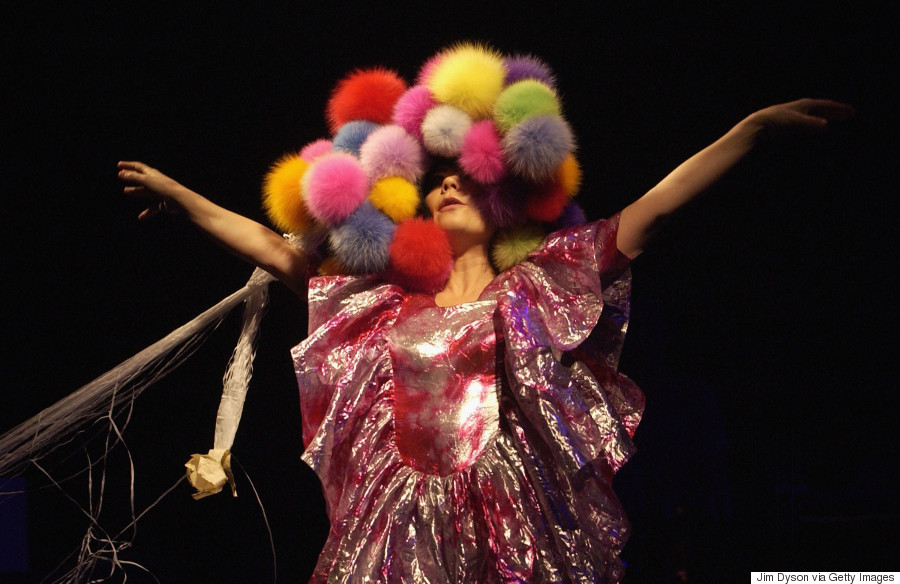 Yet, in every single one of the exhibition's damning reviews, the blame for the artistic debacle was placed not on the Icelandic polymath herself but the museum and its sloppy curation job. As Roberta Smith put it, "Björk should have said no -- not because her work isn't museum-worthy but because, as proved here, the Modern is not up to the task."
So, to lessen the blow of the exhibition's public opening on March 8, we've rounded up our favorite Bjork lyrics to remind us all just how magical the artist's brain truly is. Don't let the retrospective's cheesy arrangements and creepy three-dimensional models lead you astray. Bjork is a genius, even if her exhibition was a (big) (huge) flop.
1. "Every boy, is a snake is a lily/ Every pearl is a lynx, is a girl" -Oceania, Medúlla
In non-Bjork English: We are all made of everything.
2. "As fast as your fingernail grows/ The Atlantic ridge drifts/ To counteract distance/ You know I gave it all." -Mutual Core, Biophilia
In non-Bjork English: Small things and big things, body parts and tectonic plates, slowly grow, and grow distant. I gave everything to keep us together.
3. "I suck my tongue/ In remembrance of you" -Possibly Maybe, Post
In non-Bjork English: Try it, it feels kind of like kissing.
4. "And if you complain once more/ You'll meet an army of me" -Army of Me, Post
In non-Bjork English: Grow up or be prepared to face a battalion of baby Bjorks -- which, honestly, doesn't sound so bad.
5. "There's definitely, definitely, definitely no logic to human behavior" -Human Behavior, Debut
In non-Bjork English: People are weird.
6. "He offers/ A handshake/ Crooked/ Five fingers/ They form a pattern/ Yet to be matched" -Pagan Poetry, Vespertine
In non-Bjork English: Every first handshake is an opportunity, a puzzle, a new beginning.
7. "The history touches/ Every single archive/ Compressed into a second/ All with us here as wake you up" -History of Touches, Vulnicura
In non-Bjork English: Like your life flashing before your eyes at the end of your life, Bjork experiences a rush of memories at the end of her relationship.
8. "Imagine what my body would sound like/ Slamming against those rocks/ When it lands/ Will my eyes/ Be closed or open?" -Hyperballad, Post
In non-Bjork English: Bjork contemplates her own fate and potential death. If she flung herself off a cliff, she wonders, would she survive?
9. "What is it that I have/ That makes me feel your pain?/ Like milking a stone/ To get you to say it"
-Stonemilker, Vulnicura
In non-Bjork English: Getting you to express your emotions is as fruitless as attempting to get blood from a stone.
10. "Fuck logic, fuck logic/ Bravo to instinct/ And sweet intuition" -Sweet Intuition, Army of Me
In non-Bjork English: YOLO, just do it, No Fear, trust your gut, etc.
11. "Delicious boy/ With animal eyes/ Beautiful buttocks/ Haunting movements/ But the thing that makes me love you/ Is the unforgettable smell of your skin." -Walkabout, Stick Around for Joy
In non-Bjork English: It is always a lover's scent that seals the deal.
12. "I'm a fountain of blood/ In the shape of a girl/ You're the bird on the brim/ Hypnotised by the Whirl / Drink me, make me feel real/ Wet your beak in the stream/ Game we're playing is life/ Love is a two way dream."
-Bachelorette, Homogenic
In non-Bjork English: Sometimes Bjork doesn't feel real or human, though she remains as powerful and transfixing as a fountain of blood. She needs love to make her feel alive, or at least lost in some passionate dream.
13. "He knows how many freckles she's got/ She scratches his beard" -Birthday, Life's Too Good
In non-Bjork English: Love is in the little details.
14. "These cells are virgins" -Headphones, Post
In non-Bjork English: In Bjork's self-described "love letter to sound," she describes her body before experiencing the sensual impression of Graham Massey's music on her headphones.
15. "His wicked sense of humor/ Suggests exciting sex" -Venus as a Boy, Debut
In non-Bjork English: Some savvy love advice, courtesy of your queen, Bjork.
REAL LIFE. REAL NEWS. REAL VOICES.
Help us tell more of the stories that matter from voices that too often remain unheard.
BEFORE YOU GO
PHOTO GALLERY
Bjork's 'Biophilia' App