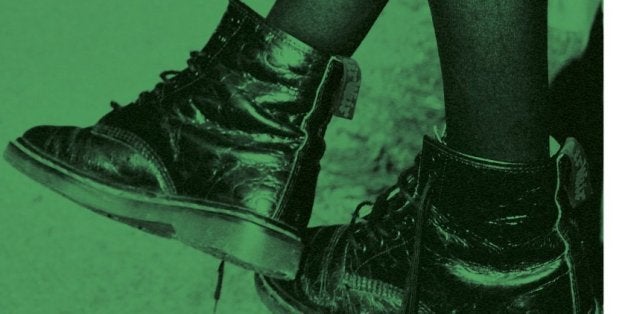 2014's beach days are numbered. Time to trade in your summery reads for the best new titles this fall has to offer. Below are 27 forthcoming new books, fiction and non-, that we're itching to pick up:
Acceptance by Jeff Vandermeer
The third and final installment in Vandermeer's Southern Reach trilogy follows a final expedition into the mysterious, deadly and quickly expanding terrain of Area X, an ecological mystery that scientists are struggling to understand. All three of the books in Vandermeer's trilogy were released this year, an interesting, Netflix-like publishing model that could offer a glimpse at the future of genre fiction.
The Bone Clocks by David Mitchell
David Mitchell is back and as genre-bendy as ever. Describing the breadth of his latest epic as "sprawling" wouldn't quite do it justice. While the story centers on Holly, who has shown a propensity for interpreting psychic phenomena, it also jumps between wildly different settings -- Manhattan in the future, the Swiss Alps in the past, and Iraq in the present.
Although the world of Ben Lerner's latest story is indeed apocalyptic -- New York City has been inundated with nonstop thunderstorms, and could soon be completely submerged -- it's not the sort of dystopia readers might've grown accustom to. The protagonist is more concerned with his recent medical diagnosis, and the fact that he's become an overnight literary superstar.
The Paying Guests by Sarah Waters
Waters's latest story chronicles an aristocratic British family forced to take on boarders after they lose a large portion of their wealth. A widow and her aging daughter find that there's much to be learned from their middle-class tenants, in this exploration of London after the First World War.
Women in Clothes by Sheila Heti
Sheila Heti, author of the groundbreaking "novel from life," How Should a Person Be, has teamed up with The Believer magazine co-editor Heidi Julavits and Leanne Shapton, whose ultra-twee titles include Swimming Studies and Was She Pretty? to anthologize a slew of writers' relationships with clothing. Molly Ringwald, Emily Gould and various other notable women have penned poems and interviews surrounding why they wear what they wear.
Hold the Dark by William Giraldi
Publishes September 8, 2014
Set in an isolated Alaskan town recently plagued with wolf attacks, Giraldi's second novel is as much a thriller as it is a poignant examination of masculinity in its rawest form. After three children go missing, local wolf expert (and sympathizer) Russell Core is brought in to examine the phenomenon.
The Moor's Account by Laila Lalami
In 1527, Pánfilo de Narváez set out for the Americas. Laila Lalami reimagines his story in her stunning historical novel, through the eyes of one of his crewman's Moroccan slave, Mustafa al-Zamori. The Moor's Account sheds light on all of the possible the New World exploration stories that didn't make history.
In Case of Emergency by Courtney Moreno
Reminiscent of Leslie Jamison's essay on medical acting in her collection The Empathy Exams, Courtney Moreno's book uses the coping mechanisms she learned while working as an EMT to color her narrator's painful past. Moreno confronts both physical and psychological trauma, expertly blurring the lines between the two.
The Children Act by Ian McEwan
The author of Atonement has penned a touching tale about an earnest, devoutly religious family that wishes to deny their son medical treatment due to their belief system. An intervening judge whose own personal life isn't everything she'd hoped for finds herself conflicted on the matter.
How We Learn by Benedict Carey
Carey takes on long-perpetuated stereotypes about the ways in which we take in and absorb information. In particular, he challenges the notion that down time is detrimental, rather than beneficial, to learning. Not only does he cite scientific evidence for his claims, but he provides guidance for applying efficient methods of learning to the reader's everyday life.
Love Me Back by Merritt Tierce
Tierce may be a debut novelist, but she's been named a "5 Under 35" honoree by the National Book Foundation, thanks to her exceptional short story-writing chops. Her book follows Marie, a single mother navigating the unsteady waters of early adulthood while working at a steakhouse in Dallas, Texas. She quickly becomes lost in sex and drugs, and Tierce's writing reflects the plot's quick, sinuous turns.
Stone Mattress by Margaret Atwood
Fresh off an announcement that her MaddAddam trilogy will be adapted into a highly anticipated (by us, anyway!) HBO series, Atwood has a new collection of short fiction, a medium she's revisiting for the first time since 2006. Her pithy writing style and ability to accurately speculate about future technological innovations works well here.
How to Build a Girl by Caitlin Moran
Publishes September 23, 2014
Caitlin Moran's How to Be A Woman broke ground on making feminism funny, and unquestionably universal. The British author's style -- that is, to pepper oversharey anecdotes with all-caps rants about should-be truisms -- applies nicely to her fictional coming-of-age story about a girl making mistakes and choosing role models.
The Betrayers by David Bezmozgis
David Bezmozgis's bold character study spans a single day in the life of its fallen protagonist. A fallen Israeli politician, Baruch Kotler has been caught in a recent scandal involving a much younger mistress, and is forced to examine his recent life choices, both personal and political.
The Zone of Interest by Martin Amis
The Zone of Interest isn't Martin Amis's first attempt to write about the Holocaust -- Time's Arrow told the story of a doctor working during the time period. His newest novel approaches the topic head-on, setting a love story in the unlikely setting of a concentration camp.
On Immunity: An Inoculation by Eula Biss
Biss infuses her in-depth study on why we as a society fear vaccines with her own experiences with raising a child. She cites literary greats (Sontag, Stoker, Voltaire) on the topic of immunization, connecting literary history with our deep-rooted avoidance of protective shots.
The Sense of Style: The Thinking Person's Guide to Writing in the 21st Century by Steven Pinker
Linguist Stephen Pinker returns with a study on contemporary language, addressing the issue of the arguably outdated Elements of Style, and replacing its rigidness with the revolutionary idea that cognitive science should be the basis of language rules. He also asks whether language is getting worse, and offers tips for writing well.
With The Interestings, her recent, much-lauded book, Meg Wolitzer demonstrated her skill for capturing the turmoils of youth in a compelling way, so it only makes sense that her next work be a YA novel, in which protagonist Jam is sent to rural Vermont after the death of her boyfriend.
Lila by Marilynne Robinson
John Ames and other characters Robinson fans will remember from her acclaimed works Gilead and Home are revisited in Lila. Lila comes from a troubled childhood, but her pain is alleviated when she marries a kind minister. Robinson's deft prose-writing skills and illuminating defense of faith make her a truly unique voice.
Man V. Nature: Stories by Diane Cook
As its title suggests, this debut story collection takes the familiar narrative conflict and applies it to contemporary characters. The capriciousness of the natural world in Cook's stories colors them with a Romantic, almost surreal light that fans of Megan Mayhew Bergman are sure to appreciate.
Nora Webster: A Novel by Colm Tóibín
The titular character in Tóibín seventh novel is a 40-something widow living in midcentury Ireland, struggling to support her large family while mourning the loss of her husband.
The Peripheral by William Gibson
Die-hard Gibson fans (and there appears to be few other kinds) are already making Neuromancer comparisons to the author's latest work. In his return to sci-fi, Gibson tells the story of Flynne, who's been ordered to complete a simple, simulation-time task that may actually be deadly.
Mermaids in Paradise by Lydia Millet
Pulitzer Prize finalist Lydia Millet is undoubtedly a funny writer, and her latest book promises to be among her funniest. While visiting a resort, a happy-go-lucky couple hears about nearby mermaid sightings. When the rumors turn out to be true, they set out to defend the sea creatures from a company that hopes to capitalize on their discovery.
Let Me Be Frank With You by Richard Ford
Ford is celebrated for his Frank Bascombe novels -- stories swirling around the life of a middle-aged real estate agent. His profession lends itself to Ford's rich descriptions of natural land. Here, Ford places Bascombe in the wake of Hurricane Sandy.
There Was and There Was Not: A Journey through Hate and Possibility in Turkey, Armenia, and Beyond by Meline Toumani
Growing up, Meline Toumani would've been an unlikely candidate to leave behind her comfortable job and home to live in Istanbul. Born in Iran and raised in an Armenian community in New Jersey, she was taught to begrudge all things Turkish, due to the 1915 genocide that her people endured. When she sets out to better understand Turkish society for herself, she's surprised to learn about the prejudices she'd harbored. Along the way, she offers illuminating insights about a quickly changing Turkey.
A Map of Betrayal by Ha Jin
National Book Award-winning Jin came of age during the early, tumultuous days of communist China. He's a master of poetry and short fiction, and this skill is evident in his novel-length works as well. A Map of Betrayal follows protagonist Lilian from America to China, where she encounters her father's second family. The trip is spurred by her discovery of his journals, which detail his life as a Chinese spy.
Ugly Girls by Lindsay Hunter
Lindsay Hunter approaches novel writing from the vantage point of a former flash fiction writer, so her chapters are quick, conversational and clever. Her first novel is about two young, female best friends who get themselves into trouble when meeting an online admirer for the first time.
CORRECTION: A previous version of this post incorrectly spelled the title of Meg Wolitzer's upcoming book, Belzhar.
Related
Popular in the Community