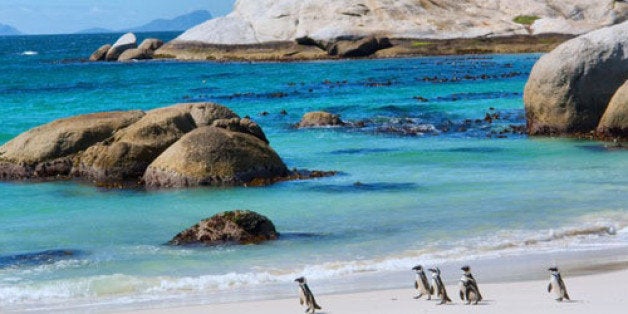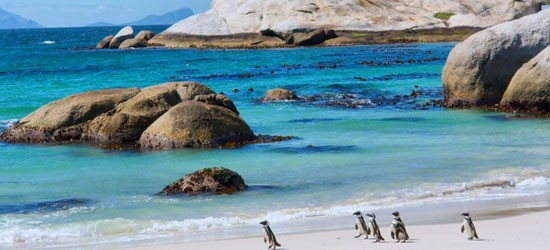 Photo Courtesy of Dreamstime. Article by Jamie Beckman, contributor to Budget Travel.
Conditions are perfect for visiting these near- and far-flung, culture-rich locales: Price-wise, 2014 is their year. Dipping hotel rates, new attractions, and some perennially affordable sights and eats make these five cities ideal to consider for your travel itinerary this year.
SOUTH AFRICA
The country that Nelson Mandela changed forever will change you, too
Why in 2014: Take your pick of locales to visit in South Africa this year: Hotel rates are down 8 percent across the country. Put wildlife at the top of your agenda, whether you're looking to see the big five on a safari or just want to hang out with the free-roaming penguins on Boulders Beach in Cape Town (careful, they bite). For a less risk-fraught animal excursion, Kruger National Park is one of the best on the continent. For an entrance fee of about $20, you can take in the South African landscape and keep your eyes peeled for both the big five and the little five (buffalo weaver, elephant shrew, leopard tortoise, ant lion, and rhino beetle). Beach lovers will flip for Cape Town's beaches, at the intersection of the Atlantic and Indian oceans. Go Atlantic (the western side) for sunbathing and watercolor sunsets; hit the Indian (the eastern side) for swimming and surfing. Many of the eastern beaches have lifeguards. Soweto township in Johannesburg offers numerous opportunities to absorb the city's prominent history, such as the Nelson Mandela Museum and the Apartheid Museum. When you're hungry, visit the restaurants on Vilikazi Street; the indigenous local food menus include tripe, morogo (boiled wild spinach), and ting ting (sour porridge).
Where to Stay: In Cape Town, the Parliament Hotel's helpful staff, free breakfast, and safe location next to a police station are key basic reasons to book your stay. Nearby, you'll find Company's Gardens, where you can marvel at an aviary and scope out the oldest pear tree in Africa, and the Slave Lodge Museum, which educates visitors about South Africa's history of oppression. (parliamenthotel.co.za, from $67)
VENICE
Yes, Venice! Hit the enchanting city of canals while hotel rates are down
Why in 2014: Put "floating down picturesque Venetian canals in a gondola" on your 2014 itinerary. Spending time in Venice is now more affordable than ever -- hotel rates are down 7 percent from last year. Along with the iconic gondola trip, visiting the Piazza San Marco is a must: The Sansovino Library and the Ducal Palace stand at either side. You can't miss the two large granite columns from the 13th century that are topped with two symbols: the Lion of Saint Mark and a statue of Saint Theodore. Soak in the work of Venetian masters such as Vittore Carpaccio, Tiziano Vecelli, and Giorgione at Gallerie dell'Accademia, then follow it up with a dose of modern art at the Peggy Guggenheim museum, which showcases works from her personal collection by big names including Picasso, Dali, and Pollock. Ask your hotel's concierge about water transportation to Murano, where you can see traditional glass blowing on a small tour. Be aware that there's a hard sell at the end of the tour. They really want you to buy fancy glass.
Where to Stay: For opulent Venetian atmosphere, consider Hotel Al Ponte Mocenigo. Nice touches like Murano glass chandeliers and exposed beams add to the 1700s feel. (alpontemocenigo.com, from $115)
DOMINICAN REPUBLIC
Affordable all-inclusive resorts put this island paradise within reach
Why in 2014: Growing more popular by the day, the DR is a go-to 2014 beach destination if you've been priced out of vacation spots like Cabo or aren't up for sharing sand with the fashion crowd in Tulum. The five-star all-inclusive Majestic Colonial Beach Resort in Punta Cana is surprisingly affordable, at about $212 per night for two people. For a more rustic trip, up-and-coming Las Terrenas, a little-known former fishing village in the Samaná province, is easy on the purse strings and heavy on pristine beaches. To get your nature fix, pay a visit to Los Haitises National Park, a protected virgin forest informally known as Caño Hondo. Rent a kayak for $3 (plus a licensed guide) and glide through lagoons and mangrove canals to spy on wildlife like brown pelicans and endangered leatherback turtles.
Where to Stay: The private and affordable Eva Luna, in Las Terrenas, has five Mexican-style villas, each with a kitchen. (villa-evaluna.com, from $100)
BUENOS AIRES
The "Paris of South America" invites you to tango, shop, eat -- and then tango some more
Why in 2014: Dubbed the "Paris of South America," Buenos Aires has a cosmopolitan feel and is heavy on museums, historical sites, and nightlife. Go this year: Hotel rates are 8 percent lower than they were in 2013. In the evening, make a stop at busy Corrientes Avenue for everything from a slice at an all-night pizzeria to rare books to dance clubs where you can brush up on your tango skills -- the street is rich in tango history. If it's been a while since you've watched Evita, re-educate yourself on the life of Eva Perón at the Evita Museum, which spotlights Eva's clothing, items from her charity work, and videos of her speeches. Afterward, view Argentinean culture through the eyes of its artists at the Museum of Latin American Art of Buenos Aires, where works by Frida Kahlo, Diego Rivera, and more reside. Follow Santa Fe Avenue to arrive at the affluent Recoleta neighborhood, famous for its high-end shopping, but also noteworthy for Recoleta Cemetery, a mecca of 18th and 19th century design and the final resting place of well-to-do Argentineans and famous statesmen, politicians, and military heroes -- including Eva Perón's tomb. More than 100 years old, Teatro Colon, in downtown Buenos Aires, houses opera and ballet performances, and concerts by the Buenos Aires Philharmonic Orchestra among other classical concerts by musicians from around the world. Tickets are reasonable (about $9), or take a guided tour of the theater (about $10). To seize the moment after you've celebrated the past, the Río de la Plata is ideal for sailing, motorboating, and waterskiing.
Where to Stay: Situated in a residential area outside the city center but two blocks from the subway, the Hotel Boutique Racó de Buenos Aires is a boutique hotel that's high on style and comfort -- there's even an outdoor courtyard where you can enjoy breakfast. (racodebuenosaires.com.ar, from $66)
ORLANDO
The "big three" -- Disney, Universal, and SeaWorld -- are just the beginning
Why in 2014: If you've been planning to hit Orlando and its theme parks eventually but haven't booked your tickets yet, do it in 2014: Hotel rates are down 7 percent. To sweeten the deal, the "big three" theme parks all have brand-new elements, including Universal Studios' Transformers: The Ride 3D; the ever-expanding Fantasyland at Disney World, including the Seven Dwarfs Mine Train, scheduled to open in 2014; and Antarctica: Empire of the Penguin, SeaWorld's biggest attraction to date, which drops temps to 30 degrees -- colder than it ever gets in Florida. If eating well appeals to you after your foray into action-adventure, hit up downtown Orlando: The recently opened Rusty Spoon restaurant sources local fare from Florida farmers, like butter-poached wild clams and slow-braised Jamison farm lamb collar.
Where to Stay: Rosen Inn International is the newest addition to Rosen's roster of family-friendly, value-conscious Orlando hotels. Parents, take note: Free shuttle rides to SeaWorld, Universal Studios, and Wet 'n' Wild are provided, and children under 9 eat free in the hotel's buffet restaurant. (roseninn7600.com, from $61)