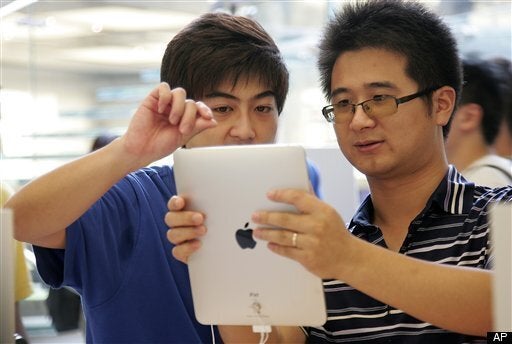 See update below Speaking at All Things Digital's conference earlier this year, Apple CEO Steve Jobs predicted that the iPad would disrupt the PC market.
"I think PCs are going to be like trucks," he said. "Less people will need them. And this is going to make some people uneasy."
Several figures offer a new look at how the iPad may be affecting PCs--and it's not looking good for laptops.
The Wall Street Journal reported that Best Buy CEO Brian Dunn said "internal estimates showed that the iPad had cannibalized sales from laptop PCs by as much as 50%." Although Dunn has since retracted part of his statement to the Journal (see below), several other relevant data points have emerged.
Fortune posted a chart from Morgan Stanley that highlighting the negative growth of notebook sales (see below). "'Tablet cannibalization'--chiefly by Apple's iPad -- is at least partially responsible, [Morgan Stanley's Katy Huberty] said," according to Fortune. Apple Insider noted that an analyst has found "that the iPad appears to be 'slightly cannibalizing' low-end MacBook sales."
So does are consumers really ditching laptops for iPads?
Fast Company's take: "[W]hat Dunn is really mentioning is a trajectory. Now iPad manufacturing has stepped up, holiday season is soon to hove into view, and Best Buy's entire store list will be selling 'em from late September, the iPad sales will definitely begin to seriously bite into laptop sales. Apple's changed yet another industry."
Paid Content's perspective: "The instant assumption: buyers are choosing iPads over laptops. Yes, no and maybe. From an anecdotal basis as someone often asked to help others with tech spending decisions, people who need computing power and features that aren't on the iPad go with laptops (Mac or PC), while the iPad is an answer for people who own a computer for the heavy lifting and are attracted to the sleek, light device with its instant-on apps. Then there are those who don't want a computer in the full-blown sense but like the cross between a net appliance, DVD player and e-reader."
Business Insider writes, "That's insane. It's happening. Notebooks are now outdated and boring while the iPad is compact and cool."
Mashable's conclusion: "Fact: The growth of the notebook market has been slowing down ever since Apple's iPad was launched. And although other factors are likely at play, iPad's meteoric rise is probably the main reason why U.S. sales of netbooks began declining in August 2010 for the first time in more than a year."
PC Mag writes, "Our research shows that interest in tablets has dampened the demand for netbooks, as well. Netbook sales slowed down in the US last spring—though they seem to have done relatively well during the summer and in the early back-to-school season. [...] The fact is that people are stopping and looking seriously at the potential role of a tablet in their lives. This is not yet a major trend, but it is one that the PC industry needs to look at closely. [...] The bigger question is whether this tablet trend will knock out netbooks altogether. It's too early to tell, but I suspect that demand for netbooks will shift to emerging markets and education, while mainstream consumption decreases over time. And while the demand for notebooks will always be strong, consumers may hold onto their laptops for longer and longer." Will tablets be the death of the PC? Weigh in below.
UPDATE: Best Buy released a statement late Friday, "Statement: Reports of notebook, netbook sales declines grossly exaggerated," addressing the CEO's comment.
The statement included the following:
"The reports of the demise of these devices are grossly exaggerated," [Best Buy CEO Brian] Dunn said. "While they were fueled in part by a comment in the Wall Street Journal that was attributed to me, they are not an accurate depiction of what we're currently seeing. In fact, we see some shifts in consumption patterns, with tablet sales being an incremental opportunity. And as we said during our recent earnings call, we believe computers will remain a very popular gift this holiday because of the very distinct and desirable benefits they offer consumers. That's why we intend to carry a broad selection of computing products and accessories to address the demand we anticipate this season."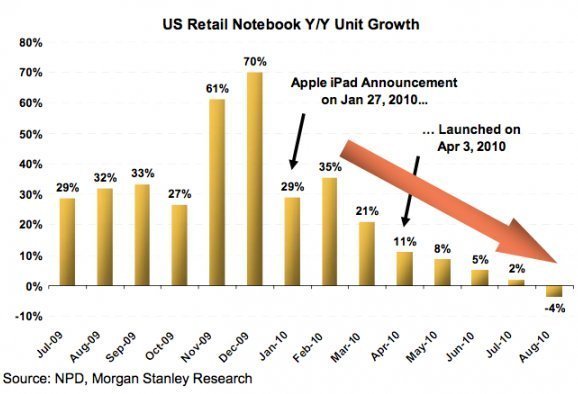 via Fortune
Popular in the Community