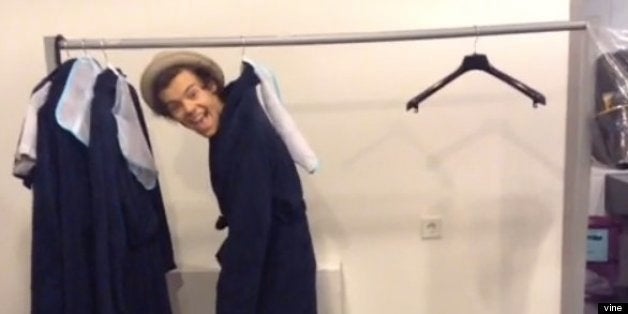 If you have Facebook, Twitter and Instagram all neatly organized on your beloved smart-phone, chances are Vine has snuck its way in there, too.
A year ago, you wouldn't have known what Vine was, considering that it only came out January 2013. But within these short seven months, Vine has managed to climb its way to the top — happily situating itself as number one on the list of free social networking apps on iTunes.
In fact, Vine has become a dominating force in the modern world of social interaction; its influence is so threatening that Instagram has even created its own video feature to try and lure back followers. So what is the key to Vine's success? What is it about these seven-second, roughly spliced videos that has everyone mesmerized?
For starters, Vine has become a platform for celebrities to give behind-the-scenes peaks into their oh-so mysterious lives. These videos humanize even the most estranged aspects of Hollywood, allowing us to see through the glitz and the glam of the untouchables. (Also, they're hilarious.)
It's hard to predict which of these social media trends will last, but as long as celebs keep serving up videos, I'm sure Vine is here to stay. Without further adieu, here are the eight celebs whose Vines get me through the day.
1. Josh Peck (vine: Josh Peck)
I loved him back in the days of "Drake and Josh" and there's no doubt I love him now. Josh Peck is the shameless king of Vine, proving that humor does not change with age. Though I would never venture to make videos like these on my own (they're unconventional, to say the least), I delight in watching his. Makes me wonder, though, does Josh Peck do anything else with his time?
2. Harry Styles (vine: Harry Styles)
The 1D boys are traveling the world on their latest tour, and luckily Vine allows us to tag along for the ride. Harry and the crew are absolutely adorable, and these candid little videos have only affirmed my obsession. Multi-million dollar record deals aside, they are truly just the goofy boys next door.
3. Jennette Mccurdy (Vine: Jennette McCurdy)
I. Love. Jennette. McCurdy. Her sarcastic, semi-cynical take on pop culture, gender roles and social norms will have you peeing your pants. Was that too vulgar? Too direct? Sorry, these videos are rubbing off on me.
4. Jerome Jarre (Vine: Jerome Jarre)
This French dude has literally created a living out of "Vining". His videos, which consist of him serenading/annoying/questioning NYC strangers, have racked up hundreds-of-thousands of likes from his 1.3 million followers. I think he deserves his own movie... but in the meantime this will do.
5. Joe Jonas (Vine: Joe Jonas)
After their two year break, the Jo Bro's are back in business. Hitting the road for their summer tour, these boys are reminding me that they are, in fact, STARS to be watched. (If you do not get the reference, please see the video above.)
6. McKayla Maroney (Vine: McKayla Maroney)
McKayla Maroney, our favorite Olympic teen gymnast, first became an internet sensation for her "not impressed face" -- even Obama caught on to the look. Now she's still the queen of social media, having combined her athletic skills and her iPhone capabilities into quite the enjoyable Vine.
7. Troian Bellisario (Vine: Torian)
Basically, I have decided to join the cast of "Pretty Little Liars." This behind the scene madness looks like a whole lot of fun and my jealousy is skyrocketing. I guess the only option is to continuing living vicariously through Vine. Please don't judge me.
8. Eric Stonestreet (Vine: Eric Stonestreet)
It took a double take for me to recognize this "Modern Family" star, but finding his Vine was like discovering a diamond in a pile of coal. Really, he's more like his character Cam than I ever could have imagined. Don't take my word for it, watch for yourselves.
Calling all HuffPost superfans!
Sign up for membership to become a founding member and help shape HuffPost's next chapter
BEFORE YOU GO
PHOTO GALLERY
Teenager Posts Of The Week, 7/21/13