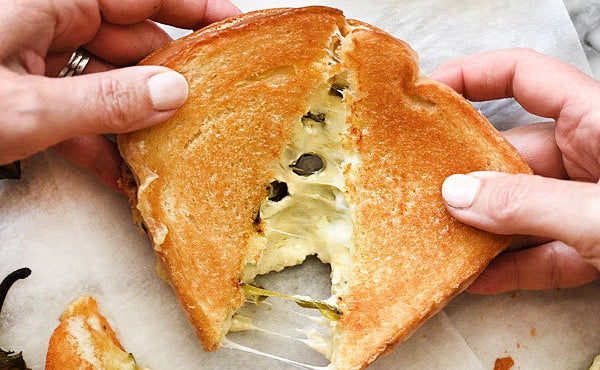 Warning: American cheese has no place in this story.
While it's hard to deny the melty perfection of a diner-style grilled cheese sandwich made with slices of American cheese or even Kraft singles, most experts happen to think American cheese is pure garbage.
"It's not really cheese to me, it's some kind of weird plastic-y substance that should be banned from the face of the earth," Heidi Gibson, co-owner of The American Grilled Cheese Kitchen in San Francisco, told HuffPost.
While not everyone agrees with that, it's not the only point of contention when it comes to making a good grilled cheese sandwich. You can use white or wheat bread, and you can slather it with either butter or mayo. You can grate your cheese or you can slice it, or you can get real controversial and put tomatoes in it. But what really matters in a grilled cheese sandwich is the type of cheese you use. And no one agrees on that, either.
But there are professionals who truly know how to turn cheese into magic. When you meet such a person, you should listen to them carefully. We did just that, asking three legendary cheese experts to tell us, in their opinion, the best cheeses for a grilled cheese sandwich.
Heidi Gibson

1. Medium cheddar. This is the mic-drop classic, as far as I'm concerned. Melty, delicious, and with that perfect pull-apart gooeyness. Tillamook is my personal favorite. Aged cheddars are great too, but don't melt quite as well.
Bonus: Tillamook's smoked black pepper cheddar. Holy moly is this perfect in a grilled cheese!
2. Fontina. Another beautifully melting cow milk cheese, fontinas range from mild to stinky so there's one to suit everybody's taste. I like the stinkier ones (melting cuts the stink, by the way) and like to add a little minced sage and some prosciutto to my fontina grilled cheese.
3. Monterey or Sonoma Jack. Jacks are mild cow milk cheeses and are particularly good for mixing with a stronger-flavored cheese in a grilled cheese (like blue cheese, or Parmesan) so you can get a more interesting flavor but still have a gooey melty texture. Use mostly Monterey Jack and sprinkle on a couple teaspoons of your favorite blue cheese or hard grating cheese on top of Jack for something unique.
4. Gouda. Gouda is one of the world's oldest known cheeses, and one of the best for grilled cheese. Straight up red-wax gouda (which is young) is fine, but I recommend trying some of the wide variety of variations ... smoked gouda, gouda with cumin, goat milk gouda. Aged gouda takes a little longer to melt (it's harder) so keep the flame low to not burn your bread, but it's worth trying if you can find it. In the U.S., Marieke Gouda makes some of the best gouda around.
5. Comte. Comte is an unpasteurized French cow's milk cheese eaten straight or made into fondue. It's firm and rich, with buttery tones. Try it with a smear of dijon mustard on a sturdy country loaf.
6. Boschetto al Tartufo. This is a specific cheese, and other truffled Italian cheeses are great too, but this one has cow and sheep's milks and melts beautifully; it's available nationwide in Whole Foods' cheese dept. I like it in a grilled cheese with thick-sliced smoked bacon and some fresh snipped chives on ciabatta bread.
7. Gruyere and Emmental (lumping together because they are similar). Cheeses traditionally used in dishes similar to grilled cheese are always good options, and gruyere and emmental are both used in Croque-Monsieur (or -Madame), a strong hint you're on the right track. These can be pretty firm cheeses, so grate them before adding to your sandwich to facilitate melting. If you find the flavor a little strong, mix them with a milder cheese, like Jack or havarti.
8. Toma. Toma is a traditional semi-soft cow milk cheese made in Northern Italy. Flavor varies by producer, but it's creamy and mild, and a great melter. Point Reyes Creamery in California makes a particularly good version of Toma.
9. Havarti. Creamy havarti is another good one to pair with other cheeses; it is relatively soft and buttery, very mild, and children (or people who don't like any stink in their cheeses) will love it. It melts easily. Try some of the flavored havartis (like dill) for variety.
10. Raclette. This is Swiss cheese you see used in a traditional Swiss dish (and device) also called "raclette" ― you melt the surface of the cheese in front of a fire and scrape it onto bread or potatoes. Of course it's perfect for melting in a grilled cheese too. It's got a "Swiss cheese"-type flavor, but more sophisticated.
Kurt Beecher Dammeier
Beecher Dammeier is the founder, CEO and executive chef at Beecher's Handmade Cheese, which launched in Seattle and has locations nationwide.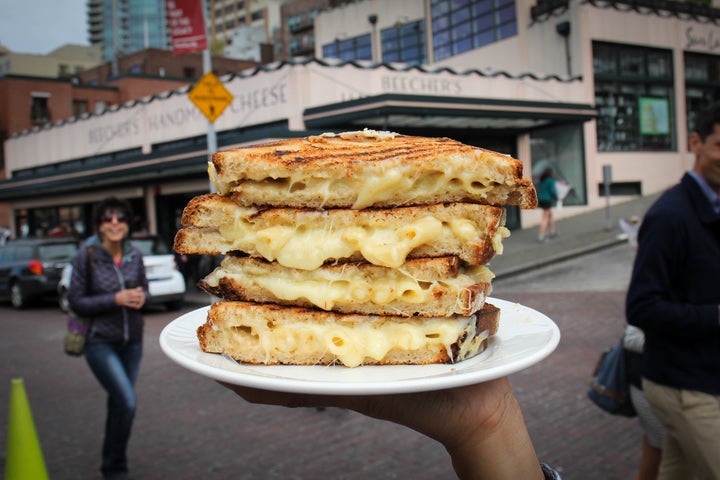 1. Aged Cheddar-Gruyere (Beecher's Flagship). This is the key ingredient of our famous Beecher's grilled cheese sandwich. The age of the cheddar gives the sandwich a nutty flavor and this "sweet cheddar" style of cheese melts into the bread beautifully. We like to mix in a little Just Jack for some added richness, but going all out with Beecher's Flagship is not a bad idea either. Prepare for a slightly sharp, decadent sandwich with a smooth, creamy texture.
2. Comte. Comte hails from the Franche-Comte region of eastern France. The semi-firm cheese is made from unpasteurized cow's milk cheese and is known for its distinct flavor profile. It's often found melted atop a hearty bowl of French onion soup. I'd suggest pairing it with some rosemary-seasoned caramelized onions or some smoked ham for a delicious grilled cheese à la Française.
3. Monterey Jack (Just Jack). For a classic grilled cheese, you can't go wrong with Monterey Jack. Our version of this cheese, known as "Just Jack" is a rich, creamy Jack that melts into pure deliciousness. Its full-cream flavor pairs especially well with fruity or spicy preserves and chutneys.
4. Emmental. This traditional style of cheese made in Switzerland is known for its melt-ability. It's most commonly used in fondue but works equally well between sliced bread. Add a little thinly sliced steak or crisped bacon in between two slices of cheese to round out the slight sweetness of this Swiss cheese. Serve with ample mustard and pickles.
5. Chaource. This soft French cheese has a lot of flavor. It's salty and earthy, with a slight hint of bitterness. It's not a typically used in grilled cheese sandwiches but is a fun, indulgent departure. Consider spreading some apricot preserves on a crusty white bread with the creamy cheese and serving it slightly warm (it won't need much time to get melty). If you can't find the traditional French version, try Seastack from Mt. Townsend Creamery.
6. Seasoned White Cheddar (Marco Polo). Marco Polo is one of my favorite Beecher's cheeses. It's an aged cheddar that's seasoned with both green and black peppercorns. The peppery notes pair perfectly with roasted turkey or chicken. Add some spicy, pickled peppers (we love Mama Lil's peppers) and you've got yourself a glorious sandwich.
7. Mont D'Or (Winnimere from Jasper Hills, Vermont). This cheese is often warmed in the oven so that the center melts into a perfect gooey mess, ideal for dipping crusty bits of bread. Skip the dipping part and go straight for a sandwich. Both the French version and Jasper Hill's take are typically available in the winter months― try it with some freshly cracked black pepper and a little cranberry sauce.
8. Muenster (French and German versions will have more stinkiness). The American version of muenster is quite mild. If you want to ramp up the flavor profile a bit, opt for a French or German version that's been imported (those tend to have more age and thus a more pungent, earthy flavor profile). Either way you go, this cheese will melt into a fine ooze and should be paired with some smoked bacon, and perhaps sautéed onions or apples, and thyme.
9. Garotxa (Spanish Goat). This semi-firm goats milk cheese from Catalan has become really popular, and with good reason; it has a round, robust flavor profile and is less acidic than many other goat cheeses. Try pairing it with some thinly sliced pears and prosciutto for an even more flavorful grilled cheese sandwich.
10. Blue cheese (Oregonzola by Rogue Creamery) cut with Swiss (Jarlsberg). Why not be bold and add a little blue to your sandwich? We recommend using a creamy blue, like Oregonzola from Rogue Creamery, and cutting it with a little Swiss or our Just Jack to achieve a creamier texture and slightly milder flavor. This would pair nicely with a dark nutty bread that maybe even has some dried fruit (like raisins or figs) baked into it.
Christine Clark
Clark is the assistant manager of education and events at Murray's Cheese in New York. She gave us her top six cheeses for grilling in no particular order: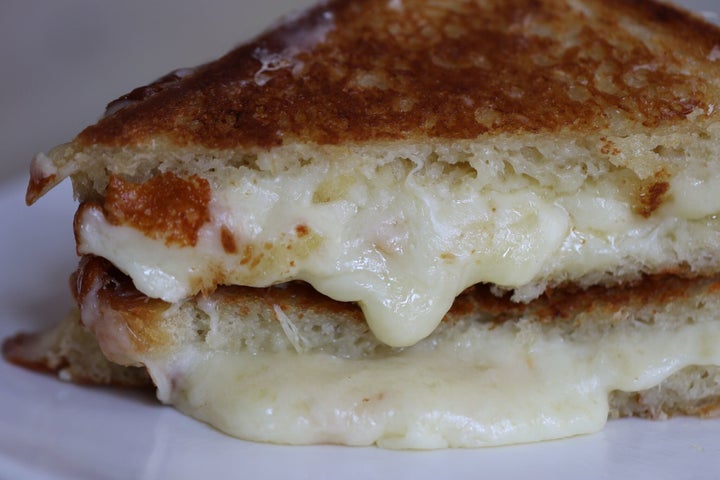 Young goat gouda. Mild, tangy, sweet and toasty. Easygoing and crowd-pleasing. Also a good option for people who have a hard time processing cow's milk. Lovely with anything tomato-y.
Comte St. Antoine. Perfectly balanced, with a lovely sweetness. It's the most popular cheese in France for a reason, folks! Excellent with bacon or a floral honey. Or both!
Annelies. My current favorite grilled cheese is Annelies, caramelized onions, thinly sliced pickles and coarse grain mustard on sourdough. Dreamy Annelies is exclusive to Murray's and is incredible on its own but life-changing in this sandwich.
L'Etivaz. L'Etivaz, which is made using traditional production methods and tastes the way Gruyere tasted hundreds of years ago, is incredible as a grilled cheese with a simple swipe of strawberry jam. A summer day in a sandwich.
Taleggio. Taleggio's yeasty, egg custardy flavor is made more savory in a grilled cheese, and is delicious with fig jam.
Arzua Ulloa. Arzua Ulloa tastes like string cheese turned into fancy cheese—looks impressive, tastes like your childhood. A very friendly, easy-going cheese, so put it with your favorite sweet or savory pairing and it will be delicious. Membrillo paste is my current fave.
Before You Go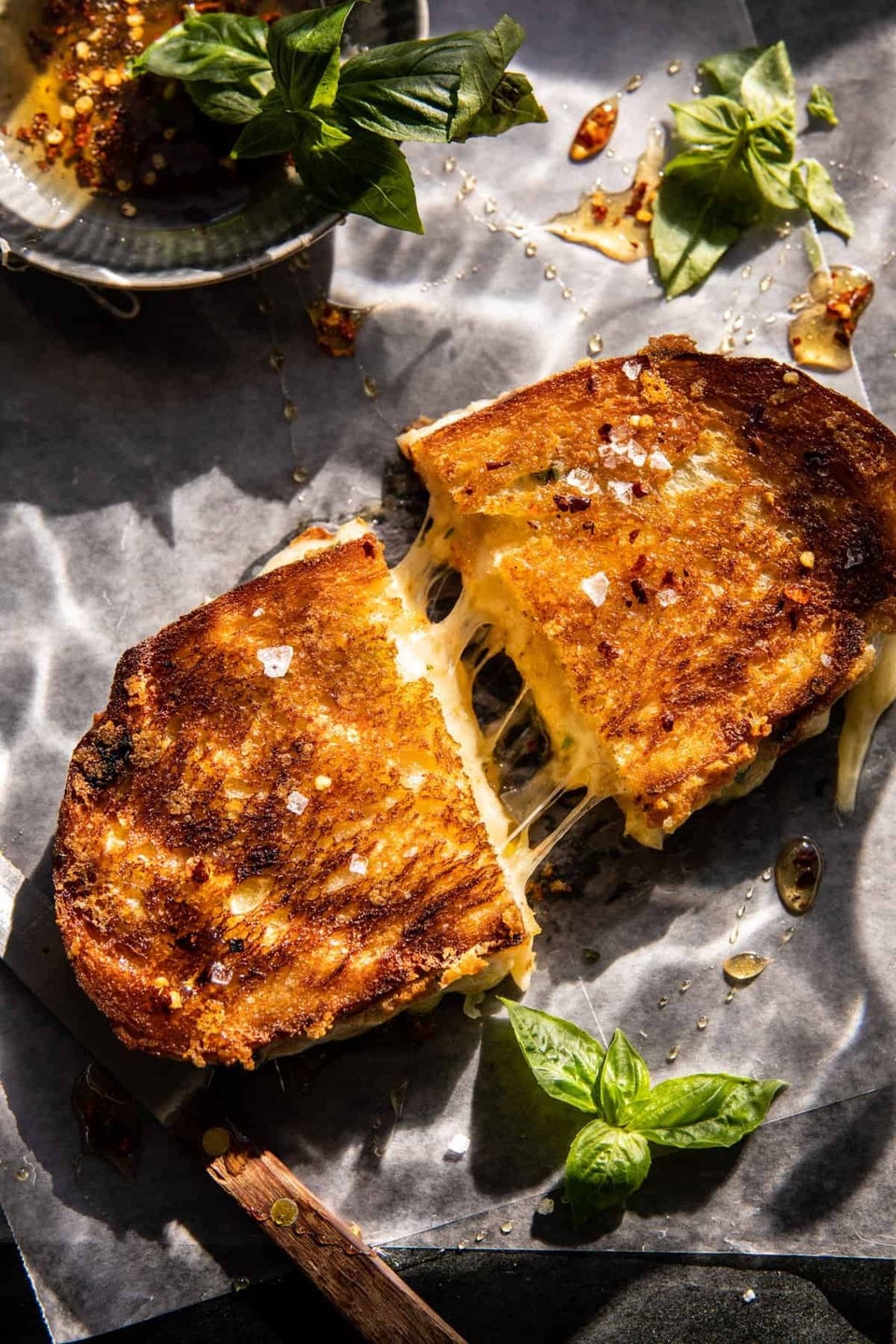 The Best Grilled Cheese Sandwiches