It's hard to beat a chocolate chip cookie. There's a perfect version for everyone ― chip or chunk, crispy or chewy, bite-sized or bigger than your face. Once you find one you love, it's easy to commit to a favorite recipe.
But there comes a time when you have to break out of your chocolate chip cookie routine and try something new. Even cookie master Dorie Greenspan forces herself to do that. And the results are nothing short of beautiful.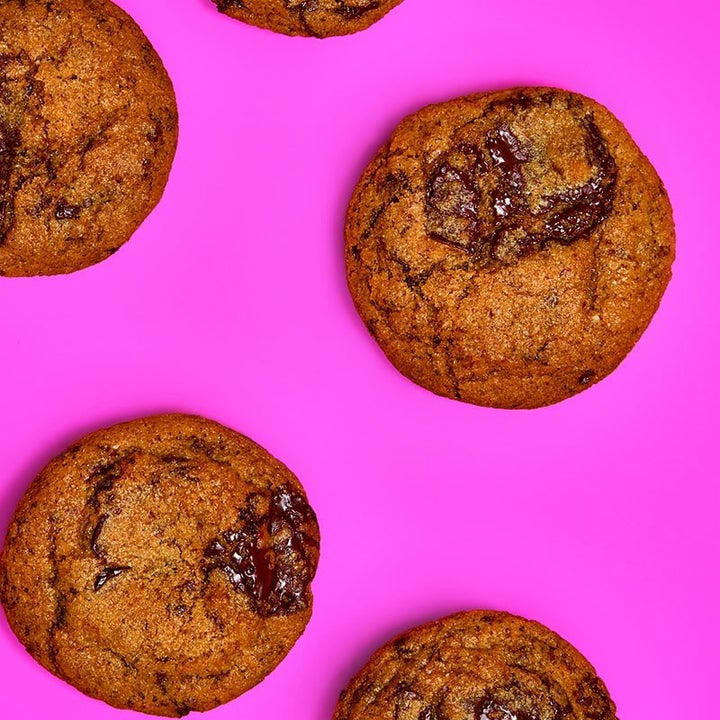 Dorie took her tried-and-true chocolate chip cookie recipe ― one she's been baking for 20 years ― and gave it a serious upgrade in her newest book, Dorie's Cookies. Her new chocolate chip cookie recipe uses both all purpose and whole wheat flour in her cookies (which means you get a little more nutrition with your indulgence). She changed the ratio of sugars, making a chewier cookie (always a good thing in our book). And this time, she added a little spice in the form of nutmeg and coriander. It's just what we need come the holiday season.
Without further ado, here's Dorie's upgraded chocolate chip cookie recipe. Bake them. Bake them now.
Text excerpted from DORIE'S COOKIES © 2016 by Dorie Greenspan. Reproduced by permission of RuxMartin/ Houghton Mifflin Harcourt. All rights reserved.
MY NEWEST CHOCOLATE CHIP COOKIES
By Dorie Greenspan
My Classic Best Chocolate Chip Cookies have been my favorites for close to twenty years. I still love them, but when it comes to chocolate chip cookies, it's hard to be constant. Recipes for chocolate chip cookies are like scarves — you're always happy to have a new one. And so, here's my new cookie. Not radically different from the old one ... but different enough that you'll want to make both.

This cookie, with its combination of all-purpose and whole wheat flours and a different mix of white and brown sugars, bakes to a chewier cookie than my classic. I added nutmeg and coriander to the dough, and it's up to you if you'd like to use them or not ― or if you'd like to use even more. Or maybe you want to flavor the dough with a little instant espresso (1/2 to 3/4 teaspoon) with or without ground cinnamon (1/4 teaspoon), or even a little (1/4 to 1/2 teaspoon) Chinese five-spice powder.

A word on timing: You can use the dough soon after it's made, but it improves with more chill time. If you can wait a day to bake the cookies, do.


Makes about 50 cookies
1-3/4 cups (238 grams) all-purpose flour
2/3 cup (91 grams) whole wheat flour
3/4 teaspoon baking soda
1/4 teaspoon freshly grated nutmeg
1/4 teaspoon ground coriander
2 sticks (8 ounces; 226 grams) unsalted butter, cut into chunks, at room temperature
1 cup (200 grams) sugar
3/4 cup (150 grams) packed light brown sugar
1 1/4 teaspoons fine sea salt
2 large eggs, at room temperature
2 teaspoons pure vanilla extract
10 ounces (283 grams) semisweet or bittersweet chocolate, coarsely chopped (or 1 2/3 cups chocolate chips)

Whisk both flours, the baking soda, nutmeg and coriander together.
Working with a stand mixer fitted with the paddle attachment, or in a large bowl with a hand mixer, beat the butter, both sugars and the salt together on medium speed until smooth, about 3 minutes. One by one, add the eggs and beat for 1 minute after each goes in. Beat in the vanilla. Turn the mixer off, add the dry ingredients all at once and pulse to begin the blending, then mix on low speed until the dough comes together and the flour has disappeared. Add the chocolate and incorporate on low speed or mix in by hand with a sturdy flexible spatula. Wrap the dough in plastic and refrigerate it for at least 1 hour.

GETTING READY TO BAKE: Position the racks to divide the oven into thirds and preheat it to 375 degrees F. Line two baking sheets with parchment paper or silicone baking mats.

Using a tablespoon, scoop out level portions of dough. Roll each tablespoon of dough between your palms to make a ball and place the balls at least 2 inches apart on the lined baking sheets.
Bake for 9 to 11 minutes, rotating the pans top to bottom and front to back after 6 minutes, or until the cookies have spread, puffed a little, turned a light golden brown and feel only just set around the edges.Transfer the baking sheets to racks and let the cookies rest on the sheets for at least 5 minutes before lifting them onto the racks to cool to just warm or room temperature.
Repeat with the remaining dough, being certain to use cool baking sheets.
STORING
You can refrigerate the dough for up to 3 days. If you'd like, you can shape the dough into balls, place them on baking sheets, slide them into the freezer and then, when they're solid, pack them airtight. Let them stand at room temperature while you preheat the oven. You can keep the baked cookies covered at room temperature for at least 5 days, or wrap airtight and freeze for up to 2 months.