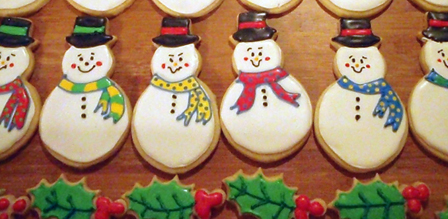 We're big fans of cookies here at HuffPost Taste -- whether they're store-bought, baked from scratch or made with stuffing, cookies are one of the reasons we love the holiday season so much.
We like them buttery, chocolatey or spiced with cinnamon and sugar -- and luckily the holiday season delivers with shortbread varieties, iced sugar cookies and gingerbread men galore. There's a different cookie for every taste -- and everyone has a favorite.
But we want to know, what's your favorite Christmas cookie? Speak your voice and vote below!
Here's how the Deathmatch voting will go down:
Round One voting opens today (December 5th) -- vote right now!
Thursday, December 6th at 12:00am Eastern, Round Two begins.
Friday, December 7th at 12:00am Eastern, you'll be able to vote in Round Three.
Saturday morning, December 8th, we'll announce which cookie is the BEST Christmas cookie.
Feel like making Christmas cookies? Check out these recipes.