The holidays are around the corner, which means it's almost time to grab that hot drink and cozy up by the fire television. Because it's always fun to keep your viewing on-theme, we've compiled a handy guide to the best Christmas episodes currently streaming on Netflix. Wrap yourself in a fuzzy blanket and enjoy.
1. 30 Rock, "Ludachristmas"
Season 2, Episode 9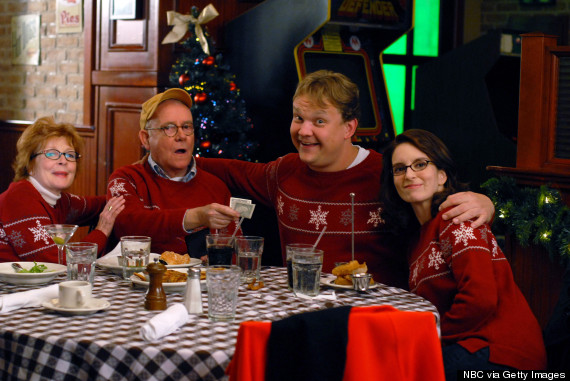 The Lemons are in town for the holidays! In this classic "30 Rock" episode, Liz's mom, dad, and brother pay her a visit, where they proceed to be the picture of a supportive family. Mama Donaghy, also in town to visit Jack, doesn't take to them as easily as her son, and pokes holes in their cheerful veneer. Elsewhere, Kenneth brings in a reverend to try to teach the "TGS" writers the real meaning of Christmas.
2. Gilmore Girls, "Forgiveness and Stuff"
Season 1, Episode 10


A Luke and Lorelai episode for the ages. After Lorelai is disinvited from her parents' annual Christmas party, she heads to Luke's diner for dinner. He whips her up a Santa burger, which she is about to eat when she hears word that Richard is in the hospital. Luke gives her a ride, prompting Emily, upon their arrival, to prod into what's going on between them. Bonus: Jane Lynch makes an appearance as a nurse who cannot deal with Emily.
3. The West Wing, "Noel"
Season 2, Episode 10


Shortly after he is shot at Rosslyn, Josh meets with trauma specialist Dr. Stanley Keyworth at the request of Leo McGarry. Through a series of flashbacks, the audience learns of Josh's struggles in the workplace leading up to the meeting (and sees a fantastic cello performance by the one and only Yo Yo Ma). Though Josh is resistant to Keyworth's questioning, he eventually opens up. Fans will recall this episode as the one in which Leo gives Josh the legendary "guy in a hole" speech.
4. New Girl, "The 23rd"
Season 1, Episode 9


Though most are in agreement that "New Girl" really hits its stride in Season 2, the show's first season Christmas episode "The 23rd" showcases the friend group dynamic fans eventually came to love. Jess hunts for the perfect gift for her teacher boyfriend before they all head off to Schmidt's office Christmas party.
6. The Wonder Years, "Christmas"
Season 2, Episode 3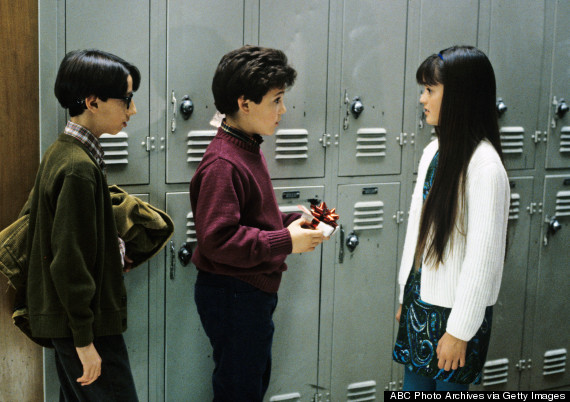 Love and the introduction of color TVs are in the air in this "Wonder Years" Christmas episode. Winnie surprises Kevin by giving him a present, so he scrambles to pick out the perfect one for her with his limited budget. Over the holidays, the Arnolds have trouble having fun family bonding time. The episode -- like most in the series -- will get you right in the heart.
6. The Office, "Christmas Party"
Season 2, Episode 10


A Secret Santa exchange goes predictably awry at the Dunder-Mifflin Christmas Party. Jim gets Pam a teapot filled with heartfelt personal items, and Michael far exceeds the spending limit to give Ryan an iPod. But, after Michael is unhappy with his own present, he declares the game a "Yankee Swap," and gifts swiftly begin to fall into the wrong hands. A note for Jim/Pam fans: this episode aired just before "The Booze Cruise," so tension between the two is running very, very high.
7. Arrested Development, "Afternoon Delight"
Season 2, Episode 6


Though "Afternoon Delight" is a very catchy song, it's not exactly family friendly -- which many of the Bluths discover as they try to perform it with relatives at Christmas parties. At one such party, GOB realizes his employees aren't his biggest fans.
8. Mad Men, "Christmas Comes But Once A Year"
Season 4, Episode 2


If you need a break from all the holiday cheer, check out this episode of "Mad Men" for some very well-written gloom. The hour hits all the "Mad Men" essentials: Peggy fights against societal gender norms while navigating her relationship with Mark, Don makes mistakes in his love life that involve his current secretary and Pete and Trudy dance, because Christmas! The cherry on top of this strong episode's cake is, of course, that Roger dresses up as Santa Claus.
Calling all HuffPost superfans!
Sign up for membership to become a founding member and help shape HuffPost's next chapter
BEFORE YOU GO
PHOTO GALLERY
The Best Family Christmas Movies