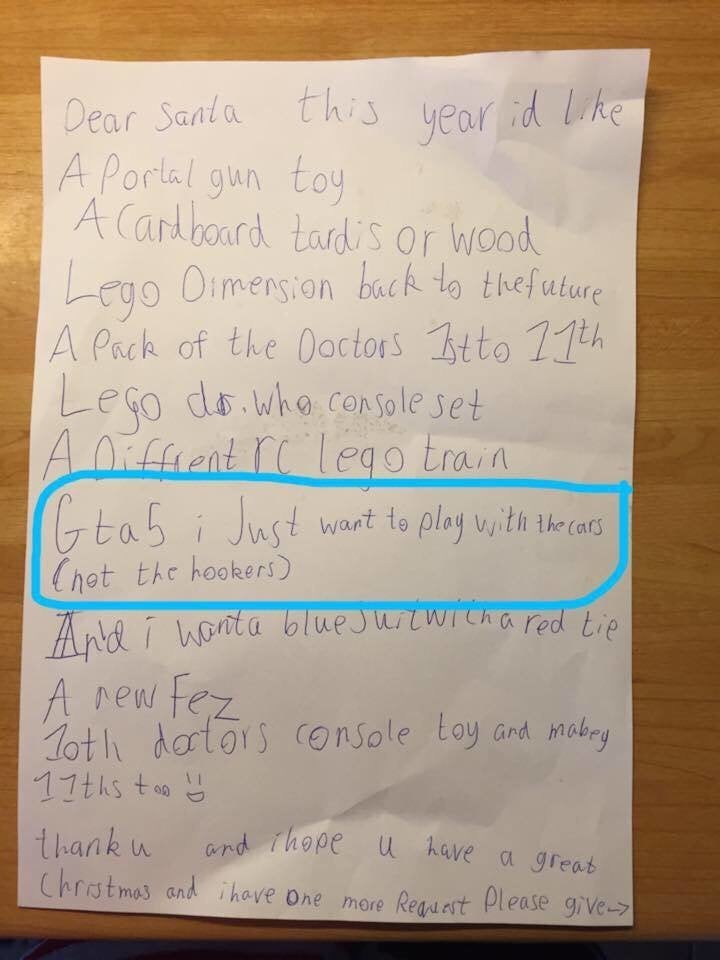 It's the holiday season, but at least one person wants you to know he can do without Holly, Tinsel and Poinsettia ... assuming those are all names of professional sex workers.
In his Christmas letter to Santa, a little boy named Rory Smith wanted to tell the man at the North Pole he'd like the video game "Grand Theft Auto V" for the upcoming holiday, but made his intentions extremely clear when he explained in his list, "i Just want to play with the cars (not the hookers)."
The highly controversial game features the use of violence and gameplay elements that involve graphic depictions of prostitution. Last year, BBC News reported retailers Target and Kmart stopped selling the game in its Australian stores due to customer complaints about its portrayal of violence toward women.
(Rory's adorable request to play one of the most vulgar and violent games of our time is so cute we didn't even bother to correct his spelling and punctuation for this article.)
The child -- who lives with his family in Killinkere, County Cavan, Ireland -- is an avid Lego enthusiast as well as a fan of the British television show "Dr. Who," requesting items such as "A Cardboard tardis or wood," "Lego Dimension back to the future'" and "Lego dr. Who console set."
This little fella is also apparently pretty classy, adding, "And i want a blue suit with a red tie."
Rory's holiday list went viral when, with his permission, his sister Olivia snapped a picture of it and sent it to the popular Ryan Tubridy Show on RTÉ Radio 1, in Ireland. The radio show team then posted it on Facebook. That image now has more than 1480 likes and has 570 shares.
In an email to the radio program, forwarded with permission to HuffPost, Rory's mom, Cathy, said he wrote the list asking for everything he wanted, but knowing he would only get a few things.
The back of the letter, which is not shown in the photo, is a request to Santa to send his best friend an EnderToy, a Minecraft toy customized to the user's specifications.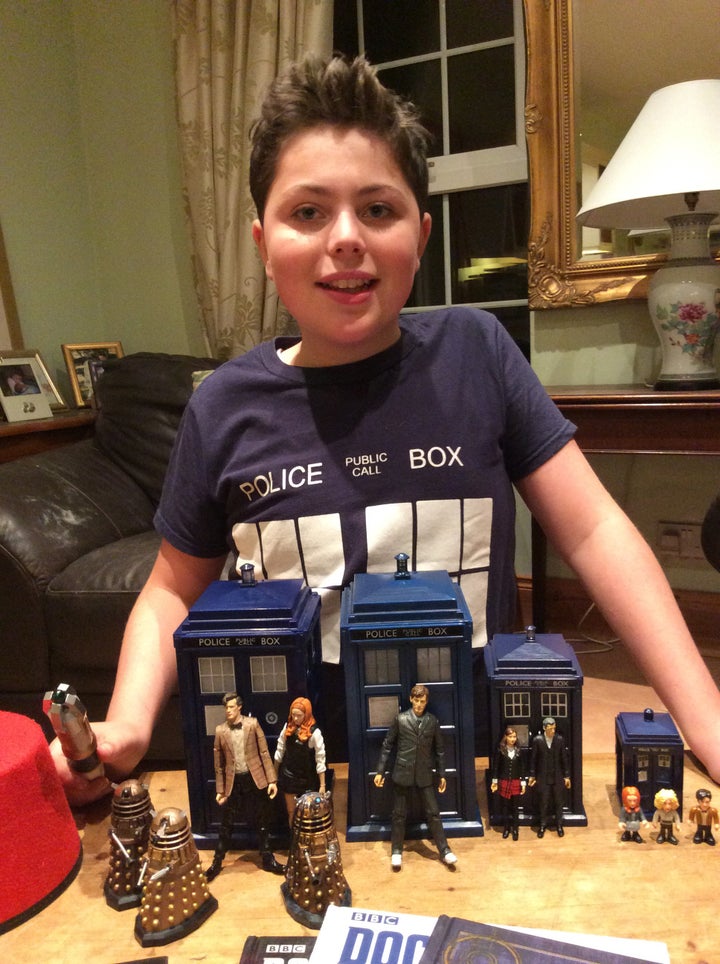 "As you can see from the letter, Rory is a huge 'Dr. Who' fan, he has Asperger's and this is his favourite thing. He is very literal, hence the 'hooker' line but also has a brilliant sense of humour. He knows he has Asperger's (and dyslexia) and was fine about his sister Olivia sending the email (photo)," his mother added.
The Autism Society describes Asperger's Syndrome as a pervasive development disorder that falls under the American Psychiatric Association's umbrella diagnosis of autism spectrum disorder.
"Asperger's is often portrayed as a negative to overcome but in our house it is celebrated, Rory doesn't think quite the same way as the rest of us, which is brilliant. He has the biggest heart," she said.
Popular in the Community