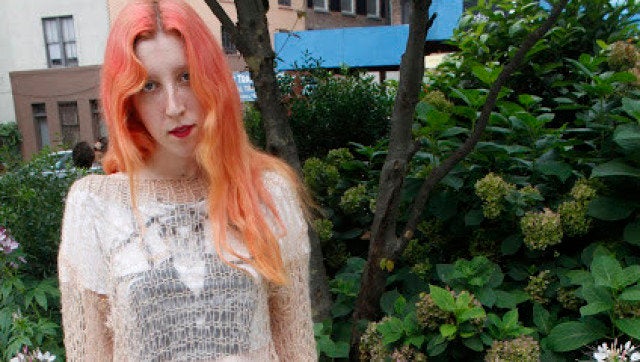 We all know the fashion world is built upon do's and don'ts, exclusivity and plagued by some serious prejudices. The notoriously shape-obsessed industry is starting to see the light and include women of all shapes and sizes with "how to dress your shape" features. While they're usually the only place that shows real-sized women and are filled with phrases like "look good at every size," there's a catch: You have to follow the fashion editor's rules to look good.
In these how-to guides women's bodies are equated to fruits and objects like apples, pears, strawberries, carrots, hourglasses, and, of course, the good old wedge (not surprising language considering the current state of confusion over women's bodies). I fit somewhere between the hourglass and pear shape myself, along with Kim Kardashian and Beyonce -- not bad company. But since I hate belts and A-line cuts, it seems, according to these magazines, that I'm doomed to become a shapeless mess à la "Flubber" and never have any chance at being stylish.
Luckily at this point in my life I'm not really too concerned about other people's opinions about my clothes. But it hasn't always been this way: As a ten year old with cellulite on her thighs I was convinced after reading an article I could never wear shorts that showed my "trouble areas" again. It took me nearly a decade to convince myself otherwise. Yes, I went ten years without showing my legs. As a relatively thin woman who just happens to have a little extra booty I know that the insecurities I've experienced can only be more intense for women whose bodies cannot be easily categorized.
Don't get me wrong: I totally support women's desire to dress to flatter their unique shapes. To quote Sheryl Crow: "If it makes you happy, it can't be that bad." That said, I also believe that this obsession with "dressing your shape" makes everyone strive for the same beauty ideal. For instance, some tips that I've read state that if you have no curves you have to simulate them with peplum, or, conversely, if you too many curves, you should throw on a wrap dress. Does that lead to everyone looking the same? Not only is it damaging to ladies who will never reach these ideals, it can also result in a pretty empty closet. What fun is that?
For me clothes have become a way to display my inner world and show off my creativity, and it would be totally oppressive for me to dress in any other way. I love designers like Commes des Garçons and Vivienne Westwood who subvert this idea of flattering clothing and make things that are otherworldly, and even transcend the bodily world. I like to layer, my drawers are filled with boxy knits and I like to drown myself in a maxi dress from time to time. Do these items display my curves in the best way? Probably not, but I feel good in them.
In my experience dressing your body is a much more organic process than magazines would like you to believe. Diagrams of body shapes are so scientific, sterile and totally outdated. It seems like this kind of categorization is focused on developing women into consumers rather than helping them develop their personal style. Go out and experiment, break rules, and try new things. There is no such thing as right or wrong when it comes to style because personal style is exactly that -- personal! It's about wearing things that please you.
Some of my favorite shape-defying looks: