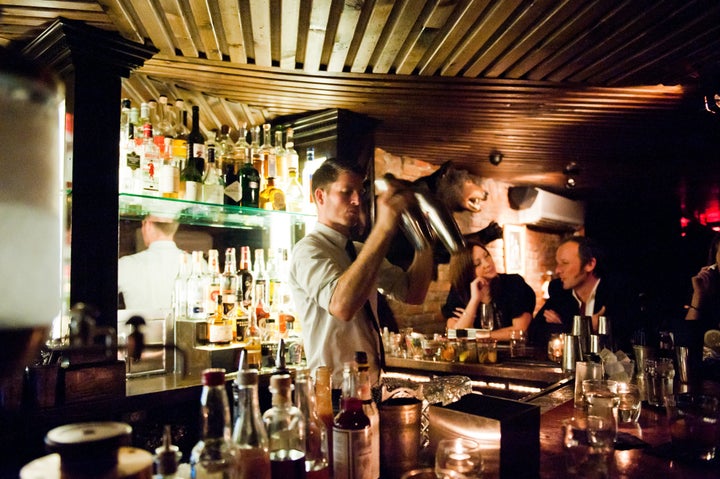 If you ask most people what their favorite bar is, they'll probably cite some place local and dependable, with good lighting, tasty beer and moderate prices. Most people do not work in the mixology industry.
If you ask people who work in the mixology industry what their favorite bars are -- as trade publication Drinks International did this year, in the interest of writing a guide to the best bars in the world -- you will get answers that span the globe and focus on the technical skill and creativity of bartenders rather than on comfortable vibes.
The list generated by the poll is an interesting one. It slants toward the expensive and the highly polished. The list features many hotel bars. Some are famous and old, others are new and obscure. There are some fishy geographic trends at play: there are probably too many slots given to London bars, and there are no entrants at all in a few places, like Berlin and New Orleans, known for their nightlife.
Still, as far as we can tell, it's a strong list -- HuffPost Food can personally attest to deliciousness of the drinks at all the New York entrants. Though we'd have to admit that we find ourselves at these boites less often than we find outselves at those on Complex Magazine's list of the 50 Best Dive Bars in New York.

Here's the full list:
1. PDT, New York
2. Connaught, London
3. Artesian, London
4. Death & Co, New York
5. Milk & Honey, London
6. American Bar at the Savoy, London
7. 69 Colebrooke Row, London
8. Drink, Boston
9. Harry's New York Bar, Paris
10. Black Pearl, Melbourne
11. Pegu Club, New York
12. Dry Martini Bar, Barcelona
13. Eau De Vie, Sydney
14. Bramble, Edinburgh
15. Employees Only, New York
16. La Capilla Bar, Mexico
17. Merchant Hotel, Belfast
18. Nightjar, London
19. Smuggler's Cove, San Francisco
20. Buddha Bar, Paris
21. Skyview Bar, Dubai
22. The Varnish, Los Angeles
23. Tippling Club, Singapore
24. Milk & Honey, New York
25. 878 Bar, Buenos Aires
26. Der Raum, Melbourne
27. Callooh Callay, London
28. Clover Club, New York
29. Door74, Amsterdam
30. Tommy's, San Francisco
31. Floridita, Havana
32. City Space, Moscow
33. Matterhorn, Wellington
34. High Five Bar, Tokyo
35. Le Lion, Hamburg
36. LAB, London
37. Boadas, Barcelona
38. Dutch Kills, New York
39. Worship St Whistling Shop, London
40. Bar Agricole, San Francisco
41. Papa Doble, Montpellier
42. Quo Vadis, London
43. Lounge Bohemia, London
44. Mayahuel, New York
45. Mutis, Barcelona
46. Ruby, Copenhagen
47. Rules, London
48. Hemingway Bar, Paris
49. Zuma, Dubai
50. Star Bar, Tokyo

Popular in the Community