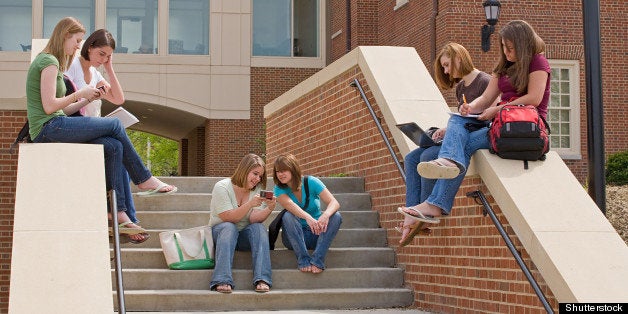 One of the best ways to make new friends in college is by participating in extracurricular activities. Luckily, it's easy to find many different clubs on campus to suit your interests. We spoke to students attending universities all over the country to find out more about a few popular (and some unusual extracurriculars that you can look for when you start school in the fall!
1. If you're interested in philanthropy or event planning, try Relay for Life.
Relay for Life is a volunteer-driven fundraising event for the American Cancer Society that is held annually around the world. The event raises money for cancer research and cancer patients while spreading awareness, celebrating the lives of survivors, and remembering those who have lost their lives to cancer.
All Relays are overnight events lasting 12 or 24 hours that usually take place on a school track. Since it is a "relay," each fundraising team has to have at least one person walking the track at all times. The event consists of a variety of different ceremonies, including a special lap for cancer survivors, a survivor dinner, and a candlelit vigil.
In addition to just attending the event or participating in a team, you can also meet new people by joining one of the committees that plan the event. "Many colleges host Relay for Life events, and I think it's a great way to get involved because there are so many different committees to join, like marketing, corporate sponsorship, team recruitment, events, and many more," says Meghan Gibbons, a rising senior at Boston College. "Overall, however, we work as a whole team and get to know each other while creating a hugely successful event for a great cause."
Although Relay for Life only happens once a year, there are many teambuilding activities and fundraising events leading up to the event. "At the beginning of the year, there is a sign-up meeting to join a committee, but if you just want to attend Relay, you can register any time up to the day of the event," says Meghan.
2. If you're interested in performance or dance, try a belly dance club.
If you want to perform with a dance group, then you're in luck – most universities have troupes representing at least a few different styles of dance, including hip-hop, tap, and ballroom. And even if you don't have an interest in one particular style at the moment, keep in mind that the clubs that take you furthest out of your comfort zone, like belly dancing, may be the most rewarding.
"I came across the belly dance club at the activities fair and immediately signed up. I was a little nervous at first because I hardly ever wore a bikini, much less danced around with my stomach exposed," says Melissa Stoker, a rising senior at Towson University. "Still, I knew I loved more alternative styles of fitness, like yoga, tai chi, and Pilates, so I decided to try it out."
While some dance clubs require an audition to join, others include dancers of all levels. These groups can be a fun way to dance, perform, and even choreograph dances. For Melissa, trying something out of the ordinary turned out to be the best thing she did that semester. "I met so many interesting and confident girls who loved shiny costumes and performing as much as me," she says. "Our performance at the end of my first year was so exhilarating, especially when the crowd started clapping and cheering in the middle of one of our dances. I felt so empowered."
This year, Melissa decided to become co-president of the club. "Belly dancing means a lot to me," says Melissa. "It sort of awakened a confidence in me that perhaps I always had, but had never truly embraced. It made me feel beautiful even though I'm not a stick-thin girl, and [it] allowed me to appreciate my curves and ability to dance." You never know if you'll enjoy something unless you try it!
3. If you're interested in sports (with some added quirkiness), try Quidditch.
Fans of Harry Potter should definitely "seek" out their school's club Muggle Quidditch team, which you can find through the International Quidditch Association. Since the sport was created at Middlebury College in Vermont, it has grown into its own distinct sport, but with many similarities to the fictional game. While retaining the rule of seven players on each team (three chasers, two beaters, one keeper, and one seeker), Muggle Quidditch has been adapted for the ground by confining the game to a hockey rink-sized playing field. Three circular goals are placed on either side of the "pitch," and all players must carry a broom between their legs. Players substitute a volleyball for the quaffle and dodgeballs for bludgers. Instead of a magical flying snitch, a "snitch runner" tucks a tennis ball inside a sock into his waistband and runs around the field. Once one team's seeker gets the tennis ball, the game is over.
"Playing Quidditch was one of my best decisions in my college career," says Lindsay Geller, a rising sophomore at Emerson College. "I've met at least half of my friends through it, and it's such a positive way to de-stress."
Calling all HuffPost superfans!
Sign up for membership to become a founding member and help shape HuffPost's next chapter
BEFORE YOU GO
PHOTO GALLERY
Feminist Colleges