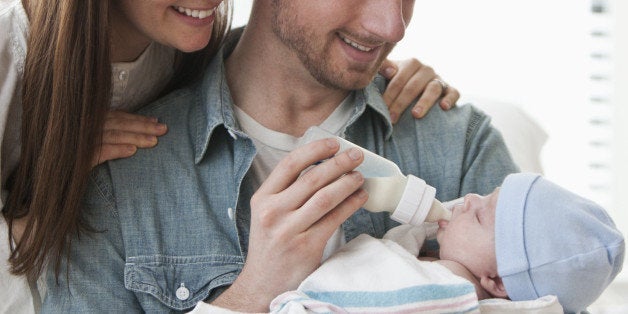 America is the only developed country in the world that doesn't mandate some form of paid maternity leave. It doesn't offer paid leave for new fathers, either.
A 2013 study by the International Labor Organization examined the leave policies in 167 countries and found that 47 percent mandated some form of paternity leave. Clearly, the U.S. has a lot to learn.
Experts have found overwhelming benefits to paid leave -- for both moms and dads. A 2013 report by the Human Rights Watch found that workers face grave health, financial and career repercussions as a result of unpaid leave. Additionally, the report found that U.S. employers miss productivity gains and turnover savings that leave policies generate in other countries.
Dr. Lawrence Balter, parenting expert and professor emeritus of applied psychology at New York University, told The Huffington Post it's important for fathers to spend substantial time with their newborns. "Naturally, it's important for fathers to develop a strong connection and attachment to their babies," he said. "There is a lot of research that says a father's role in the child's life is very significant."
Susan Newman, PhD, a social psychologist, parenting expert and blogger for Psychology Today, echoed Balter's sentiments, stressing how influential a father can being during a baby's first few years of life: "Fathers attach to their babies in the ways similar to mothers and at the same time, making it important for new dads to spend as much time as possible with their newborns."
As Father's Day approaches, we look to Europe, home to some of the best paternal leave policies anywhere in the world. Here's how the U.S. compares to Belgium, Denmark, Finland, Iceland, Norway, Sweden, France and Spain:
Correction: An earlier version of this article incorrectly stated the last name of Susan Newman. It is Newman, not Murphy. Additionally, graphics for Sweden, Norway, Iceland and France previously displayed paternity leave data from before 2014 and did not reflect the countries' recent policy changes. Those graphics have been updated.