Tea may have just started gaining popularity in North America and Western Europe, but in the rest of the world it's been a household staple for centuries. It doesn't matter whether locals refer to it as "cha," "tee," "the," "cay" or "tea," whether the brew is black, green, white or red; local tea traditions are fascinating no matter where you go.
Turkey
A tea shop in the Grand Bazaar, Istanbul, Turkey
When it comes to the world's biggest tea drinking country, Turkey can't be beaten. The local population drinks the equivalent of four to five cups of tea a day, so you'll have plenty of opportunities to sample some Turkish tea during your visit. In fact, tea is so strongly integrated into the culture that offering tea to guests is considered an integral part of Turkish hospitality.
Shopping in the Grand Bazaar? Don't be surprised if you're invited inside a shop for a cup of tea while browsing through the goodies. Staying at a local guesthouse? Tea will undoubtedly be served with your meal. Locals love their tea black and sweet and typically serve it in a small, tulip-shaped glass, which makes tea time in Turkey that much more special.
Morocco
Tea lovers will be fascinated by the art of tea preparation in Morocco. Referred to as Berber whiskey by locals, Moroccan mint tea is brewed using green gunpowder tea as a base and served with fresh mint and sugar. Tea is traditionally prepared and served by the man in the family and often considered a ritual to be passed down from generation to generation. It's fascinating to watch!
Moroccan mint tea is not only served during meal time but also plays a huge role in social gatherings. Locals love spending their days people watching and discussing the latest news while sipping mint tea at cafes. Similar to Turkey, drinking tea is a much-loved tradition and a sign of hospitality. Many riads (traditional guesthouses) offer guests mint tea upon arrival as a way to welcome them.
China
Dating back to the 10th century B.C., Chinese tea culture is the oldest in the world. Despite its long history, tea drinking customs and traditions are still prevalent in today's modern society. Tea lovers will particularly enjoy the variety available in China, ranging from the locals' favorite -- green tea -- to white, black and flowering tea.
When visiting a local's home, travelers are often invited to join the hosts for a cup of tea and a chat, but the best places to enjoy these teas are the ubiquitous tea houses found across the country.
Russia
Thanks to Russia's cold northern climate, tea has long been the nation's favorite beverage. Tea drinking customs are strongly linked with traditional Russian culture, specifically the requirement for a kettle-like device called a samovar, used in the traditional tea-brewing process. Tea concentrate, zavarka, is first brewed in a small teapot, and later diluted with boiled water from the samovar according to each individual's taste preference.
When visiting Russia, expect tea to be served after meals and during mid-afternoon breaks, often with a variety of cookies, small sandwiches and other snacks, not dissimilar to the English high tea tradition. If you ever get a chance to travel around Russia by train, you'll experience tea drinking from the traditional Russian silver tea holder, which was used as the teaware of choice across the country until the 1970s.
India
A tea plantation in India
In India, chai tea (black tea with added milk and spices) is consumed by locals on a daily basis. It's sold on street corners amd served in restaurants and can even be found at train stations. But India is not only a place to sample authentic chai tea, it's a fantastic destination for a tea-themed holiday.
Travel to northern India to discover Darjeeling, one of India's most popular hill stations. Stay among tea plantations, admire stunning views of the tea gardens and enjoy plenty of trekking opportunities, all while sampling the aromatic and delicate Darjeeling tea. Alternatively, visit the Brahmaputra Valley, often referred to as the "tea capital of the world," thanks to its vast Assam plantations.
Sri Lanka
Sri Lanka is one of the biggest growers and exporters of black and green tea worldwide, making it a fascinating country to visit for any tea enthusiast. Tea plantations in the highlands of Kandy and Nuwara Eliya offer visitors a chance to taste vast varieties of locally grown tea and learn the intricacies of production firsthand. Take a tour of a plantation, visit the sorting facilities and finish your trip in the tasting room, where new varieties of the best Ceylon teas are brewed on a daily basis.
Word of caution: Once you taste the best-quality Ceylon tea freshly brewed, you may not be able to go back to drinking store-bought tea.
Myanmar
There is no denying it, the Burmese love their tea! Green tea in Myanmar is as ubiquitous as water, and sweet black tea with condensed milk is considered a local's favorite, frequently consumed in the mornings and as an afternoon treat. You'll find tea on the menu in every restaurant and streetside stall as well as, of course, Myanmar's extensive tea houses.
But they don't just drink tea in Myanmar, they eat it too! Tea leaf salad, or lahpet in Burmese -- a mix of fermented tea leaves, tomatoes, sesame seeds, roasted peanuts and crunchy beans -- is a local specialty which takes your tea appreciation to a whole new level.
Despite the age-old debate of tea versus coffee, the facts are clear: Tea is the world's favorite drink (second only to water) and consumed in one variety or another almost everywhere in the world. Countries like Indonesia, Japan, the U.K., South Africa, Peru and many others could be easily added to the list of great destinations for tea lovers, so the toughest decision is choosing which country to visit first.
Author's Bio: We are Oksana & Max, a Canadian tea-loving couple on a mission to travel the world for less, and the duo behind the travel blog Drink Tea & Travel. Earlier this year, we quit our jobs, sold our possessions and left the nine-to-five life behind to embark on the biggest adventure of our lives.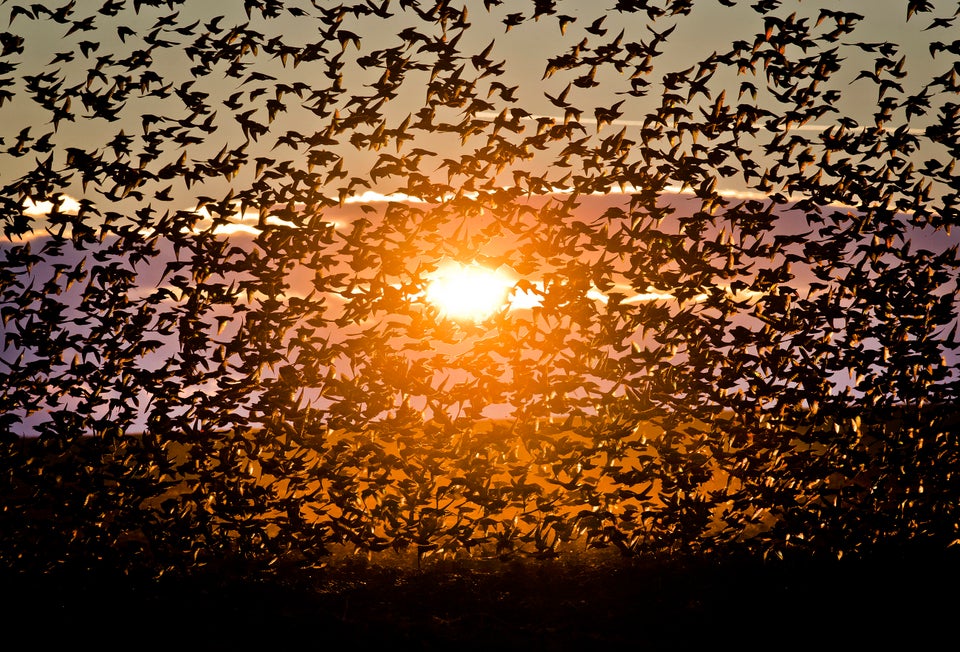 Stunning Images From Around The World
Related