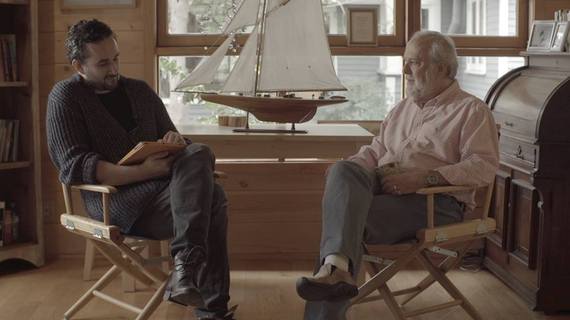 The art of film directing has been revered since the days of the Lumière Brothers, before the title of director had even been bestowed. Now, the director has achieved a level of celebrity that is only growing exponentially. Some directors are considered auteurs, where their name is directly correlated with a distinct style or aesthetic. Other directors are visionaries who have the power to resurrect extinct animals or create mythical landscapes so real that even Mother Nature herself would approve. There are also those who are risk takers, continually pushing boundaries, challenging their audiences and bending genres. No matter what style or method a director uses, none of them could achieve success without the dedication of their assistant directors.
For the first time, filmmaker Leonardo Corbucci is capturing the stories of some of cinema's most accomplished assistant directors. With only a trailer and a 60 minute preview available for press and distribution, the full length feature is due to release in March of 2015. "The AD is the oil which makes the engine work," Steve Lanning poignantly states in the film. Legendary AD explores the amount of energy and creative work behind the first assistant director. They not only play a huge role in the production of major motion pictures, but have their own visions, inputs, concepts, stories and personalities that often go unseen. Blood, sweat, and tears are not just a part of their job, but a part of their lifestyle. In this documentary, the organism that is the film crew is compared to the structure of an atom, where the director, director of photography and assistant director are the nucleus with protons and electrons whizzing around them. While they each serve their own purpose, the organism could not function successfully without all of these elements intact. A truly collaborative form of art.
Legendary AD features prolific ADs such as Nilo Otero (The Dark Knight Rises, Inception, Seven, Blood Diamond), Burt Bluestein (The Godfather II, Point Break, Bloodsport), Henry J. Lange Jr. (Happy Days, My Name is Earl, Raising Hope, The Godfather II, Sleeper), Steve Lanning (Star Wars: Empire Strikes Back, Gandhi, Superman, The Omen), William Paul Clark (Pulp Fiction, Django Unchained, Kill Bill, Jackie Brown, Rambo, The Rules of Attraction), and David H. Venghaus Jr. (Forrest Gump, Pirates of the Carribean, Minority Report, Natural Born Killers, Tropic Thunder, Catch Me if You Can), just to name a few. In private interviews, they each share insights about their experiences on the rollercoaster ride of filmmaking. Going behind the screens of some of film history's most beloved movies, we are transported into a world where the magic is real and so are the actors. Burt Bluestein recounts his personal experience with the great Robert DeNiro and his meticulous work ethic, Steve Lanning tells a comical story of Marlon Brando's off-camera antics and William Paul Clark discusses what it was like to work with Quentin Tarantino. "I think the biggest thing is you've gotta have no ego," according to Henry J. Lange who often works in live television. A cinephile's fantasy, we are given a glimpse into the Technicolor dream of Hollywood from the perspective of the assistant director.
Beyond storytelling, this documentary serves an even deeper purpose. While the assistant director is essentially the "circus ringmaster," as jested by Nilo Otero, their work no longer has the opportunity to be recognized at the Academy Awards. There have been many discontinued Academy Award categories such as Best Dance Direction and Best Title Writing. Best Dance Direction disintegrated with the golden era of Hollywood in the 1960s and Best Title Writing died with the birth of sound. The category for Best Assistant Director, however, only lasted between 1934-1938 and unlike its defunct counterparts, has actually become a much larger and more involved position. Not even categorized to be able to vote on the films, they are shuffled into the "uncategorized" section giving them no voice and no recognition. Leonardo Corbucci's ambition is to bring awareness to the eyes of not just the Academy, but to those who want nothing more than to gain knowledge about the movies they love. A strong, yet eloquent, way of sending a message, the inspiring stories told straight from the minds of these legendary assistant directors speak for themselves.
The first of his Legendary Series, Leonardo Corbucci endeavors to tell the story of the stories untold. Concentrating on those in the film industry who have accomplished epic achievements with little to no recognition, the goal of this series is to reveal how extraordinary these people truly are. To be human is to forever move forward in this raging river of life with the hopes of swimming hard enough to make a ripple. Some human's ripples reach across space and time, while others make no ripples at all. But what of those ripples that no one sees? It does not mean they were not made. Legendary AD is full of charismatic humans who have dedicated their lives to the creation of an art form that is loved by the world. Because of Leonardo Corbucci's vision, their achievements will not only be seen, but immortalized.