If you like it then you should have put an egg on it. That's what we think, anyway. Eggs, once relegated to breakfast plates, have come a long way in recent years, and many many chefs are plopping eggs on all kinds of dishes. We're not complaining.
Here in L.A., we have eggs on Korean-American rice bowls, eggs in burritos, eggs in sandwiches -- and yes, plenty of wonderful breakfast and brunch egg dishes. Here are 10 of our favorites.
Breakfast Burrito At Lucy's Drive In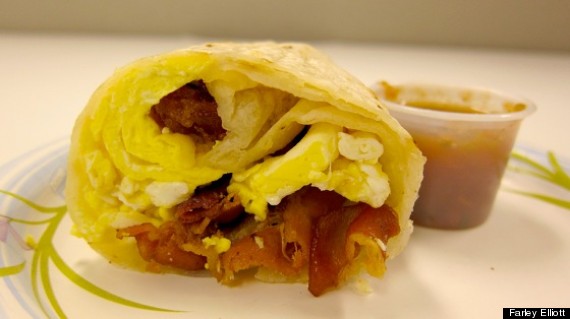 Ah, Lucy's -- the Platonic ideal of what a breakfast burrito should be. Every aspect of the reasonably sized, $5 morning meal is perfectly reasoned. The eggs are fried well, with just enough softness at the yolk to let you in on all that flavor. The bacon is thin but substantial, and mixed around inside so as not to leave any individual bite without a taste of the pork. The hash browns are served as a thinly fried slip, crispy at the exterior and soft inside. Toss in some shredded cheese to bind it all together, plus a few cups of their thin salsa roja, and you've got a simple meal that just feels like what a perfect breakfast burrito should be. 1373 S. La Brea Ave., Los Angeles; 323-938-4337.
Green Eggs And Ham At Bucato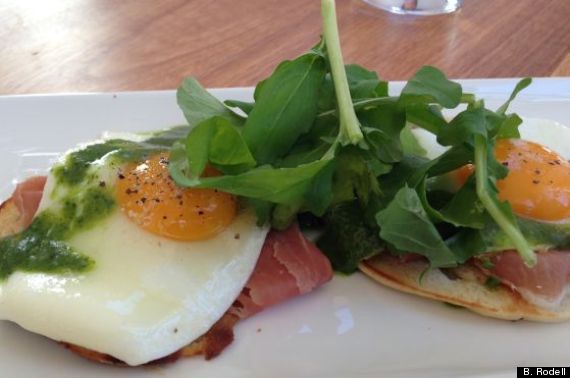 At brunch, chef Evan Funke presents many of the same components that make dinner so compelling. Some dishes he tweaks just slightly to make them more brunchy, and some utilize dinner menu ingredients in new and lovely ways. The wonderful pesto Genovese that at night coats gnocchetti is used at brunch for Bucato's take on green eggs and ham -- two sunnyside eggs on house-made English muffins with a pile of delicately piggy prosciutto and a smattering of arugula. It's like a breakfast you'd make at home, but taken up about five notches. 3280 Helms Ave. Culver City; 310-876-0286.
Anson Mills Grits & Eggs At Milo & Olive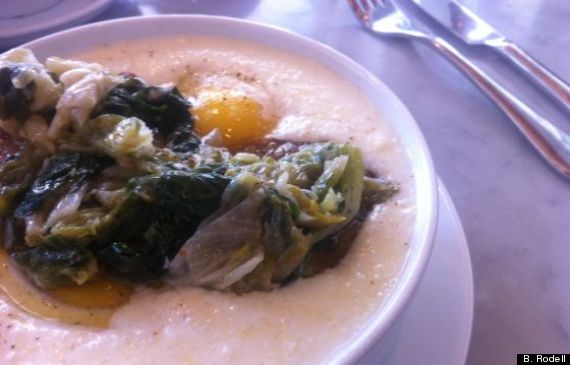 Finding good grits is hard in L.A. -- finding good breakfast grits is even harder. So the bowl of grits and eggs served at Milo & Olive for breakfast and brunch comes as sweet relief for those of us who understand the glorious possibilities of savory hot breakfast cereal. The dish comes in a big bowl: hot grits, seasoned just right, with two eggs floating somewhere beneath the surface. If you've had bland, cardboard-tasting grits before, these grits will probably be a revelation. Anson Mills, located in South Carolina, produces coarse-ground grits that taste of sunshine and corn. Milo & Olive's grits and eggs come in two versions: one with mushrooms and herbs, and one with house-made pork belly sausage and braised greens. Both are delicious, but the sausage and greens version is better, mainly because of the greens. The sausage is fantastic as well, not as fatty as you'd think, but still rich and savory. And the braised greens provide a slightly bitter, fresh counterpoint. Savory breakfast can be hard -- it gets tiring to pay $12 for two eggs and a piece of toast. This dish is as creative as it is comforting, a fun take on a classic Southern breakfast. 2723 Wilshire Blvd. Santa Monica; 310-453-6776.
Brisket Hash At Tavern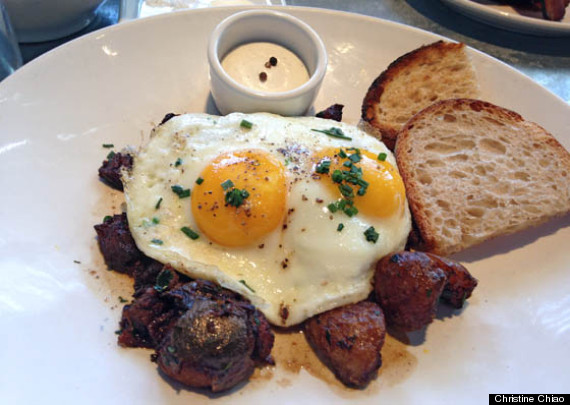 The brunch menu at Suzanne Goin and Caroline Styne's Tavern is more classic than progressive, with eggs soft-scrambled, baked, or served poached as a Benedict. We've seen enough menus offering beef hash to know that it's all about the execution. When we visited, there were no misses in any component of a brisket hash with sunny-side eggs and mild horseradish cream. 11648 San Vicente Blvd., Brentwood; 310-806-6464.
Egg Salad Sandwich At Euro Pane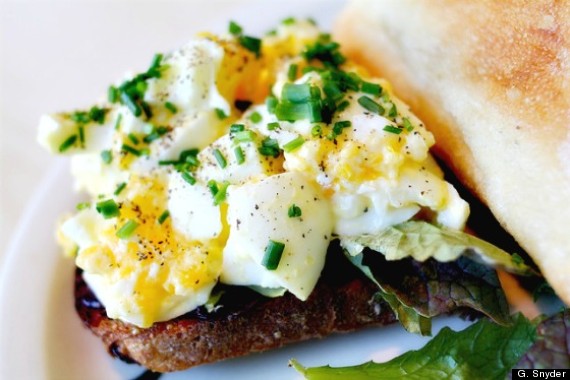 Egg salad is just egg salad, right? Something snatched from cold deli cases wrapped in cellophane or whipped up for a last minute brown bag lunch. Until we began frequenting Sumi Chang's Pasadena bakery, we might have even argued that the best version of egg salad was the one you make at home, gussied up with a little mayo, mustard, salt and pepper. But Chang, who years ago trained under Nancy Silverton before leaving to open her own shop, elevates the humble sandwich to a whole other plane of decadence. The eggs are boiled just long enough until the yolks are set but still soft -- a gooey bright yellow plasma many a Caltech student has no doubt pondered over. The mixture comes out lighter and more delicate than anything made with egg yolks and mayo has any right to be, offset by a thin spread of sun-dried tomato pesto, a handful of arugula, and a sprinkling of cracked pepper and chives. The sandwich arrives open-faced on a slice of fresh rosemary-currant bread -- who would ever want to cover up sandwich like this? 950 E Colorado Blvd., Pasadena; 626-577-1828.
REAL LIFE. REAL NEWS. REAL VOICES.
Help us tell more of the stories that matter from voices that too often remain unheard.
BEFORE YOU GO
PHOTO GALLERY
LA's Best Hungover Brunch