Having just flown back on a red-eye flight this morning, my mind is heavily on my not-so-wide awake eyes. While I'm battling a myriad of eye issues at the moment, not everyone's worries are the same. Some constantly deal with dark circles, while others wake up to puffy bags. Though for most, the very thin skin around the eyes is becoming increasingly drier, which ultimately means fine lines. Whatever your issue, you can find an eye cream that targets your specific problem. Before investing in your next eye cream, check out our product guidelines, then flip through the gallery below for the best new (and effective) formulations on the market.
Hydrate. Then hydrate some more: This is the most important rule when it comes to keeping eyes youthful and staving off fine lines and wrinkles. Find a consistency that will last you through the day to ensure you're always being protected. And no shame in touching up: The great thing about eye creams is that they are usually housed in small containers, great for stowing away in makeup bags.
If dryness is your big issue, look for a balm. It will sink in to moisturize, but will last a little longer due to its slightly richer texture. And don't forget to keep a light, steady hand and pat on with your ring finger, which is the weakest, meaning application will be more gentle.
De-puff: Swollen areas means the skin around your eyes is retaining fluids, which can be caused by everything from alcohol to salt intake, and of course lack of sleep. To minimize puffiness, look for products that contain anti-inflammatory ingredients, like soothing chamomile and caffeine.
Banish dark circles: While some people are more likely to develop darker skin under their eyes (due to genetics, eczema and aging), there are ways to combat this tell-tale sign of exhaustion. A cream with green tea and vitamin C will help lighten the darker areas in the longterm, while formulas with a slight tint will remedy the situation immediately.
Year-round sun protection: SPF is a no-brainer, but look for a formula that will be ultra-hydrating. Even though summer is officially over, that doesn't mean it's time to stop using sunscreen; the sun is just as harmful in the colder months. SPF in a small tube will make it even easier to keep the eye area protected.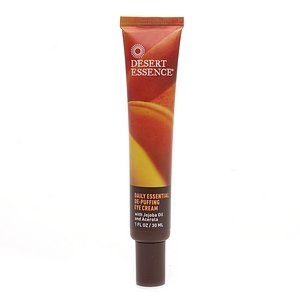 Buying Guide: Eye Creams
Related