It's been a great year for film books, with biographies and studies of key individuals dominating the field in 2015. Among trade publishers, Pantheon continues to issue "must read" books, while one smaller publisher, Chicago Review Press, is emerging as a leading publisher of film biographies. On the academic side, the University Press of Kentucky Press continues to carry the banner for film history, having issued a shelf full of outstanding works under the editorship of film historian Patrick McGilligan, who also happened to pen one of the best books of the year.
Admittedly, there are a lot of books mentioned here. But that's because there are so many worth highlighting. And so, without further ado, here are the books every film buff or film historian will want to know about.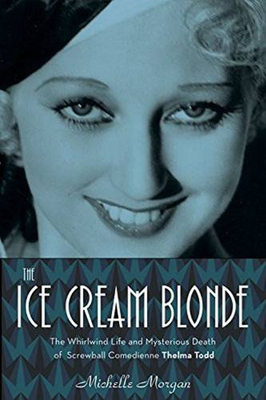 Michelle Morgan's The Ice Cream Blonde: The Whirlwind Life and Mysterious Death of Screwball Comedienne Thelma Todd (Chicago Review Press) tells the story of the delightful comedic actress who started in silents and found success in the talkies only to have it end when she was found dead in a garage near her own popular Hollywood café. Morgan details the dangerous world the actress inhabited, and offers new evidence on Todd's mysterious death, long thought but never proven to be murder. Ice Cream Blonde is a great read, and also timely. The building which once housed Thelma Todd's Sidewalk Café is set to be torn down in early 2016.
With graceful prose, Tracey Goessel's The First King of Hollywood: The Life of Douglas Fairbanks (Chicago Review Press) recounts the life of the actor who became an icon of his age. Fairbanks not only pioneered the swashbuckling adventure film--The Mark of Zorro (1920), Robin Hood (1922), The Thief of Bagdad (1924), The Black Pirate (1926)--he also helped shape Hollywood itself. This actor, screenwriter, director, and producer co-founded United Artists, a turning point in Hollywood history. He also helped organize the Motion Picture Fund to assist those in the industry who could not work, was a founding member of The Motion Picture Academy, was elected the first President of the Motion Picture Academy of Arts and Sciences, and hosted the first Oscars ceremony. Fairbanks also married "America's Sweetheart," film's first superstar, Mark Pickford. (The celebrated couple were the first to place their hand and foot prints in wet cement at the then newly opened Grauman's Chinese Theatre.) With exclusive access to Fairbanks' love letters to Pickford, Goessel illuminates how Fairbanks conquered not just the entertainment world but also the heart of the most famous woman on earth. The First King of Hollywood is a royal read.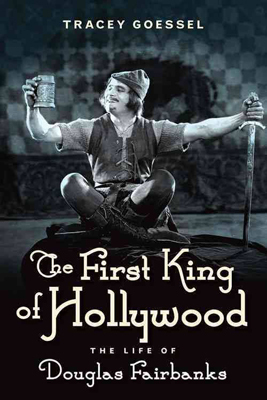 Wild Bill Wellman: Hollywood Rebel (Pantheon) by William Wellman Jr. is an impressive book, a labor of love and an intimate portrait of a father by his son. And what a father! Wellman Sr. directed the first film to win an Oscar for Best Picture, Wings (1927), and also wrote and directed what many regard as the greatest movie about Hollywood, A Star Is Born (1937). A WWI hero (who got his start in Hollywood in large thanks to Douglas Fairbanks), Wellman also helmed such great and near-great works as Beggars of Life (1928), The Public Enemy (1931), Night Nurse (1931), Nothing Sacred (1937), Beau Geste (1939), Roxie Hart (1942), The Ox-Bow Incident (1943) and others. It's all here in this first-ever biography.
William Cameron Menzies: The Shape of Films to Come (Pantheon) by James Curtis tells the story of Hollywood's first and greatest production designer, a job title David O. Selznick invented for Menzies' all-encompassing, Academy Award-winning work on Gone With the Wind (1939). Menzies, winner of the first-ever Academy Award for Art Direction, also contributed to such films as Fairbanks' The Thief of Bagdad (1924), as well as the sci-fi classic Things to Come (1936), Foreign Correspondent (1940), Kings Row (1942), The Pride of the Yankees (1943), For Whom the Bell Tolls (1943), It's a Wonderful Life (1947), Invaders from Mars (1953), and Around the World in 80 Days (1956). In the words of Martin Scorsese, "For anyone seriously interested in filmmaking, this is a book you've been waiting for, whether you know it or not."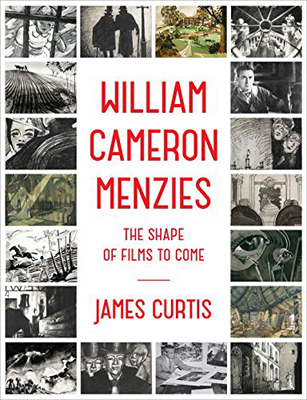 At 820 pages, Patrick McGilligan's Young Orson: The Years of Luck and Genius on the Path to Citizen Kane (Harper) is another big book on an ambitious over-achiever (or was Welles an underachiever)? The wunderkind of 20th century American entertainment (he appeared on the cover of Time magazine at age 23) gets his due in this biography of just his early years--from his first forays on the stage (including the Mercury Theater) and radio ("The War of the Worlds") to the inspiration and making of the motion picture now ranked as the greatest ever, Citizen Kane (1941).
The book of the year is The Charlie Chaplin Archives (Taschen) by Paul Duncan. As is befitting it's subject, this huge volume--measuring 18.2 x 12.8 x 2.8 inches and weighing more than 15 pounds--examines the career of the one filmmaker many consider the greatest ever. Drawn from the Chaplin archives and featuring much new material, this remarkable book reveals the process behind Chaplin's cinematic genius through its 900 images which include stills, memos, storyboards and on-set photos, as well as images for unmade films, press clippings which span the length of Chaplin's long career, and interviews with the Little Tramp's closest collaborators. All together, it's an impressive coffee-table type book which could almost double as coffee table. But wait, there's more--first edition copies include a 12 frame strip from City Lights (1931), cut from an original 35 mm print in Chaplin's archives, which serves as handy bookmark or just something cool to have.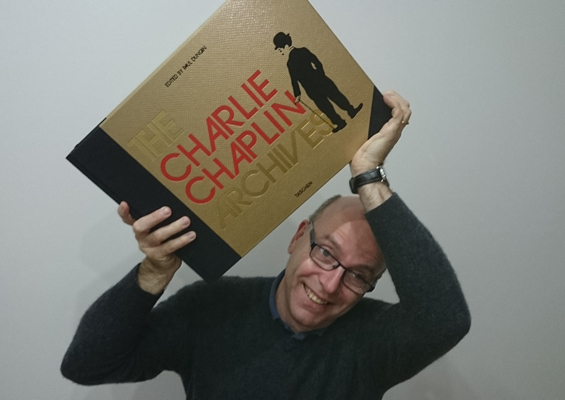 Paul Duncan holds aloft The Charlie Chaplin Archives. Image courtesy Taschen.
There are other notable book well worth checking out. Among them are Bela Lugosi in Person (BearManor Media) by the devoted Lugosi scholars William M. Kaffenberger Jr. and Gary D. Rhodes, Larry Semon, Daredevil Comedian of the Silent Screen: A Biography and Filmography (McFarland) by Claudia Sassen, and Jeanne Eagels: A Life Revealed (BearManor Media) by Eric Woodard and Tara Hanks. The latter tells the tragic story of the beautiful, Academy Award-nominated film and Broadway star. There's alsothe tell all The Life and Times of Mickey Rooney (Gallery Books) by Richard A. Lertzman and William J. Birnes, which revealed a reported sexual encounter between Rooney and a young Elizabeth Taylor.
Along with actors, notable new books on directors include Hitchcock Lost and Found: The Forgotten Films (University Press of Kentucky) by Alain Kerzoncuf and Charles Barr, which looks at the Hitchcock oeuvre except for his well known masterpieces. There are also titles on two forgotten figures, Lois Weber in Early Hollywood (University of California Press) by Shelley Stamp, and Albert Capellani: Pioneer of the Silent Screen (University Press of Kentucky) by Christine Leteux. The latter includes a foreword by the Oscar honoree Kevin Brownlow, which for many film buffs represents a recommendation in itself.
Dietrich & Riefenstahl: Hollywood, Berlin, and a Century in Two Lives (Liveright) by Karin Wieland looks at the careers of the two Germans, Marlene Dietrich and Leni Riefenstahl, one an actress and recording artist, the other an actress and then director allied with the Nazis. This fascinating dual biography examines lives that began in similar circumstances but ended on opposite sides of WWII.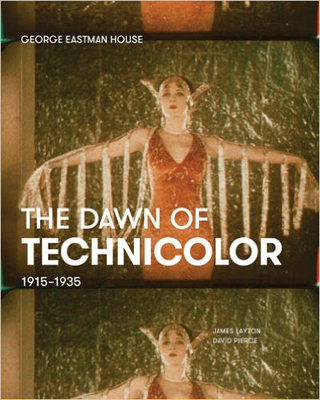 Along with the biographies and studies of key individuals, works of film history also stand out. One is The Dawn of Technicolor: 1915-1935 (George Eastman House) by James Layton and David Pierce. Published to coincide with Technicolor's centennial in 2015, this sumptuous over-sized tome recounts the beginnings of one of the most widely recognized names in the American film industry. It's remarkable. Also out this year is the not unrelated Fantasia of Color in Early Cinema (Amsterdam University Press) by Tom Gunning, Joshua Yumibe, Giovanna Fossati, and Jonathon Rosen, and with a foreword by Martin Scorsese. Track down a copy and prepare to have your mind blown.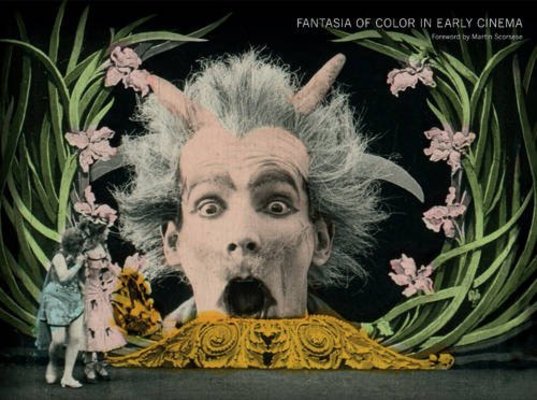 In recent years, renewed attention has been paid to the emergence of early black cinema. One recent book on the subject is the excellent Envisioning Freedom: Cinema and the Building of Modern Black Life (Harvard University Press) by Cara Caddoo. A scholarly work, it's both readable and revelatory. Another fascinating scholarly work is Menus for Movieland: Newspapers and the Emergence of American Film Culture (University of California Press), by Richard Abel. Also, don't miss these two general interest titles, each of which are a lot of fun, My First Time in Hollywood (Asahina & Wallace) by Cari Beauchamp, and Hollywood Celebrates the Holidays: 1920-1970 (Schiffer) by Karie Bible and Mary Mallory.
Thomas Gladysz is a San Francisco arts and entertainment writer. He is also the founding director of the Louise Brooks Society, an online archive and international fan club which went online 20 years ago. Most recently, he contributed the audio commentary to the just released Kino Lorber DVD & Blu-ray of Diary of a Lost Girl.
Related
Popular in the Community