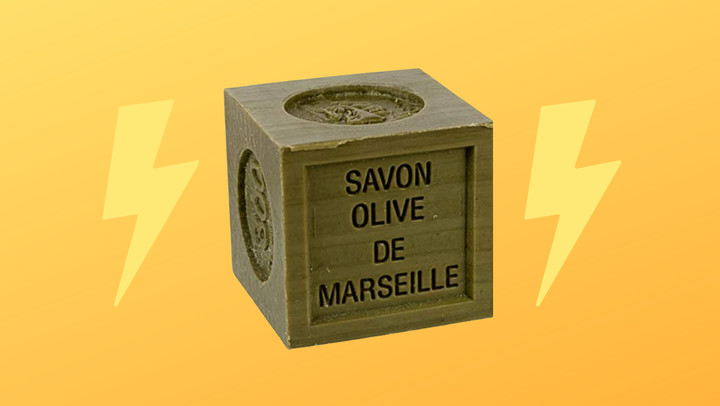 Welcome to HuffPost's series Simple Pleasures, where I write about the one purchase that made me happiest over the last few weeks, producing a much-needed hit of shopping serotonin.
During a visit to a lovely friend's home a while back, I spotted an unassuming block of soap next to her kitchen sink and was instantly intrigued (and slightly confused, to be honest). As someone who is always looking for attractive ways to display practical and utilitarian home items, it had never occurred to me to use a bar or block of soap in the kitchen — and I'd certainly never seen one that was quite so big (roughly the size of a large grapefruit). I figured it must have been an expensive or possibly even gimmicky boutique purchase that looked good but didn't do much otherwise, but I'm pleased to report that I was incredibly wrong. My friend explained that this unassuming block of soap was actually a French staple that is as versatile as it is aesthetically pleasing.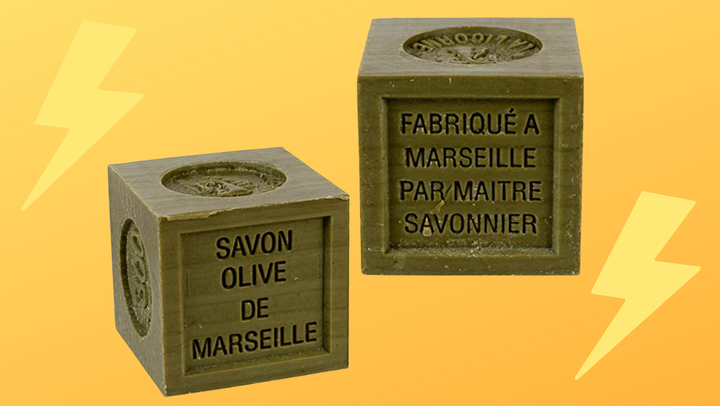 Having an olive oil soap cube on hand is incredibly common in many parts of France, particularly in the countryside where my friend's family is from. It is most commonly found in people's kitchens and laundry rooms, usually just plopped right on the countertop or in a little decorative dish next to the nearest sink. It's gentle and hydrating enough to use as a daily hand wash, but magically tough enough to remove serious stains. I love the rustic-chic vibe it gives my countertop — it's almost transportive enough to make me feel like my 750-square-foot apartment is a glamorous 18th-century chateau in Marseille. Even just catching a glimpse of it in my kitchen perks me right up.
I primarily use it to wash my hands and clean dirty dishes; all I do is rub my wet hands on it or give it a few swipes with a dish sponge and it's ready to go. It doesn't make my hands dry like so many kitchen soaps do and has a lovely, gentle olive oil smell that leaves my skin feeling soft and hydrated, but without that slimy feeling and residue that oil-based soaps can sometimes leave behind. The light fragrance isn't overwhelming and doesn't feel synthetic; it's very subtly elegant. Best of all? It's available on Amazon for less than $15.
The lack of plastic packaging, synthetic dyes, fragrances and additives makes it a great biodegradable and eco-friendly alternative for anyone looking to make sustainable home swaps. It can also be used in the shower as regular body soap and is gentle to use on even your sweet little baby's skin. And even though it's made from 100% vegetable oils (72% of which is olive oil) it can be used to get tough stains out of clothing. Reviewers note that in France it is commonly used to get baby poop stains out of clothing — and it works.
Because it gets left out to air dry, the soap block lasts for a ridiculously long time — upwards of four or five months — making it worth every penny. It's the kind of item that would cost double in a fancy home goods store, making this an absolute steal. If you're in the market for a new kitchen soap or just want to elevate the vibes a bit, then the simple addition of this sweet soap is the way to go. It's the easiest way to keep yourself, your dishes, your family and your fabrics clean, fresh and oh-so-chic. I like to leave mine just right on the countertop, though if I had tile countertops I'd probably recommend placing it in a dish. Check out the rave reviews below then pick one up for your home.
"Excellent soap. This is the real deal. Just like the ones I used to get in France when I lived there. Good lather, rinses clean. Nice natural scent, no "perfume-y" smell. Long lasting I have already had over a month, barely put a dent in it." — Krista

"Great for dishes! I bought this to replace the standard bottle of store-bought dish soap. A couple of swipes with a wet sponge and my dishes are squeaky clean." — Ella

"The best soap around. I love this soap. My husband and I found out about this natural soap when we visited Marseille, France. It is made of olive oil and is great for your skin. My skin is so soft after I get out of the shower. I highly recommend this soap. It is worth the money. So glad I can buy it through Amazon." — Son of Twain

"Cleans stubborn baby stains, if you know what I mean. My daughter's father-in-law is from France and told me that this is the one thing that they used to take out baby poop stains from clothing. I laughed it off until I tried it myself, and now I'm a believer. The stuff is used for everyday cleaning in France. I highly recommend!" — SfoBuddha
Before You Go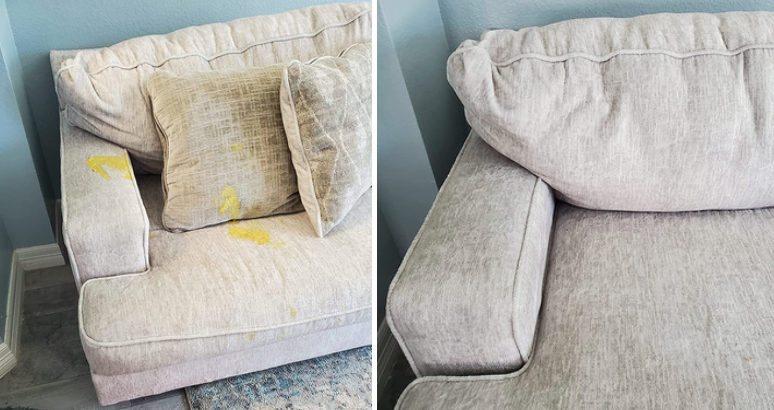 Do Yourself A Favor And Check Out These 34 Cleaning Products