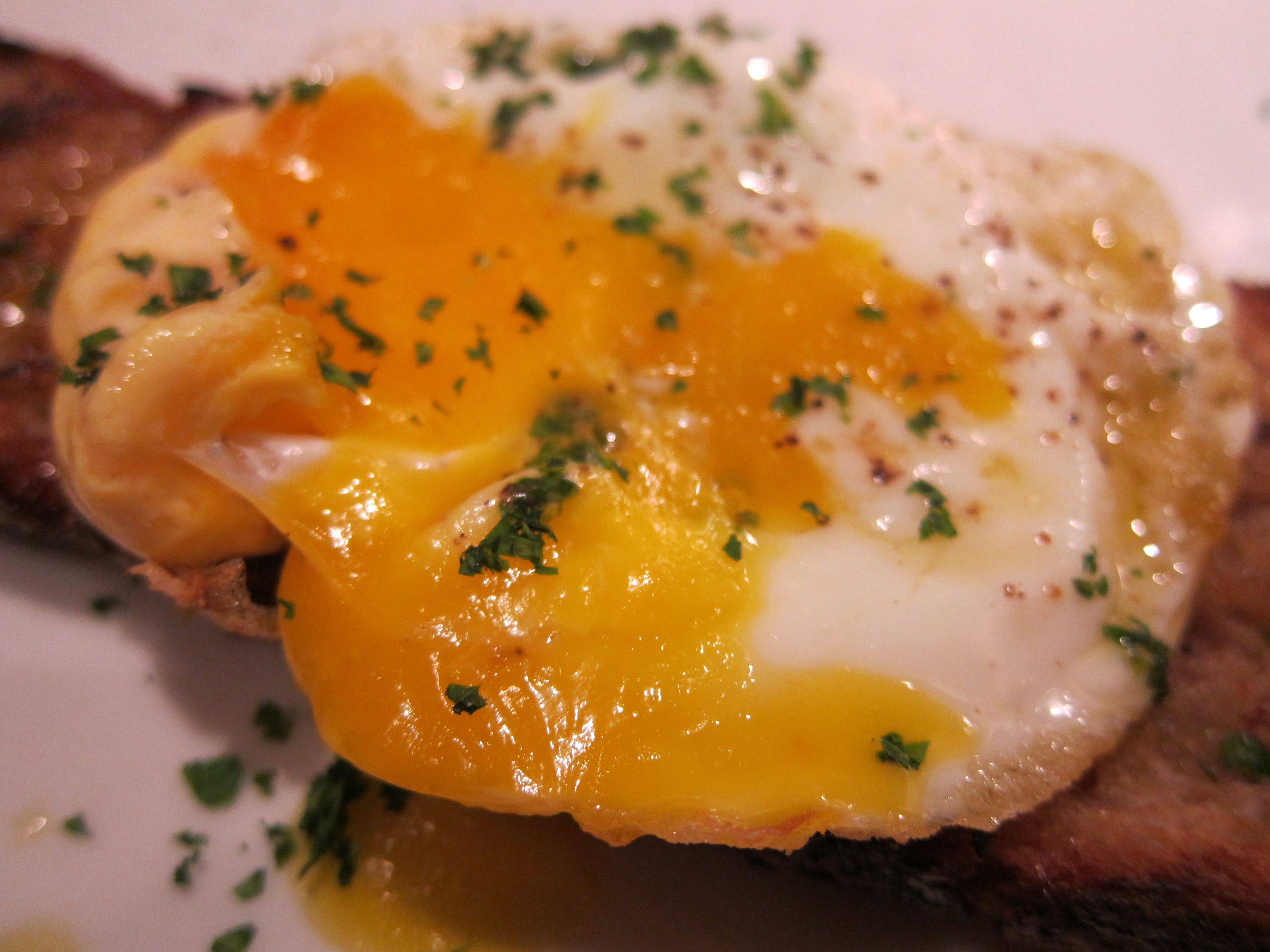 If you're accustomed to frying eggs in butter, or margarine... you might want to consider a radical Mediterranean alternative. For when you heat deep olive oil in a small, high-sided pan, and break an egg into it, you get the crispiest, most flavorful fried egg of all. The browning around the edges of the egg -- a key element for most fried-egg fans - -is extraordinary when olive oil is the cooking medium; moreover, the unaccustomed marriage of fruity olive oil flavor with creamy egg defines anew the upper limits of fried-egg excitement.
Best of all, the dish is a snap to make... and shines at breakfast, as a luncheon dish, or as a first course in a rustic dinner party.
Here's a step-by-step guide to success in making one egg. Repeat as often as necessary:
1) Buy jumbo eggs, and keep them cold.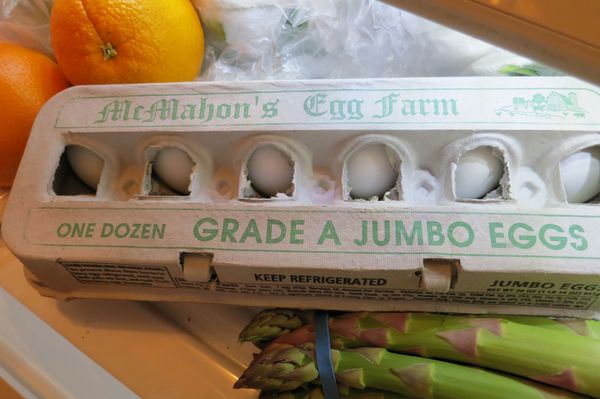 2) Select the proper cooking vessel. Ideally, it should be a small saucepan with medium-high sides--about 6" across, sides about 2 1/4" high. (In a small saucepan like this, deep-frying can be done without a lot of olive oil.)
3) Buy a good-quality extra-virgin olive oil, but not a great one. The supermarket is the place to shop for this -- and don't spend over $15 for a liter.
4) Pour the olive oil into the saucepan until the oil's about 1/2" deep. If your saucepan has similar measurements to mine, this will take about 2/3 cup of olive oil.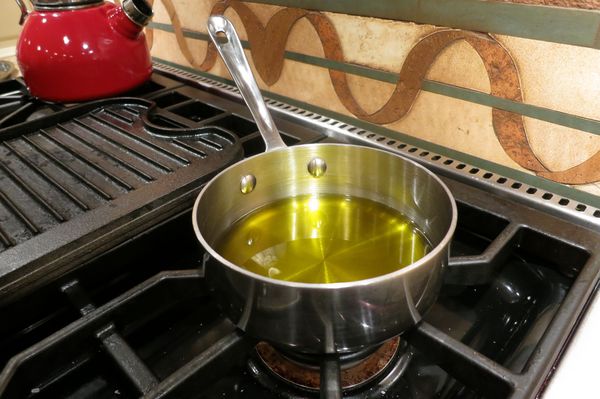 5) Place the saucepan over medium-high heat. The oil is ready for the egg when it reaches 375 degrees (best measured with a deep-fry thermometer).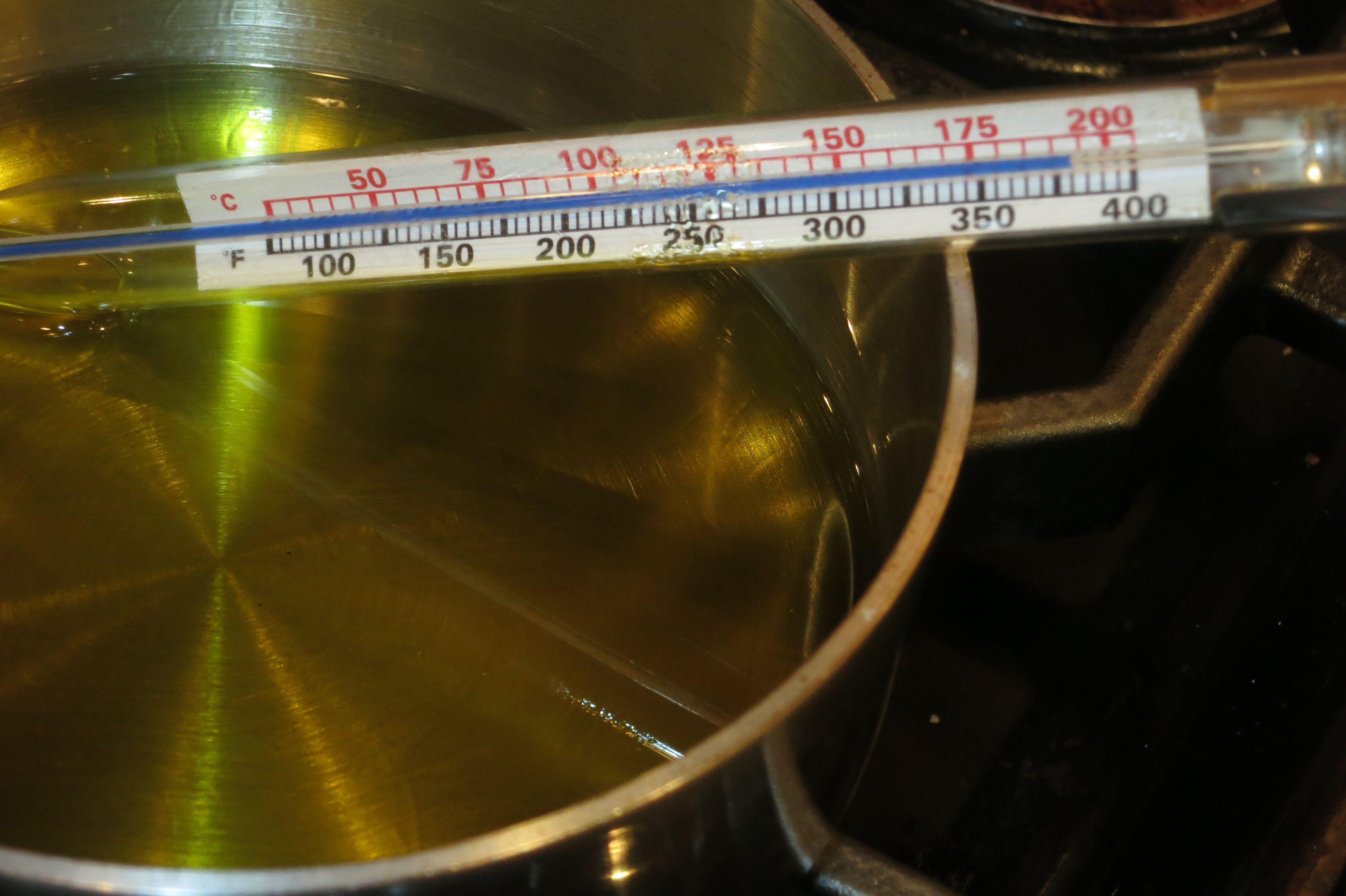 6) Crack the egg, and slip it into the oil without breaking the yolk. The oil will respond violently to the introduction of the egg, creating bubbles and browned spots galore. The more the merrier.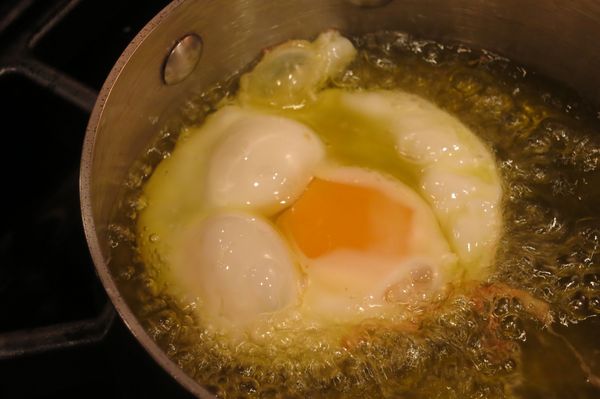 7) It is very important that within ten seconds of dropping the egg, you slide a thin-edged spatula under it to make sure it is not sticking to the bottom of the pan.
8) If you like a runny yolk, cook the egg for no more than a minute. Lift it out with a slotted spatula, drain briefly on paper towels, then serve immediately. Your discretion is needed, however. Nowadays, we do hear of the occasional egg contaminated with salmonella (remember the recall of Iowa eggs?). USDA, and my lawyers, want you to know that if you cook the yolks hard they are perfectly safe, and you should never serve runny yolks to children, the elderly, cancer patients, or the immune-compromised. I figure the risk is less than crossing the street in Manhattan, so I eat mine runny.
Note: The olive-oil-fried egg can be served by itself, or on toast, or on a grilled piece of bread that has been moistened with olive oil. Top with salt, pepper, and, if desired, finely chopped parsley. A plethora of other things could also top this creation: chopped bacon, truffle oil, grated Parmigiano-Reggiano, etc.
Related