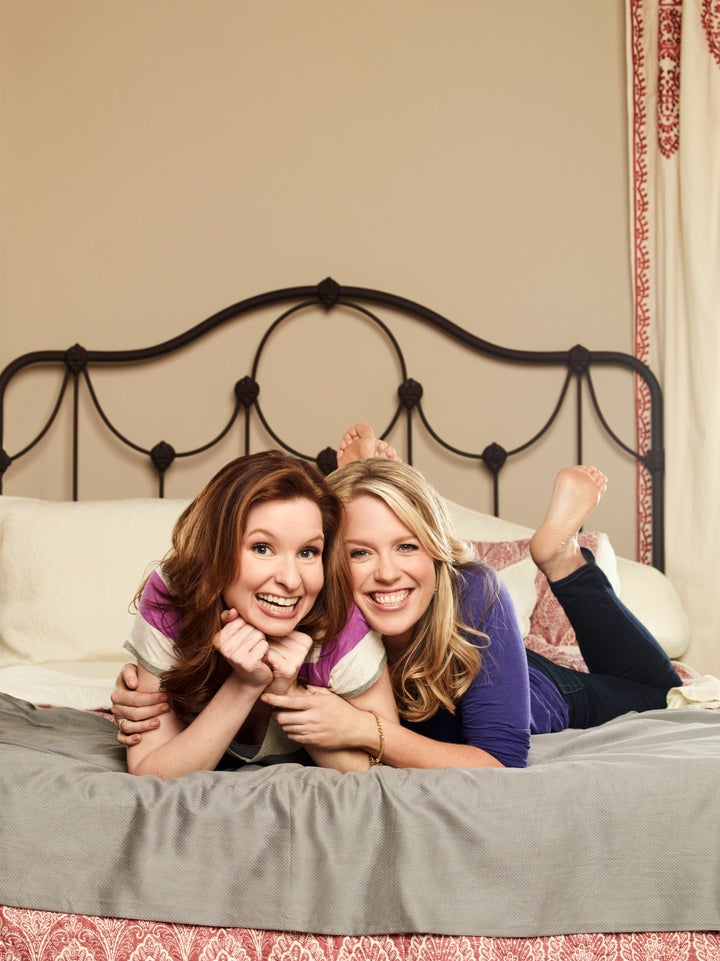 Get ready to meet your new best TV friends: "Best Friends Forever" (premieres Wed., Apr. 4, 8:30 p.m. ET on NBC) is the kind of show you're gonna want to hang out with every week. Just trust me.
Written, created by and starring funny ladies (and real-life friends) Jessica St. Clair and Lennon Parham, "Best Friends Forever" is a sweet, funny, so-true-it-doesn't-feel-like-a-sitcom kind of sitcom. I visited the set and instantly fell in love with the whole vibe, but watching these two women work together reminded me of those "Best Friends" split heart charms you got with your grade school partner in crime -- they just fit together.
In this case, when Jessica (the "Be/Fri" half of the heart charm) gets served divorce papers, she moves back in with the friend who completes her, Lennon (the "st/ends" half of the heart charm). The only thing that can come between these two perfectly split halves is Lennon's new live-in boyfriend, Joe (played by Luka Jones).
Here's the gist:
Lennon: "Essentially it's a story about two best friends who are so close -- it's like that romantic relationship that girls have in middle school that travels with them."
Jessica: "Someone brought this up to us: The word 'friendsbians.' You're so close you might as well be having sex, but you're not. [Laughs.] So really it's a love story about two women. It's a romantic comedy, but instead of a boy and girl, it's Jessica and Lennon."
Lennon: "And the twist is that a month ago, I moved my forever boyfriend, who's the love of my life, into my old apartment and now Jess is back. So I'm having to balance the two of them for the first time together in the same place."
They complete each other's stories like this a lot, in real life and on the show. It makes viewers feel even more "inside" than just eavesdropping on a chat between good friends -- it makes you feel like you're in their company. And the way St. Clair and Parham write has a lot to do with that.
On their unusual writing process ...
Jessica: "We improvise and we tape record ourselves."
Lennon: "It's weird."
Jessica: "So we are in our bedroom in our pajamas, basically -- we write in our pajamas all day. Our husbands are like, 'Please put on pants.'"
Lennon: "Unless we're in our office ... then we put on like loose-fitting pants."
Jessica: "So we improvise, then we tape record ourselves, then we transcribe it. I have a little journal [laughs] and I transcribe all these scenes by hand, and then we take our best takes and put them together into a script. And then we rewrite. The writers help us break the stories and punch things up, but when it comes to the actual dialogue between Lennon and I, we have to improvise it, because otherwise, it won't feel like the weird way we really talk. The most awkward stuff is when it's a romantic scene, let's say. Lennon plays the man."
Lennon: "Stop."
Jessica: "She says things to me that I wish a man would say. She knows the way to my heart. It gets heated."
Lennon: "Too far."
And a bit more on their shorthand:
Lennon: "That's what was really important to us, was to tell a true story of how girls really are with each other, with all of their weird messes and all of their ..."
Lennon and Jessica, in unison: "Their shorthand."
Lennon: "They finish each other's sentences."
Jessica: "And they reference 'Steel Magnolias' when they're trying to give advice."
Lennon: "They overlap each other. We don't pause for jokes; the jokes are just kind of layered in. These are just funny people, and you just want to be around them."
Writer/producer Alexa Junge, who honed her skills at writing TV companionship on the touchstone for all BFF shows, "Friends," was brought on as showrunner and instantly felt the same way.
"I saw this and I was like, 'I have to do that. I have to. I just want to work on this show.' It was an instant sense that I could work with them personally, and we all have the same idea of what good is and what funny is, and that's such a hard thing to find. The realness of the friendship," Junge explained. "It's weird to be a female who works in comedy. And I don't know that it's the fault of the women, but it's either real soft and pastel-y or it's this sort of purposeful, gratuitous attempt to be as dirty as the boys. And I'm not sorry about the way things are going in that direction, but it's cynical in some way. The thing that's so special about these girls is they have total edge, and because they are women from UCB [Upright Citizens Brigade], they're not afraid to go there. They can be quite filthy, but it also has this very positive spirit. It's hopeful, it's not cynical, and we're not doing the man-bashing thing. We're doing something now that I haven't seen on TV."
And since Junge does come from several acclaimed series, I wouldn't fault St. Clair and Parham if they want to have this comparison engraved on a plaque and mounted somewhere. "It sounds so corny, and I don't want to jinx us in any way, but it reminds me of 'Friends,'" Junge said. "In the writer's room at 'Friends,' the way we did it was the best idea wins. That's how the girls work here."
The wonder of Fred Savage:
Jessica: "I don't know if you've been watching him in action, but the dude is the greatest director on the planet and the cutest man alive. Without Fred and our DP [director of photography] David [Robert Jones], we would never have gotten this picked up, because we were working with not the usual budget of a pilot. We're not supposed to talk about that [laughs] ... but they brought such a rich look to it. It looks like a movie. And because Fred was an actor, he gets it. And watching him with Daija [Owens, who plays eight-year-old neighbor Queenetta] ... it's the greatest thing ever. Can you believe it's Fred Savage though?"
Lennon: "I forget."
Jessica: "Remember Winnie? People freak. We were in a meeting and we told this woman about Fred Savage and she started shaking and goes, 'I had like a really big crush on him.' And I go, 'Let's call him!' Fred loves that shit -- he was like, 'What's up?' And she couldn't speak."
Lennon: "She was like, 'I can't talk!'"
And then there are their comedic costars onscreen, including Luka Jones, who plays Joe:
Jessica: "You know what's great about Luka? It's hard to find comedians that have access to that kind of ability to feel, to let themselves be vulnerable. We call him a lumberjack Colin Firth."
Lennon: "He's getting his PhD in philosophy."
Jessica: "He's like, 'I'm defending my thesis next week.' And we're like, 'What are you doing here then?'"
Speaking for himself, Luka talked HuffPost TV about Joe's plight. "It's already challenging to learn to live with your romantic partner, but to have to live with her best friend as well -- who is needing things quite a lot right now because of this understandable emotional stuff she's going through -- that's a big adjustment," he said.
And their sassy eight-year-old neighbor Queenetta, played by newcomer Daija Owens:
Daija: "I'm having so much fun. Queenetta is the queen of her own world ... she's bossy to everybody. She says, 'No! I want this, you're gonna do that, and you're gonna do this!' And she acts like all the grown-ups are her children ... I would probably be friends with her, but if she was my best friend, I think she'd try to run me."
Everyone's got fingers crossed that viewers will tune in:
Jessica: "We're just so excited. I hope girls find it."
Lennon: "We just want people to watch it! Because honestly if people find it, they'll be obsessed with it. I do believe that."
Jessica: "I hope it fills the void that 'Sex and the City' has left, that 'Gilmore Girls' has left, RIP ... "
Lennon: "And 'Anne of Green Gables' ... yeah, it's been a while."
Watch the full "Best Friends Forever" pilot here to see for yourself:
"Best Friends Forever" premieres Wed., Apr. 4 at 8:30 p.m. ET on NBC.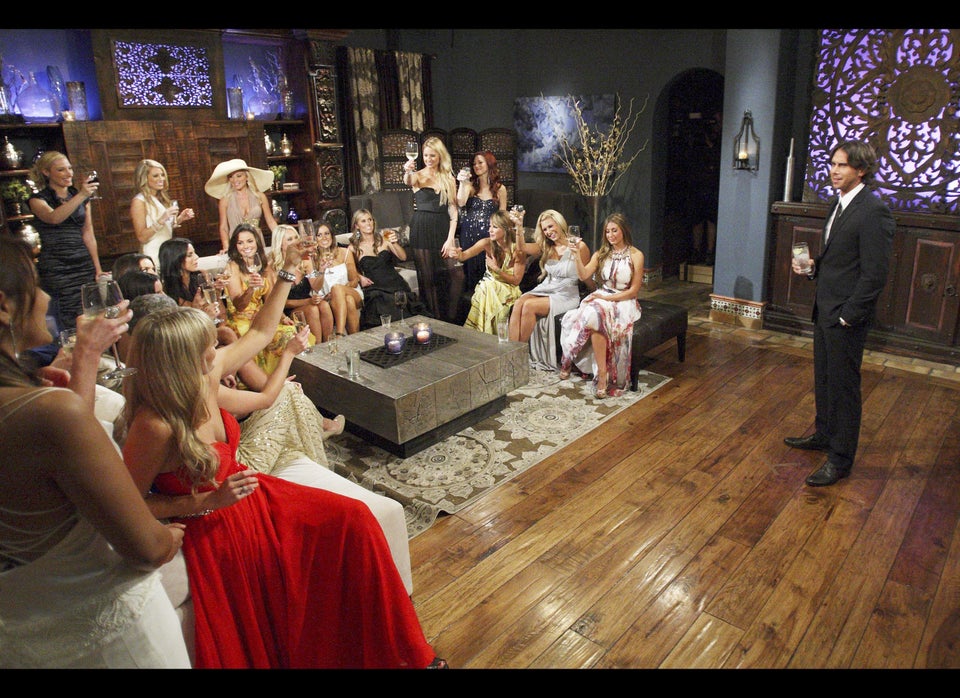 2012 Renewal Index: Canceled, Safe and on the Bubble Shows
Popular in the Community