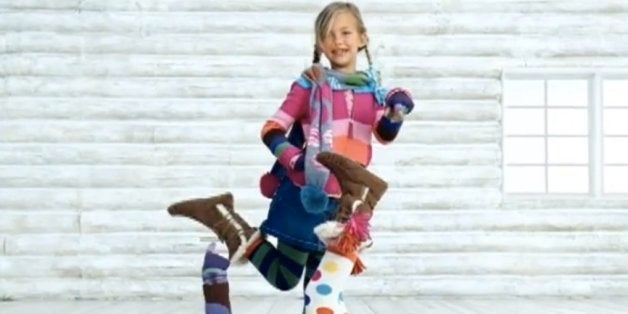 We either love Gap commercials or love to hate them. They'll either evoke some level of nostalgia or great distaste. But, if you think about it, Gap ads exist as historical markers of the times we've had in fashion -- from oversized khakis to bootcut madness, we've had a long, bittersweet relationship with the jeans company.
So, we decided to rank some commercials to relive the good, the bad and the weird times.
Although there are probably more Gap ads floating out there, here are the 44 commercials that were, and still are, crucial to the Gap marketing game.
44. Vintage Fall Into The Gap
They showed this on TV? Of course they did.
42. Spring Is Here, feat. Laura Prepon
41. Gifts That Pop, feat. Sarah Jessica Parker
Meh, at least Kelis is singing.
40. Khaki Country, "Crazy Little Thing Called Love"
39. When You're A Khaki, West Side Story
This could've been better, don't you think?
38. Gifts That Warm, feat. Sarah Jessica Parker, Mary J. Blige and Josh Duhamel
We never knew we needed Mary J. Blige and Josh Duhamel to warm up our holiday hearts until this commercial.
37. Denim Invasion, feat. Orlando Bloom and Kate Beckinsale
WE WANT MIRANDA KERR. But okay, Kate Beckinsale is actually awesome.
36. Stretch, feat. Shalom Harlow
This was choreographed by Toni Basil. Yep, that incredible woman.
34. Pretty Khaki, feat. Sarah Jessica Parker
Wait, Carrie Bradshaw shops at Gap?
33. That's Holiday, "Ice Ice Baby"
The transition of songs is kind of unexpected, but makes sense.
31. My First Love: Angus Young
30. Gifts That Shine, feat. Sarah Jessica Parker and JC Chasez
Forget SJP, JC Chasez gives this ad major points.
29. Love Comes In Every Shade, feat. Olu Dara, Nas, Aubrey Plaza and More
This is just really cute.
28. Make A List, Boys Version
This boy band should've been famous.
27. Make A List, Girls Version
But clearly, girls rock harder.
26. Denim Moves You, feat. Lil Buck
Lil Buck who likes to ... dance.
25. Fit For The Originals, feat. The Avett Brothers
Who doesn't love The Avett Brothers?
24. Khakis Rock, "Busy Child"
This is our favorite film that features skating, besides "Brink" of course.
23. That's Holiday, "Cool It Now"
Nothing gets us into the spirit like a Gap commercial does.
22. My First Love: Love On The Rocks, feat. Will Ferrell
21. Show Your Colors, feat. Kaki King
20. Everybody In Leather, "Just Can't Get Enough"
Gap sold/sells leather? Huh.
19. My First Love: Scratching, feat. Shannyn Sossamon
This is pretty rad, don't lie.
18. Easy Fit Jeans, feat. Aerosmith
Seriously, what is Steven Tyler saying? That's rock 'n' roll, we guess.
17. Peace, Love, Gap, feat. Common
Common's the perfect man for this, because he has some awesome flow.
16. Khaki A-Go-Go, "Blow Up A Go-Go"
Basic clothes meets not-so-basic moves.
15. Khaki Soul, "Lovely Day"
You know you tried to hold your "daaaaaaaay" as long as Bill Withers does while watching this.
14. Everybody In Vests, "Dress You Up"
Models covering Madonna ... we're into it.
13. Khakis Swing, "Jump, Jive An' Wail"
Remember when everybody loved this song, and wanted to swing dance? BRB, going to go break our necks in an attempt to recreate this commercial.
12. How Do You Wear It?, feat. Sarah Jessica Parker and Lenny Kravitz
SJP's poses are hilariously priceless.

11. Everybody In Cords, "Mellow Yellow"
What in the actual hell this is, I don't know -- but it's pretty much the first commercial that came to mind for a lot of people when we mentioned "Gap commercial."
10. The Boyfriend Trouser, feat. Claire Danes and Patrick Wilson
Who knew Claire Danes and Patrick Wilson could dance? That's right, Gap did. Also this one has a cute little plot to it.
9-8. #BacktoBlue, feat. Alexis Ray Joel and Dhani Harrison
These renditions of their iconic parents' songs are nice and stripped down -- no glitz and glamour here.
These girls are so good, we want to join their crew.
6. A New Groove, A New Jean, feat. Madonna and Missy Eliot
The hats, the splits, the coolness, all of it.
5. LL Cool J, Fall Into The Gap
Now we know why all those people bought FuBu.
4. Give Stripes, "Love Train"
If the past ads didn't make you feel fuzzy on the inside, this one might -- especially since Rashida Jones is in it (and a couple of others).
3. Original Fit Jeans, feat. Run DMC
2. The Skinny Black Pant, feat. Audrey Hepburn
If you thought Audrey Hepburn was jammin' in "Funny Face," wait 'til you see her dance to AC/DC.
1. Denim, feat. Daft Punk and Juliette Lewis
The "Digital Love" dance breakdown of our dreams.
Did we miss any? Tell us about your favorite Gap commercial with a comment.

Related