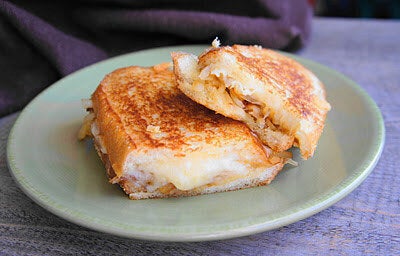 I'm pretty much a grilled cheese purist: I just need some bread, good melting cheese and plenty of butter. But there are lots of professionals out there who think much bigger than me. Here are some of the country's more remarkable grilled cheese sandwiches.
Melt Bar & Grilled, Cleveland area locations. You've got to love a place that knows and respects its local specialties. Exhibit A: Melt's Parmageddon, a sandwich stuffed with two potato and cheese pierogi, Napa vodka kraut, grilled onions and sharp cheddar. Fans of The Big Lebowski will recognize The Dude Abides: homemade meatballs, fried mozzarella cheese sticks, rich marinara and provolone. Devotees of another classic movie might order The Godfather, which includes three-cheese lasagna made with fresh fennel-oregano pasta sheets, spicy red sauce and provolone, plus garlic-spiked bread. As an added bonus, if you get a tattoo of one of Melt's three logos, you get 25 percent off for life.
Outerlands, San Francisco. This is not one of those 101-ways-with-grilled-cheese spots. You won't find grilled cheeses on their dessert menu, or even at dinner. But at lunch they do offer a glorious grilled cheese made on superthick house-made bread, brushed with garlic oil (smart!) and crisped up in a hot cast-iron skillet. Plus, it's only $5. It's so good, it has a spot on SF Weekly's list of San Francisco's 10 Best Sandwiches.
Beecher's Handmade Cheese, Seattle and New York City. How smart is it to specialize in grilled cheeses at an artisanal cheese shop? At the cafés at both their original store in Seattle's Pike Place Market and their newer Manhattan outpost, Beecher's serves a selection of grilled cheeses that vary according to the location. In Seattle, you'll find the Dungeness Crab & Flagship sandwich ("flagship" references their signature cheese, a nutty gruyère-cheddar hybrid). New York City has a daily changing Big Deal sandwich -- for instance, a Cuban-esque grilled cheese. Soon you'll be able to take Beecher's grilled cheeses to other states; they're opening a kiosk at Sea-Tac Airport in Seattle this summer.
Pinewood Café, Houston. The grilled cheese possibilities are practically limitless at Pinewood Café, right near the Houston Zoo in Hermann Park. The build-your-own grilled cheese bar has 12 kinds of cheese (from Fontina to Velveeta), eight breads (including jalapño cheddar if you want to up the cheese quotient in your sandwich), plus six proteins (bacon!) and 13 veggies, a category that ranges from cool items like pico de gallo and pickles to carrots, which I don't plan on putting on a grilled cheese any time soon.
Butcher & Bee, Charleston, SC. Their menu changes daily: They post photos of their chalkboard on their Facebook page for fans to preview. Since their October 2011 opening, one of B&B's periodic specials is the regionally appropriate grilled cheese with pickled okra, candied pecans and pimento cheese. They also spread pimento cheese and honey on their regularly appearing ham and cheese.
Rye, Louisville, KY. Rye owner Michael Trager-Kusman and chef William Tyler Morris met while working at The Breslin in New York City (where they happen to serve one of my all-time favorite melted cheese sammies, the Oven-Baked Three Cheese sandwich). At Rye, look for another monumental grilled cheese, served with a sweet, tangy chile-onion marmalade that takes it over the top.
Related