It was only a few months ago (yet it seems so far away) when the New York Times nearly tipped the Earth's axis by suggesting we all put peas in our guacamole.
Throw some guac into a food fight and things are bound to get messy, because Americans love to argue about tradition. And something as simple as the way we mash up avocados with other things can trigger even the mellowest home cook to respond.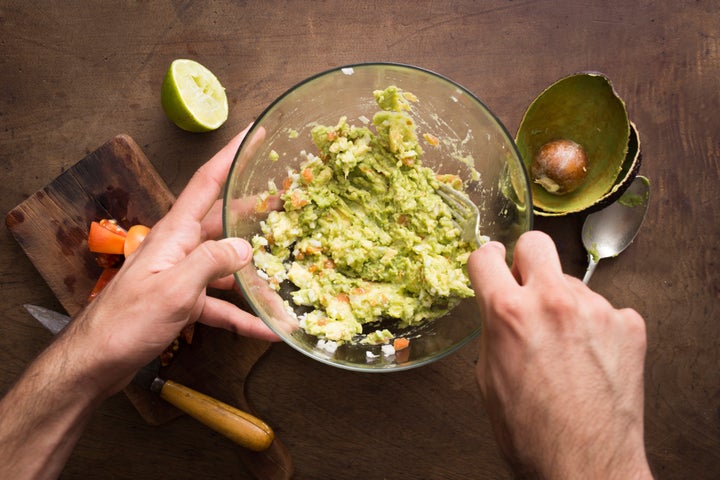 Well, to celebrate two important moments in guacamole history -- National Guacamole Day, which is Sept. 16, and the release of "Tacopedia: The Taco Encyclopedia," out Sept. 29 from Phaidon -- we present the definitive guacamole recipe to end the debate.
It comes from page 298 of said encyclopedia (which is huge, and explores the entire history and universe of tacos) and states:
"All Mexicans are experts on the subject [of guacamole], and many foreigners, too, are prepared to fight to the death to defend their version. It therefore might not only be a risky endeavor to try to probe deeper into the subject, but also a paradoxically fruitless one, as it is a dish impossible to fully encompass or describe. Very spicy, or without chiles; diced, or in liquid form; with cilantro, with oregano, or with mint; with oil, with milk, with sour cream -- or with cheese!; with red or green tomatoes; well-blended, or in bite-sized chunks... To fully comprehend the wealth of guacamole varieties, we must approach the matter carefully, beginning with the avocado itself."
After that, writers Déborah Holtz and Juan Carlos Mena say, when it comes to guacamole, "No one ever gets the last word."
2 medium ripe avocados
1 large tomato, cubed
2 green serrano chiles, finely sliced (seeded if you want it milder)
1/2 medium onion, chopped
3 sprigs of cilantro, finely chopped
Sea salt
Juice from half of a lime
Peel the avocados and mash the pulp with a fork in a large bowl until it turns into an even paste.
Mix in the vegetables and herbs and season to taste with salt and lime juice.
Serve immediately and proudly.
BONUS tip: To prevent the guacamole from turning brown, leave the avocado pits inside the mixture.
For another recipe, see Saveur's video below: