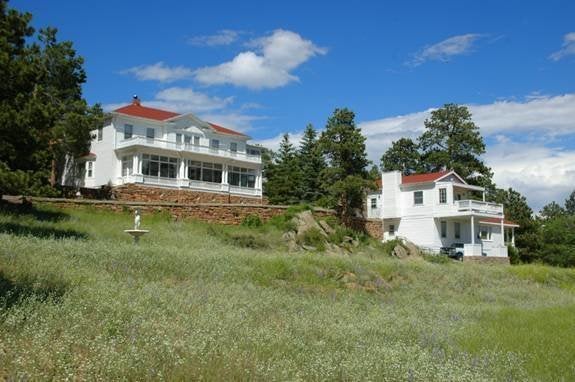 I've been reading a lot of old horror fiction lately and central to almost every ghost story is the haunted house. Generally this house is an unoccupied flat or abandoned home, one of fine design with good bones. One that seems to be a real steal or a hidden treasure, at least before it was forsaken. But there is always a reason it sits empty.
In Edward Bulwer-Lytton's The House and the Brain (best known for the infamous opening line, "It was a dark and stormy night"), the house is full of ghosts trapped in limbo by a hidden occult-master's evil spell. In Charles Dickens' The Haunted House, there are eight stories that together make up the stories of the immortal occupants in each of the rooms of the house. The stories are written by Dickens as well as his favorite authors of the time, whom he handpicked to represent the different ghosts. The Dickens ghosts are mix of angry, gruff, mournful and downright charming. In Charles Gallienne's The Haunted Orchard, the sweet little country home that our hero lets for the summer gives way to an enchanted semblance of a once-living bride.
I love a good scare as much as anyone else. (Well, maybe more!) Here are a five freaky places I'd stay the night if I could, possibly take up residence and hang out all night with those things that go bump in the night!
Number one on the list is the hotel that was the inspiration for Stephen King's Overlook Hotel in his novelThe Shining: the Stanley Hotel in Estes Park, Colorado. Although the infamous movie starring Jack Nicholson was not filmed here, the Stanley Hotel is said to be home to several ghosts. Rooms 407, 217, 401 and 418 are all reported to be haunted by a variety of spirits.
No fan of horror would be surprised by the next hotel on the list: the Bates Motel from the chilling thriller Psycho. Just a movie set you say? Take heart. There is a super-spooky Bates Motel you can stay at in the real world, too.
Next up is the Preston Castle in Ione, Calif. Considered one of the most haunted places in California, overnight tours can be arranged through the Preston Castle Foundation -- a nonprofit organization dedicated to helping restore the dilapidated "castle." Once a home for wayward boys and juvenile delinquents, this massive brownstone mansion is in a pretty advanced state of decay. From the owls and bats in the rafters to the EVP sessions in the basement, every winding stairway and abandoned room in this place just reeks with ghostly activity. There aren't exactly luxury accommodations here: you bring your sleeping bag and put it down on the creaking floorboards for some one-eye-open snoozing. But trust me, you won't want to actually sleep. It's the middle of the night action when the going gets good. Power up with an energy drink and get ready to haunt the night.
The "Murder House" in American Horror Story meets most every criteria on a fan of the macabre's check list: a beautiful mansion in old-school glam Los Angeles? Check. Creepy basement complete with an old claw foot bathtub? Check. Resident ghosts with a vengeance? Check and mate!
And guess what? It's a real house! The pilot for the show was shot on location in a house in Country Club Park in LA. The house was built in 1902 by the then-president of the American Institute of Architects, Alfred Rosenheim. Outdoor shots are still filmed on location, but in order to avoid damage to the gorgeous walls and delicate details, the indoor scenes are all shot on a set that has been designed to replicate the house and its many fine details, including Tiffany lamps and hammered copper fixtures. Just be careful if you ever tour this house. You never know what is lurking behind a pocket door!
The fifth and final place is the funktastically freaky house in Dark Shadows. Double-wide coffin with Johnny Depp's character? Oh yes! (Truth be told I'd stay anywhere with Depp, costumed or not -- pirate ship, yacht, private island, trailer, etc.)
This list is by no means complete. What's your favorite haunted hotel or house, fictional or real?
REAL LIFE. REAL NEWS. REAL VOICES.
Help us tell more of the stories that matter from voices that too often remain unheard.