I do a lot of talking about how to compose a healthy lunch box. But, at the end of the day, none of my tips or recipes mean a thing if your kid won't eat what you pack. One way to get my kids excited about what's inside their lunch bags is to include a healthy snack with mega kid appeal. Something snazzy, something that makes them feel like I'm treating them.
These snacks are three healthy lunch box goodies that get my kids jazzed about lunch time. It's true that sometimes they eat the snack and leave the rest. It's inevitable. But with snacks like these, I don't feel so bad. They're healthy and hearty, foods I can feel good about them eating. Especially my go-to granola bars.
Watch for all three ideas and grab the recipe for my go-to chewy granola bars on my site One Hungry Mama. My kids love these and I know that yours will, too. They are endlessly adaptable. Add whatever spices, dried fruit, nuts and seeds that you want. You can also substitute seed butter for nut butter. I've even added tahini before! And, of course, mini chocolate chips always make these extra special.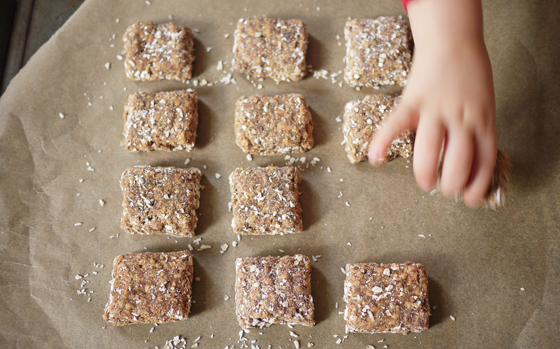 Whatever ingredient combo you go for, make a double batch of the granola bars. They freeze beautifully which means that you can have them on hand whenever you like. Just pack a square in kiddo's lunch box straight from the freezer and it'll be ready to eat by lunch time.
Get your school lunch cheat sheet by liking One Hungry Mama on Facebook where Stacie posts a picture and quick description of every school lunch she makes, all school year long.