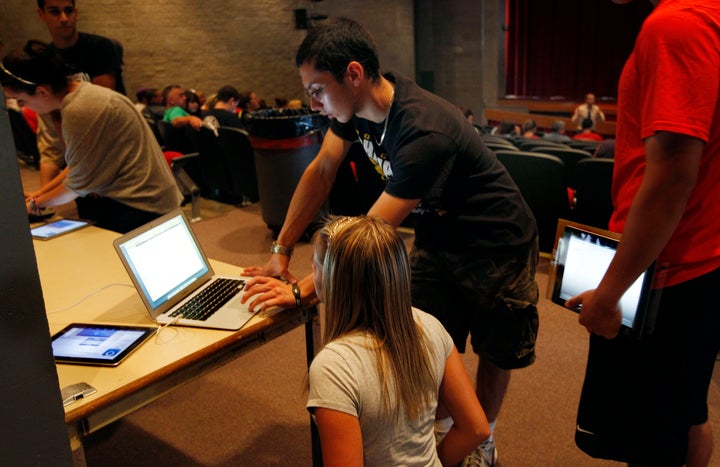 Science and technology can play an integral role in boosting the economy and strengthening national security—but only if there are enough scientists and engineers to go around.
Experts predict the shortfall of skilled technical workers to increase dramatically in the coming years, and getting students hooked on coding, cyber security, and manufacturing should start in high school, if not sooner.
Recognizing the role they play in training future innovators and inventors, high schools across the country are ramping up their science and technology curriculum. U.S. News & World Report highlights those leading the pack with the 2012 rankings of the Best High Schools for STEM — or science, technology, engineering, and math.
PHOTO GALLERY
U.S. News Best High Schools for STEM 2012
While demand for workers skilled in STEM is expected to continue climbing, the number of students pursuing STEM degrees has dropped, according to an April 2012 report released by the U.S. Congress Joint Economic Committee.
"Despite the clear demand for STEM talent by domestic employers, the U.S. is failing to produce an ample supply of workers to meet the growing needs of both STEM and non-STEM employers," the report states.
President Obama hopes to fill that gap by pushing the country to produce 1 million college graduates with STEM degrees over the next decade. The high schools recognized by U.S. News as the top science and technology schools are putting students on the path to meet that goal by fostering their interest in STEM subjects.
The Best STEM Schools rankings evaluate nearly 500 gold medal public schools from the 2012 Best High Schools rankings, using Advanced Placement (AP) test data in math and science as the benchmark. Of those schools, 250 received a numerical ranking. The rankings calculation did not rely on any data from the U.S. Department of Education.
High Technology High School topped this year's list of best science and technology schools with a STEM Achievement Index of 96.3 out of a maximum value of 100.0. The index is based on the number of 12th grade AP test takers in each school who take, and pass, any AP math or science test.
Students at the New Jersey school can take classes such as computer-integrated manufacturing, sustainable energy, or civil engineering and architecture—all for college credit thanks to agreements with Rochester Institute of Technology and other area colleges. The school also has a state-of-the-art research lab.
Virginia's Thomas Jefferson High School for Science and Technology placed second in this year's STEM rankings. The school boasts technology-focused curricular and extracurricular options, as well as advanced research labs — 13 of them, to be exact, including physics, microelectronics, and oceanography labs.
California is strongly represented in the top echelon of science and technology schools, with 8 schools ranking in the top 25, including Troy High School in Fullerton, the No. 3 STEM school. Ten schools from the Northeast — including ones from New York, New Jersey, Massachusetts, and Maine — placed in the top 25, as did three high schools located in and around Chicago.
The sparse representation from schools in the South and Midwest, and complete absence of states with large rural populations — such as Montana, Mississippi, and Arkansas — reflects the growing national concern over the digital divide between geographically and economically varied communities.
[Learn how to weigh the benefits and stress of AP courses.]
With nearly a quarter of U.S. students attending rural schools, the lack of access to STEM courses in high school can impact the rest of their academic and work lives.
"The lack of access to advanced mathematics courses facing students from rural areas and small towns limits their opportunities to major in mathematics-related fields in college, and subsequently embark on STEM careers," the report says.
Filling the demand for digitally literate workers, and reaching the president's goal of 1 million STEM graduates, will require students from all backgrounds — rural, urban, low-income, and high-income — to get hooked on science and technology.
REAL LIFE. REAL NEWS. REAL VOICES.
Help us tell more of the stories that matter from voices that too often remain unheard.
BEFORE YOU GO