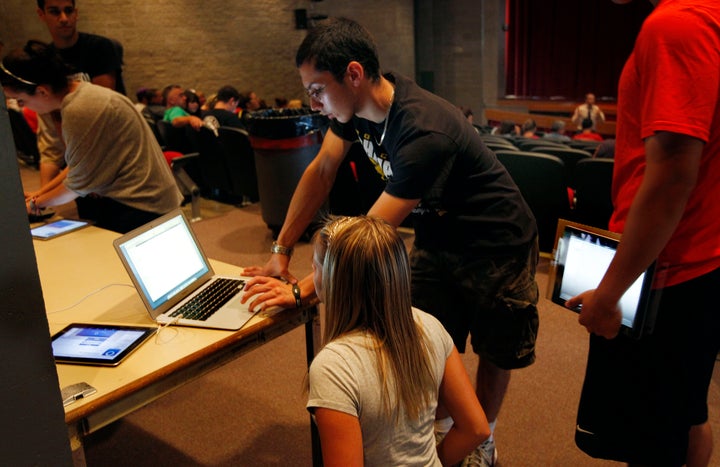 When considering your child's education, it may be hard not to focus on the potential loans needed to pay for college or the outlook of the post-graduation job market. Sending your child to a top high school can ease that transition into the adult world. Often, students who graduate from a great high school do so with college credits, scholarship money, and marketable skills.
To help guide you through the universe of public high schools, U.S. News today released the fourth edition of the Best High Schools rankings, available exclusively online. While the previous high school rankings published in December 2009 included information on 1,800 schools, the 2012 rankings include data on nearly 22,000 public high schools from 49 states and the District of Columbia. (Nebraska did not report enough data to be included in the rankings.)
U.S. News partnered with the Washington, D.C.-based American Institutes for Research (AIR), which implemented U.S. News's rankings methodology. To determine the Best High Schools national rankings, schools were first analyzed at the state level in terms of how well students in each school performed on state assessments, taking into account the test scores of disadvantaged students (low-income, Hispanic, and black), who tend to score lower on tests.
High schools that made it through this analysis were then eligible to be ranked nationally, in terms of college readiness. U.S. News determines the degree to which schools prepare students for college-level work by analyzing student success in Advanced Placement (AP) or International Baccalaureate (IB) programs, both of which include college-level courses. U.S. News awarded more than 4,850 gold, silver, and bronze medals to the top-performing schools.
PHOTO GALLERY
U.S. News Best High Schools 2012 (Top 15)
In the 2009 rankings of Best High Schools, U.S. News awarded 100 gold medals. This year, that number soared to 500, many of which went to California high schools. The Golden State is home to the largest number of gold medal high schools (97), as well as the largest total number of schools that were awarded gold, silver, or bronze medals (577).
There are 68 gold medal schools in New York and 46 in Texas, including the School for the Talented and Gifted (ranked No. 1 nationally) and the School of Science and Engineering Magnet (ranked No. 3 nationally), both located in the Dallas Independent School District.
Often referred to as "TAG," the School for the Talented and Gifted claimed the top spot in the 2012 rankings. Ranked fifth in 2009, TAG topped Thomas Jefferson High School for Science and Technology (TJ), in Alexandria, Va., which was ranked first in the previous three editions of the U.S. News rankings.
At the nation's top high school, TAG students are pushed to be college-ready before they graduate. TAG students must take at least 11 AP courses in order to graduate and have opportunities to conduct field research through partnerships with local universities and take courses such as Web Mastery.
TJ slipped just one spot below TAG among the Best High Schools, with many of the other top 10 schools shuffling amongst each other. There were two newcomers to the top 10, including University High School in Tucson, Ariz., which jumped 17 spots to No. 4. High Technology High School in Lincroft, N.J., moved into the top 10 Best High Schools from its No. 11 position in 2009.
Among the top 20 Best High Schools, four are charter schools, which usually accept a limited number of students through an application process and are also exempt from some of the government regulations of other public schools, so long as they successfully meet the criteria of their original charter. Two schools in the top 20 are magnet schools, which use an application process that typically involves test scores and grade point averages to attract the most talented students in a region.
In the 2012 edition of Best High Schools, parents and students can browse rankings of the country's Best Magnet Schools and Best Charter Schools, which are separate lists from the national rankings. While Connecticut International Baccalaureate Academy (CIBA) in East Hartford is No. 14 nationally, it's ranked No. 1 among magnet schools. BASIS Tucson in Arizona ranks first among charter schools and sixth nationally.
There are also separate rankings of the top high schools by state, as well as lists of all the districts in a state and the schools in each district—ideal for both families who are moving and those who are exploring their neighborhood public schools.
In the state rankings, parents and students can compare schools in terms of student-teacher ratios, college readiness, and proficiency on state math and English assessments. And with the major boost of data that U.S. News collected for the 2012 rankings, specific details about each school are now freely available, such as the enrollment of each grade and the percentage of students who passed AP or IB exams.
These details are important to explore when choosing a high school in which your child will succeed.
BEFORE YOU GO