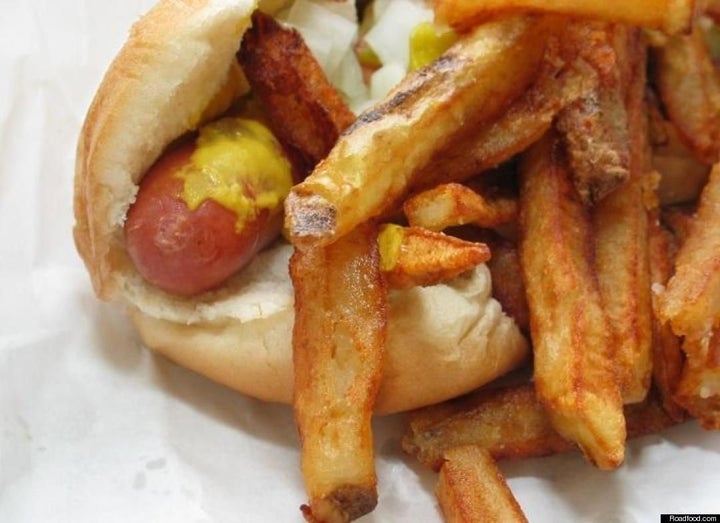 If you had told us that a major food blog would pick a Chicago hot dog stand as the best dog joint in America, we wouldn't have been surprised for a minute. Hot Doug's, probably, or Superdawg, or maybe a dark horse like Wolfy's or Jimmy's Red Hots.
But if you'd said the winner was in a little suburb out by O'Hare? We might have been left scratching our heads.
Still, as The Stew wrote yesterday, that's just what happened: Serious Eats picked Gene & Jude's Red Hot Stand in River Grove as the purveyor of America's best hot dog.
The Stew, a Chicago Tribune blog, has more:
Gene & Jude's Red Hot Stand, River Grove's purveyors of just hot dogs, tamales and fries since 1946, will be named the number one hot dog stand in the country in the March issue of Every Day with Rachael Ray.

...

"It's a great honor for anyone to notice us," said Dan Ciancio, general manager of the stand for 20 years. "We go through a lot of trouble to have such a small menu. We've just kept it the same. And I feel proud that we're doing something right."

Serious Eats teamed up with the Rachael Ray publication to put together a March Madness-style bracket of 64 hot dog establishments from all across the country, divided by region. Superdawg and Hot Doug's both made the Midwest bracket of the 16 best dogs in the area, but were eliminated along the way.
The final showdown was between Gene & Jude's and Aqui con El Nene in Tucson, Arizona. Naturally, Arizona was vanquished.
To our credit, Gene & Jude's did sneak into our list of 10 best Chicago hot dogs, the only non-Chicago establishment we let in. Our readers voted it #3, after (you guessed it) Superdawg and Hot Doug's.
But don't knock this dog until you've tried it: it may not have foie gras or a kitschy box, but this classic red-hot will make you seriously consider a trip to the 'burbs every time lunch-hour rolls around.
The restaurant is located at 2720 River Road, River Grove, IL, a short walk from the River Grove Metra station.
Popular in the Community