If you love iced tea, you have two options: buy it at the store, or make it yourself. The problem with buying it is that it's usually loaded with sweeteners, and if you don't like that sort of thing it's really hard to find unsweetened iced tea in a bottle. The problem with making iced tea from scratch is the wait -- it takes hours for a kettle of boiling tea to cool down, even with the help of a refrigerator and ice.
Thanks to food technology, the invention of cold brew tea bags has come to our rescue. Steep the tea bags in cold water for about 5 minutes, and you're good to go -- it couldn't be easier (with the exception of the Tazo brand, which requires you to steep in water for 5 minutes, and then top off with cold water, making it the only brand marketed as iced tea in our taste test that doesn't use a cold brew). There are more new flavors on the market than ever this season, and we're putting them to the test. From classic black tea to blueberry green and peach, there's a flavor for just about everyone. (And if you like your tea sweet, don't worry -- you can add as much sugar as you want.)
Some claim that cold-brewed tea (and coffee, for that matter) just don't taste as good as hot-brewed tea. Food-science expert Harold McGee says that cold-brewed teas "tend to contain less caffeine and less acid" than their hot counterparts. "And of course, they taste different. If the flavor of hot tea or coffee is your gold standard, then cold brews won't measure up."
We wanted to see if that's true, so we put 13 flavors to the test in a blind tasting. Who came out on top? Find out in the slideshow below.
As always, this taste test is not sponsored or influenced by the brands involved.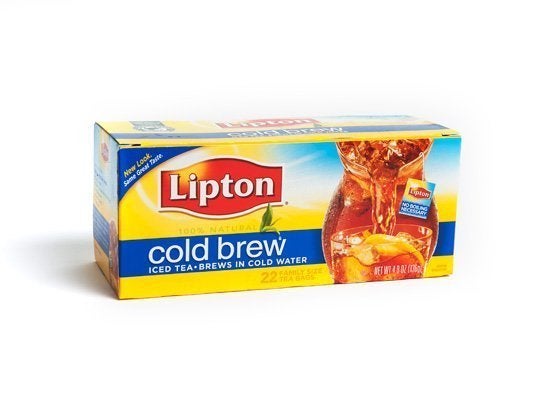 Cold Brew Iced Tea Taste Test