"The year Lotta Slots won the crown," says Jeffrey Drew, describing his evolution from contestant to director of Best in Drag Show, "I rode in on a camel singing 'Midnight at the Oasis.'" Two standing ovations later, Drew ascended to drag heaven. Thereafter, Lotta was slotted into several years of color commentating ("covering costume changes and reading the girls") on contestants who struggle to perform in heels and keep their towering hair pieces in place.
A benefit for the direct services organization Alliance for Housing and Healing (formerly AID for AIDS), this year's Best in Drag Show happens the evening of Oct. 6, when six contestants, several dogs, glitter and feathers descend on the Orpheum Theater's stage. Best in Drag Show has nothing to do with RuPaul's Drag Race or the bar circuit of professional drag queens who lip-synch their way through numbers while casting shade and telling raunchy jokes. Best in Drag Show contestants "aren't the brightest bulbs on the strip," says Drew. "Some are simple. No, they're stupid. They don't know where they're going. Many of them suffer from untreated Gay-D-D."
Drew's journey to directing Best in Drag Show on the Orpheum's downtown L.A. stage was personal. A 13-year-old runaway, he fled Orange County, hitchhiking up the 5 freeway to L.A., where he stumbled into drug addiction and survival sex, a lifestyle that culminated in being infected with "vintage HIV." Drew's passion about Best in Drag Show is driven by that firsthand experience of, as he says, "what it is to be homeless and positive and struggling to get meds."
The show's existence serves to underscore the fact that, despite its "disappearance," the AIDS epidemic persists. "People are still getting infected; people are still living with the virus," Drew observes, tying it to the LGBTQ community's crystal meth epidemic. "Eighty million dollars was cut out of the AIDS budget two years ago, so organizations that rely on the government have been devastated. But there's also the fact that the demographic of AIDS isn't just gay men. It's straight people. It's women with children. Families."
Best in Drag Show contestants have help: A virtual army of volunteers makes the show possible. "It's a huge commitment," Drew says. "And most of them have never done drag before." Every contestant has a team of two to five people who help them juggle heels, nylons, corsets, boobs, and wigs. Contestants have to apply their own makeup and are encouraged to get a makeup artist. To keep costs down, there's one day of rehearsal, another for tech and then the show.
Best in Drag Show's beauty-contest roots and its proximity to Hollywood means that there's always a celebrity judge quotient. You're as likely to see Charlie Sheen (who's made multiple $40,000-plus donations over the years) as you are to see Martin Sheen or Melanie Griffith. Rita Wilson, Anna Faris, Jennifer Coolidge and -- who knew? -- John C. Reilly have all turned out to judge. And then there was the year Vanessa Williams showed up, lingering with the girls in the alleyway behind the theater and later receiving a crown from emcee Patrick Rush, who said, "We won't take away from you."
A central part of the show's appeal is the contestants' dimwittedness, a magic trick that serves to distract from their gimlet-eyed, hooker-like focus on collecting as many bills as possible. While the girls serve shits and giggles onstage, dogs and ladies roam the aisles and collect money. "Nearly $3 million to date," Drew says, putting the evening's cray-cray, polished hair and makeup and kiki into perspective. "All of it goes to helping people with housing, meds, and food."
The night of this year's Best in Drag Show, Jeffrey Drew will take a very specific route to the theater. "For the last 11 years I drive past the Wilshire Ebell, where Alexis Pittman [who created Battle for the Tiara, Best in Drag Show's forerunner] performed," he explains. "I think about lovers who've died, friends who've died, and I pay tribute to the them." Once Drew steps into the theater, he tries to "summon up all those angels and guys." He adds, "Fear comes in, fear goes away, channeling all of them. It's that thing, that magic, that happens when the audience comes in and everybody's psyched for the show. It's that roar of excitement and expectation. Whatever's going on onstage and between the audience, I let go and let it be. A perfect disaster."
The 2013 contestants include Miss California Beverly Center (aka Sash Carl), Miss Michigan Electra Caprice Riviera (aka D'Nez Westmoreland), Miss New Jersey Vava Fanculo (aka Stephen Molinaro), Miss Puerto Rico Mimi E (aka Mike Cativo), Miss D.C. Ciera Lyon (aka Dajuan Powns), and Miss Wisconsin Misty O'Portunity (aka Aron Ross).
"Beverly Center, Miss California, will be singing opera live," Drew says. "Misty O'Portunity, also singing. Dancers. An XXL cheerleader. And Mimi E, who thinks she's a distant cousin of Sheila E, she plays the drums and dances some salsa."
"They're all kind of delusional," Drew whispers. "But don't tell anybody."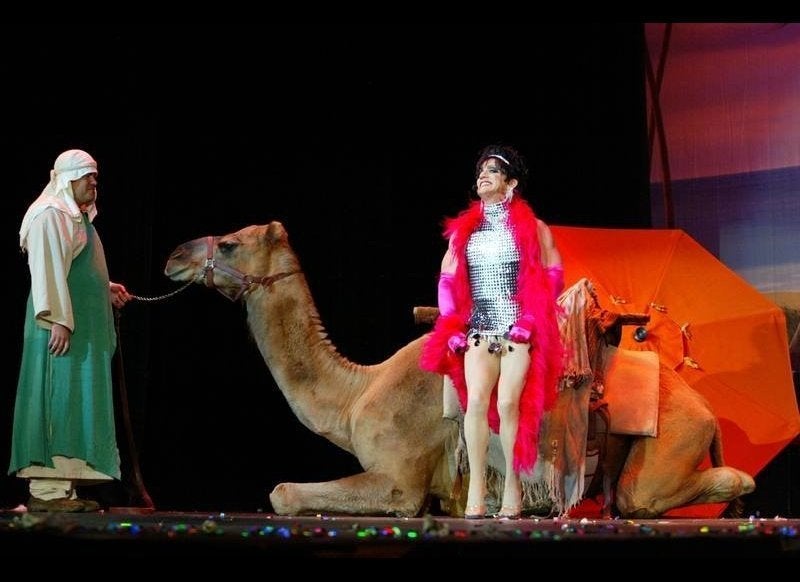 Highlights From Best In Drag Show
Best in Drag Show takes place at 7 p.m. on Oct. 6, 2013, at the Orpheum Theater (842 S. Broadway) in Los Angeles. For more information visit bestindragshow.org, or call 323-344-4880.
Popular in the Community