Freehold, N.J.Having funded projects in and travelled to India, and serving on the Board of the Indo-American Arts Council, not to mention assisting each year with the South Asian Performing Arts Festival and the South Asian Literary Festival, I have had my share of Indian food... Imagine my surprise this week when I discovered the most delicious Indian food I have ever tasted, plated to perfection, in small town New Jersey!
Located in the quant, historic community of Freehold, New Jersey -- an hour southwest of Manhattan -- Aarzu Restaurant opened this summer. I was delighted to join its owner Kamal Arora, managing partner Archana Sharma, executive chef Shravan Shetty, and chef Dayanand Shetty as they celebrated their first Diwali in the new venue. It was simply the best Indian food I have ever experienced.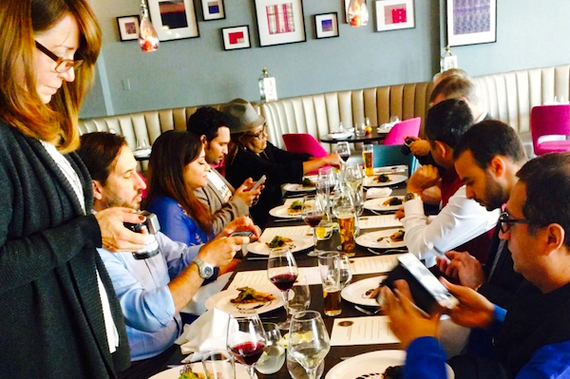 Writers from across the East Coast gathered for the special Diwali tasting menu.
Photo: Jingo Media.
I was particularly impressed to meet renowned restaurateur Kamal Arora of the Arora Hospitality Group. His is the quintessential Made-It-In-America immigrant story and he and his team are particularly impressive. The Aarzu Restaurant and banquet facility is the Arora Hospitality Group's latest culinary venture.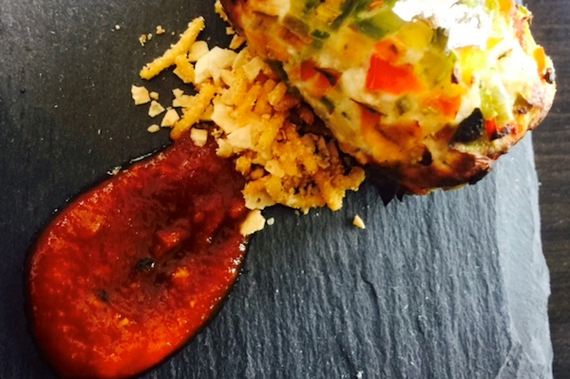 Charred Cottage Cheese, Panch Phoran Tomato Relish, Masala Papad.
Photo: Jingo Media.
Specializing in modern Indian cuisine with a focus on taste, texture and presentation, Aarzu is hosting a week-long Diwali Festival with a specialized Indian New Year tasting menu, in-house henna artist and live tabla player, all in an attempt to engage and excite the community and educate them about the significance of this important Hindu holiday.
When entering a restaurant, I usually note its ambiance and look forward to experiencing its service. A friendly maitre'd and pleasant waitstaff are essential. I found the service and atmosphere of Aarzu to be world-class.
"The Indian New Year is an auspicious time when we celebrate with our families, and food is at the heart of that celebration," said Arora, who has several other successful New Jersey restaurants under his belt. "We would like to invite the community-at-large to become a part of the Aarzu family and indulge in our Diwali festival to mark an important milestone for our newest restaurant."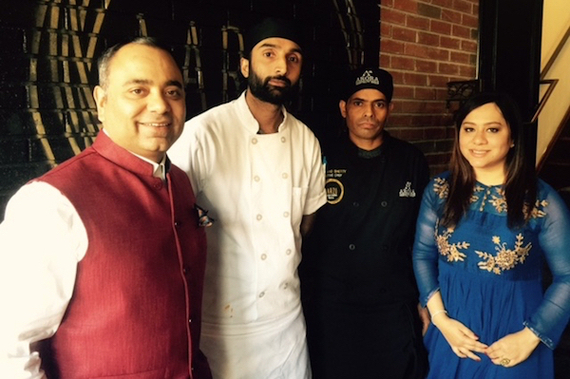 Owner Kamal Arora, executive chef Shravan Shetty, chef Dayanand Shetty, and
managing partner Archana Sharma celebrated their first Diwali in new venue.
Photo: Jingo Media.
Heading a foundation, I particularly appreciate corporate social responsibility. I was impressed chatting with managing partner and fellow philanthropist Archana Sharma Post-Diwali, Aarzu who told me that for every meal they serve they will donate a meal of equal value to the local food bank for the entire month of November!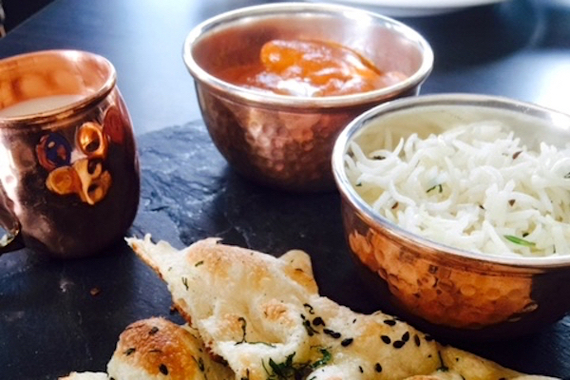 Dhaba butter chicken and fenugreek with a shot glass of patiala lassi.
Photo: Jingo Media,
"In the spirit of Thanksgiving and the upcoming holidays, we want to help the less fortunate in this community," she told me. "As a socially-responsible small business, we want to ensure that no one in our community goes hungry this time of year."
I always think of the M's when I think of the parts of New Jersey I like best - Maplewood, Metuchen, and Montclair.... But Freehold grabbed my heart and the Aarzu Restaurant soothed my soul.
Diwali -- the Hindu Holiday of Lights -- ends this Sunday, October 30th. Now would be the perfect time to make a reservation at this Indian hotspot. I know my Jewish friends often celebrate Christmas with Chinese or Indian food! In truth, however, any day would be a good day to enjoy the incredible pan-Indian cuisine.
If you meet Kamal Arora or Archana Sharma up front, or chefs Shravan or Dayanand from the kitchen, please give them my best!
The Arora Hospitality Group

Arora Hospitality Group was founded with a vision to take the Indian culinary industry to unparalleled heights in the U.S. and beyond. The brand consolidates all its restaurants and catering operations, including Moghul Caterers, Mithaas, Moghul Express, Papa Pancho Pizza, Urban Spice and, now. Aarzu, under one umbrella. The aim of Arora Hospitality Group is to give its guests an unprecedented culinary experience through its preparations, presentation, innovation, service and quality. Arora Hospitality Group has taken it upon themselves to popularize Indian food and expose it to the mainstream U.S. audience. With the growing diversity of restaurants, they hope to see Indian culinary options widely available all across the country. For more information, please visit AroraHospitality.com.

To schedule a private tasting at your convenience, please contact Jitin@JingoMedia.com.